With the way young receivers have emerged in recent seasons, Fantasy owners have started to view the third-year receiver theory as a myth. It almost compares to Big Foot, the Loch Ness Monster or Keyser Soze.
The third-year wide receiver theory is based on players at the position having a breakout campaign after two full seasons in the NFL. Some receivers have said it takes at least two years to develop. They have to learn how to hone their craft, develop a rapport with their quarterback and understand defenses better.
FREE Draft Kits!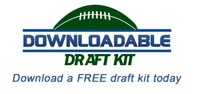 Get everything you need to dominate on Draft Day in one convenient place with our Downloadable Draft Kit, complete with projections, rankings and outlooks for 2013!
Download your Draft Kit now!
But last year, rookies and sophomores were among the best Fantasy receivers, showing the theory could be debunked. With the way college teams are throwing the ball, along with pass-happy offenses in the NFL, rookies and second-year receivers are developing faster every year. Rookies A.J. Green, Julio Jones and Torrey Smith were Top 25 Fantasy receivers in 2011, while sophomores Victor Cruz (No. 4 Fantasy receiver), Dez Bryant (No. 18) and Antonio Brown (No. 26) also stood out.
But that doesn't mean third-year receivers don't exist. Percy Harvin had a breakout year last season as the No. 10 Fantasy receiver with career highs in catches (87), yards (967) and touchdowns (eight). Darrius Heyward-Bey was the No. 28 Fantasy receiver with career highs in catches (64), yards (975) and touchdowns (four). And Michael Crabtree (No. 34) improved his performance with career highs in catches (72) and yards (874).
Some of the best receivers in the NFL -- past and present -- have had a breakout year in their third season, including Roddy White, Reggie Wayne, Greg Jennings, Steve Johnson, Sidney Rice, Cris Carter, Terrell Owens and Keyshawn Johnson. Carter told me last year he still believes in the third-year receiver theory.
"Wide receiver is a skill," Carter said. "It takes so much time and there are so many things you have to learn. It takes three to five years to understand the position.
"Now, more people are throwing the ball and more colleges are throwing the ball so kids are coming into the league more ready to have breakout years, and kids have to play. If they spend a high draft pick on you like A.J. Green or Julio Jones, you are thrust into playing. I still think the curve is still around the same. It's like being a quarterback. You see guys come in that are successful and it seems like we have more young kids that are being successful. But there's still a learning curve. There are so many things you have to learn, they're still in the process of learning."
Hall of Fame wide receiver Jerry Rice told me a couple of years ago that in his third season, he finally "felt comfortable." Rice also is a believer in the third-year theory.
"You start feeling like you belong," Rice said. "The first year, you're like a deer in headlights. You're trying to get used to playing with all those great players. The second year, you feel more at home, but you're still making adjustments. The third year, for me, I finally knew what to do."
But not all wide receivers believe in the theory. Carolina receiver Steve Smith told me even though he had his first dominant season in his third year, he said that's because it was the first year he got to play offense after spending two seasons on special teams. He said it had nothing to do with his service time in the league.
"People are looking for a reason or looking to cling on to something," Smith said. "I think that's a myth. If you have a good player and a baller there, that's going to happen, no matter what year it is."
Smith is correct that your time in the league is not a direct correlation to your success, but there is still a skill that needs to develop with receivers, which likely takes two years. It may not lead to a breakout performance – Cruz is going to see his production decline, not increase – but some players from this class will emerge, with the leading candidates likely Bryant, Brown, Demaryius Thomas, Eric Decker and Brandon LaFell.
My goal is to target all five of those receivers on Draft Day because the upside is worth it, especially entering this third season full of potential.
A look ahead ...
Here is a breakdown of the Wide Receiver Class of 2010. It will be difficult for some receivers, like the guys in Category 1, to improve in their third year, and not everyone on this list is due for a breakout season. But don't be surprised if someone we didn't mention comes out of nowhere this year to be a star.
Category 1
These are the third-year receivers who have already had at least one big season with 150 Fantasy points in a year. It will be difficult for them to have another breakout campaign, but they can still be successful Fantasy options.
Victor Cruz, Giants
Cruz didn't record a catch as a rookie, but he exploded as a sophomore with 82 catches for 1,536 yards and nine touchdowns. He helped the Giants win the Super Bowl last year and his performance allowed New York to let Mario Manningham leave for the 49ers as a free agent. We consider Cruz a solid No. 2 Fantasy receiver in all leagues. It will be difficult for him to duplicate his stats from last year, but he should remain a consistent target for Eli Manning. Cruz should be drafted in all leagues by Round 4.
Mike Williams, Buccaneers
Williams suffered a sophomore slump last season after a tremendous rookie campaign. He had 65 catches for 964 yards and 11 touchdowns in 2010 before seeing his yardage (771) and touchdowns (three) drop dramatically with the same amount of catches. We hope he's ready for a rebound year in 2012 and he slides down the depth chart to the No. 2 receiver spot with Vincent Jackson now in Tampa Bay. That will help with less pressure and more single coverage, but he could also see a decline in targets (an average of 126 the past two years). Plan on drafting Williams with a late-round pick as a No. 4 Fantasy receiver.
Category 2
Follow us, Like us, Join us
Want more? Join the discussion on our Facebook page and Google+ and follow us on Twitter for additional insight while interacting with a community geared toward Fantasy Football.


These are the third-year receivers on the verge of becoming stars who have had at least one season with 100 Fantasy points in a year.
Dez Bryant, Cowboys
Bryant is the type of third-year receiver you target because his career path shows he's headed for a breakout campaign. He had 45 catches for 561 yards and six touchdowns as a rookie and 63 catches for 928 yards and nine touchdowns last year. Based on that progression we could be looking at 81 catches, 1,295 yards and 12 touchdowns, which would make him an elite Fantasy option. We hope Bryant doesn't receive a suspension following a July arrest on a misdemeanor family violence charge, but that is worth monitoring. If he doesn't miss any games he should be viewed as a No. 2 Fantasy option with upside, and he will be drafted in Round 3 or 4.
Eric Decker, Broncos
Decker showed plenty of promise in his second year with 44 catches for 612 yards and eight touchdowns and he should improve this season with the addition of Peyton Manning at quarterback. While Tim Tebow did well in getting Decker the ball, Manning should make him a star. He's behind Thomas in terms of Fantasy value, but Decker projects as a tremendous No. 3 receiver in all leagues. He should be drafted in Round 6 or 7, and don't be surprised if he ends up starting for you in most formats.
Antonio Brown, Steelers
Brown will find it hard to improve his catches and yards from his second season since he had 69 catches for 1,108 yards in 2011. But he should definitely improve his touchdowns since he scored just twice last year. With Hines Ward retired, Brown could see an increase in targets (124 last year) as the starter opposite Mike Wallace. And if Wallace is a holdout because of his contract situation then Brown's value will rise dramatically. He projects as a high-end No. 3 receiver worth drafting in Round 6 or 7, but like Decker he could end up as a starter in the majority of leagues.
Category 3
These are the third-year receivers poised for a big season, with a few ready to reach at least the 100 Fantasy point range this year.
Demaryius Thomas, Broncos
Thomas had some highlight-reel moments in 2011, including his game-winning touchdown in overtime against the Steelers in the playoffs, but his stats in the regular season were pedestrian at best. He finished with 32 catches for 551 yards and four touchdowns, but he should explode in his third year. The addition of Manning is huge for Thomas and the new passing game in Denver should help make him a star. He has the ability to be an elite Fantasy receiver and I already view him as a No. 1 option in all leagues. He will likely be drafted in Round 3 or 4 in the majority of leagues, but Thomas should see the biggest jump in production of all the receivers in this class.
Brandon LaFell, Panthers
LaFell might not emerge as a starting Fantasy option in the majority of leagues, but he could be a tremendous reserve. The Panthers need a second receiver to step up opposite Steve Smith and LaFell should be the starter and continue to improve his production. He had 36 catches for 613 yards and three touchdowns last year, but Cam Newton should get him more involved this season since he had just 56 targets. With close to 100 targets we could see LaFell easily surpass 60 catches and 1,000 yards with a handful of touchdowns, making him a steal with a late-round pick.
Golden Tate, Seahawks
The Seahawks have one standout receiver in Sidney Rice and then a bunch of guys all fighting for playing time in Doug Baldwin, Ben Obomanu, Deon Butler and Tate. We hope Tate gets a chance for increased targets since he had just 58 last year, which is why he ended up with only 35 catches for 382 yards and three touchdowns. He may never live up to the potential he showed at Notre Dame, but he could end up being a No. 3 Fantasy receiver if things break his way. Don't draft Tate in the majority of leagues, but he could end up as a waiver wire option if he starts out the season playing well.
Emmanuel Sanders, Steelers
Sanders has the chance for an increased role this year with Ward gone. He will compete with Jerricho Cotchery for the No. 3 receiver job behind Wallace and Brown, but Sanders has more potential than Cotchery. We haven't seen Sanders do much on offense with just 50 catches for 664 yards and four touchdowns in two seasons, but he's also had just 93 targets. The Steelers have done well with their third receivers in the past (Wallace in 2009 and Brown in 2011) so look for Sanders or Cotchery to be heavily involved. Sanders isn't worth drafting in most leagues, but he could be worth adding if he starts out the season playing well.
Jordan Shipley, Bengals
Shipley is not going to get drafted in the majority of leagues, and he could still be slow in his recovery from last year's torn ACL. But for owners in PPR leagues, you should put Shipley on your radar. As a rookie in 2010 he had 52 catches for 600 yards and three touchdowns. He will see most of his time in the slot, and he should get plenty of single coverage with A.J. Green and Jermaine Gresham drawing most of the attention. Don't expect him to have huge yardage or touchdown totals, but he could lead the Bengals in receptions if he's healthy by Week 1.
Andre Roberts, Cardinals
The Cardinals receiving corps is starting to take shape with Larry Fitzgerald as the top option, rookie Michael Floyd as the second starter and Roberts in the slot. Roberts did well as a starter in 2011 with 51 catches for 586 yards and two touchdowns. He might not see a dramatic leap in production this season, but he could be useful in deep PPR leagues. Arizona still has quarterback issues with Kevin Kolb and John Skelton, but Roberts still posted decent stats with that duo last year. He's not worth drafting in most leagues, but he could be added in deep PPR formats during the season.
David Nelson, Bills
Nelson posted solid stats in 2011 as the No. 2 receiver for the Bills with 61 catches for 658 yards and five touchdowns. He might not see a huge increase in production, especially if Donald Jones and Marcus Easley are back from injuries, but Nelson looked like a good slot receiver. Ryan Fitzpatrick also seems to trust Nelson, who had 97 targets, and he could be a valuable addition off the waiver wire during the season in PPR leagues.
Danario Alexander, Rams
Alexander's biggest problem has been staying healthy since he has just 18 games played in two seasons. But he's a big-play threat (he's averaged 16 yards a catch on 46 receptions) and the Rams are desperate for receiving talent. If he can stay healthy and avoid the knee problems that have plagued him going back to his days at Missouri then we could be talking about a steal for Fantasy owners. He won't be drafted, but if he shows any flashes of consistent production then add him off the waiver wire.
Preston Parker, Buccaneers
Parker is expected to be the slot receiver for the Bucs this year and has slightly more potential than fellow third-year receivers Arrelious Benn and Dezmon Briscoe since those two will play behind Jackson and Williams. Parker played well in 2011 in limited action with 40 catches for 554 yards and three touchdowns. He had just 64 targets, but his stats could improve this year with more attention. Parker is not worth drafting in the majority of leagues, but owners in deep PPR formats should keep an eye on his production since he could turn into a valuable reserve.
Jacoby Ford, Raiders
Ford might be limited in training camp due to an offseason abdominal injury, according to a source, which could hurt his value. He will enter the season as the No. 3 receiver at best behind Denarius Moore and Heyward-Bey, but Ford should still have the chance to make plays. He did well as a rookie in 2010 with 25 catches for 470 yards and four touchdowns, but he dealt with injuries last year, which limited him to just 19 catches for 279 yards and one touchdown. He could turn into another waiver wire find if he's healthy and gets back to being productive like he was in his rookie year.
Category 4
These are the third-year receivers who could make an impact in deeper leagues, but they need a lot of help to be successful in standard Fantasy formats. They are not worth drafting this year, which is why they don't get an individual write-up, but they are worth monitoring in case they do step up in this pivotal season.
Arrelious Benn, Buccaneers
Riley Cooper, Eagles
Marcus Easley, Bills
Armanti Edwards, Panthers
David Gettis, Panthers
Donald Jones, Bills
Kerry Meier, Falcons
Naaman Roosevelt, Bills
Damian Williams, Titans

The guys in this group to keep an eye on include Cooper, Gettis, Jones and Williams. Cooper could become a red-zone threat for the Eagles as their No. 4 receiver, Gettis will try to beat out LaFell for the starting job in Carolina, Jones could start opposite Steve Johnson in Buffalo and Williams might see significant playing time early in the season if Kenny Britt (knee) is limited. None of these guys are worth drafting, but they could be waiver wire additions if they step up in their third year.
Stay in touch with the most passionate Fantasy staff in the business by following us via Twitter @CBSFantasyFB . You can also follow Jamey at @JameyEisenberg and on Facebook .