The AFC West has the potential to make or break many Fantasy seasons with Ryan Mathews, Jamaal Charles and Darren McFadden among the biggest risk-reward picks on Draft Day. Let's take a look at some of the key players you need to focus on from this division in 2012.
Spotlight player
Ryan Mathews, RB, Chargers: Mathews may be the ultimate boom or bust pick in the first round this year. He has as good a shot as anyone to finish as the top Fantasy running back, but he also has a nagging injury history that is hard to ignore. Show of hands (I know, you're reading): How many of you knew that Mathews was the eighth-ranked Fantasy running back in 2011, despite missing some time with injuries and sharing with Mike Tolbert? That eighth-place finish is his downside this year if he plays 13 or more games in my opinion.
FREE Draft Kits!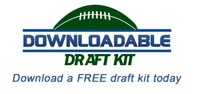 Get everything you need to dominate on Draft Day in one convenient place with our Downloadable Draft Kit, complete with projections, rankings and outlooks for 2013!
Download your Draft Kit now!
Last year, Mathews ran for 1,091 yards and six scores on an impressive 4.9 yards per carry to go with 50 grabs and 455 yards receiving. He averaged 110.5 total yards per game and was one of five running backs to top 100 total yards in at least 10 games last year, with the others being Ray Rice, Arian Foster, Maurice Jones-Drew and LeSean McCoy. The only thing that kept him from being a superstar in 2011 was the lack of scoring chances, but that will change with Tolbert leaving via free agency. Tolbert scored 21 touchdowns over the last two years, so you have to think half of those scores will find their way to Mathews. After all, Mathews had a better red zone scoring rate (23.8 to 19.2 percent) and a better goal line scoring rate (80 percent to 27.3 percent) than Tolbert in 2011. Mathews scored on four of his five chances from up close last year, which was the second best mark among the 51 runners with at least four chances.
In 2011, Tolbert was eighth in the league with 52 red zone opportunities and ranked tied for third with 22 goal line chances. If Mathews can get just half of Tolbert's scoring chances, he will produce double-digit touchdowns easily. The Chargers average a league high 991 yards receiving per year over the last three for their running backs, so Mathews is likely to pick up some of Tolbert's yardage there as well. Last year, he caught a remarkable 50 of his 55 targets and his 84.7 percent catch rate was second best while his 7.6 yards per target average was third among all runners. The kid has skills people!
Given that Tolbert caught 54 passes of his own last year, it's clear that a 75 catch season is not at all out of the question for Mathews. Keep in mind that in the only two games that Mathews has started with Tolbert inactive, he produced 251 total yards and three scores. Mathews clearly has 2,000 plus total yard and double digit touchdown potential this season. The only question is will he stay healthy enough to realize it. So far, Mathews has missed six games in his two-year career, but all reports out of San Diego indicate that he is in the best shape of his career and looks poised to carry the load.
Here is one last fun fact: In the six career games in which Mathews has carried the ball at least 20 times, he has never been held below 13 Fantasy points, has a 100 percent consistency rate, a 50 percent big game rate and has totaled 819 yards with seven touchdowns. That all equates to 20.6 points per game! When healthy, Mathews will produce top five numbers and if he plays 16 games he could easily be looking down on everyone else. Mathews is the fourth running back on my board in both standard and PPR leagues and he makes a good (albeit slightly scary pick) in the middle of the first round.
Breakout players
Demaryius Thomas, WR, Broncos: Thomas should be a big-time breakout receiver with Peyton Manning in town for 2012. He is an unbelievable combination of size at 6'3", 224 pounds and speed with a reported 40-yard dash time of 4.36.
Last year, with Tim Tebow at quarterback, Thomas was a surprisingly dominant Fantasy receiver, finishing 11th at the position from Week 13 on. In his final seven games (Week 13 through his two playoff games) Thomas caught 35 passes for 745 yards and four touchdowns on 65 targets. In that magical run, Thomas averaged an elite 11.5 yards per target, 21.3 yards per catch and 106 yards per game.
He is not the precise route runner that Peyton may want, but he is the most physically gifted and imposing receiver that Manning has ever had at his disposal. Thomas converted a very solid 33 percent of his red zone targets into scores last year and you have to think he will see more than six passes in scoring situations this year. Thomas is the one receiver in Denver who could break out to 1,300 yard and 12 touchdown levels (although I think there is only a small chance he explodes like that) with Manning in town and I think he is a great second receiver to gamble on in the early-middle rounds. Thomas is a gamble simply because he's battled injuries throughout his young career and has not yet played in more than 11 games in a season. Still, the upside is worth the risk and he did not miss any time after returning to the lineup in Week 7 last year. I really think Thomas can be a difference maker in 2012 and offers top 10 upside in the early fifth round.
Denarius Moore, WR, Raiders: Moore is my pick for the breakout Oakland receiver in 2012 after a very impressive rookie season that saw him finish as the 39th-ranked receiver despite missing three games. He caught 33 passes for 618 yards and five scores to go with 61 yards and a touchdown as a rusher. He was very good with Carson Palmer at quarterback as well, posting a 50 percent consistency rate and averaging just under 10 points per game. He caught 19 passes for 406 yards (ridiculous 21.4 yards per catch) and three scores in his six games with Palmer, which would translate to 51 catches for 1,083 yards and eight scores over 16 full games. Those 16 game totals would have made Moore the 13th-ranked Fantasy receiver last year, tied with Brandon Marshall with 156 points, and that doesn't even include his rushing totals.
What I like about Moore is that he averaged 10 yards per target with Palmer at quarterback and was a dominant big-play receiver at over 21 yards per reception. I want to see him more involved in the red zone though, but at least he did score on one of his two red zone targets. For a receiver to be a consistent scorer, he needs to be a factor in the red zone, and that will be a key item to watch in Moore's development. However, if you are in a big-play bonus league, you have to like that Moore scored five of his six touchdowns from 21 or more yards.
The other area that Moore really needs to improve on is his target conversion rate. For the year, Moore caught only 43.4 percent of his targets, fifth worst among the 91 receivers who saw at least 50 targets. He did catch 47 percent of his targets from Carson Palmer, but he needs to be over 50 percent and should be closer to 60 percent to become a reliable and consistent threat. I get that he hits huge plays, but I'd gladly trade a yard or three per catch for a 10 percent jump in his catch rate. With a full offseason to work with Palmer, I think the sky is the limit. From talking to some Raiders players, they do too. I like Moore as your third receiver and love him as your fourth receiver on Draft Day this year, because he has tons of upside. I would not at all be shocked to see him finish in the top 24.
Robert Meachem, WR, Chargers: After years of showing flashes of brilliance in New Orleans, Robert Meachem will get his shot at being an every-down receiver with the Chargers. In New Orleans, Meachem never saw more than 70 targets in a season, but that did not stop him from being very productive.
In 2009, Meachem was the 22nd-ranked Fantasy receiver and averaged a mind-boggling 2.05 Fantasy points per target. Meachem is one of the most efficient receivers in the NFL and over the last four years he has done as much with his targets as any receiver in the league. Since he entered the league in 2008, 127 receivers have seen at least 100 targets. Of those 127, Meachem ranks first in touchdown rate (10.3 percent), first in Fantasy points per target (1.8) and is eighth at 10.2 yards per target. To put it in easier-to-understand terms, at his career efficiency levels, Meachem would produce 1,200 yards, 10 touchdowns and 180 Fantasy points if he were to see just 100 targets in a season. That Fantasy-point total (180) has finished in the top five at receiver in every year except for 2011, when it would have placed seventh.
Check out our Fantasy Football podcast!
There is no better source for entertaining Fantasy advice than our Fantasy Football Today podcast. Dave Richard, Jamey Eisenberg and Adam Aizer will help you pass the time as you anticipate Draft Day 2014!
Latest episode | Subscribe today!
I am not expecting that kind of finish for Meachem, but the potential is certainly there as he moves into a starting role. He also catches 63 percent of his targets for his career, so the former first-rounder stacks up very favorably to the man he is replacing (Vincent Jackson) and should push for 1,000 yards and 6-8 scores. He has upside on those numbers and is a great upside third receiver for your teams on Draft Day.
Honorable mention: Eric Decker, WR, Broncos, Darrius Heyward-Bey, WR, Raiders, Carson Palmer, QB, Raiders
Sleepers
Malcom Floyd, WR, Chargers: Floyd is flying under the radar this year, but has as good a chance to breakout as his teammate Robert Meachem.
Floyd has really hit his stride the last two years with back-to-back top 36 finishes at the receiver position, thanks to his remarkable efficiency. In 2011, Floyd saw only 70 targets but caught 43 of them (61.4 percent) for a career best 856 yards (career high 19.9 yards per catch) and five scores. He finished as the 30th-ranked Fantasy receiver, scoring 115 points on the year despite playing in only 12 games and ranked second among all receivers with a ridiculous 12.2 yards per target average. In those 12 games, Floyd had a 50 percent consistency rate and a solid 25 percent big game rate, both of which would have been top 12 at the position over 16 games.
Amazingly, he did that despite struggling in the red zone, where he scored on just one of his eight targets. Floyd has missed nine games over the last two years, but if he can stay healthy you have to love his upside because he has been on pace for 1,100 yards and nearly eight scores a season if you extrapolate his per-game averages in 2010 and 2011. Over the last three years (which is when Floyd became a full time player for the Chargers), Floyd is fifth among the 150 most targeted receivers with a 10.5 yards per target average and is 12th at 1.38 points per target.
I am not expecting a much higher workload for Floyd this year, but if he plays 16 games he will top 1,000 yards. He has as much upside as Meachem to me, but you can get him as your fourth receiver on Draft Day. I think he is a great pick at that spot in the ninth round.
Jacob Tamme, TE, Broncos: All you need to know about Tamme is what he did as the starter in place of the injured Dallas Clark for the last 10 games of 2010. Tamme was a stud in those games, finishing the year with 67 catches for 631 yards and four touchdowns. He was on pace for over 100 catches and a 1,000-yard season if he had been a 16-game starter and was the third-ranked tight end once he took over the job.
Despite being non-existent before Clark went down, Tamme still finished 2010 tied for eighth among tight ends with a 44 percent consistency rate (70 percent in games started) and was tied for fifth with a 25 percent big game rate (40 percent in games started). Tamme also caught a solid 73.6 percent of his targets, fourth best among the 32 most targeted tight ends that year. He did average a paltry 9.4 yards per catch that year and is not a dynamic big-play tight end, but he has sure hands and could catch 70 passes this year.
Tamme has shown that he can play at a very high level with Manning at quarterback and that's exactly the situation he finds himself in for the 2012 season after following his quarterback to Denver. He is a great sleeper this year with top-10 potential and is an ideal piece of a tight end tandem should you miss out on the elite tight ends earlier in your drafts.
Mike Goodson, RB, Raiders: The Goody Mob looks like the likely handcuff for McFadden owners on Draft Day, but that could change if the Raiders decide to bring in another back as insurance.
For now, consider Goodson a must have if you take McFadden and know that he has shown some promise as an injury fill-in before. In 2010, Goodson made his only two career starts and topped 100 yards rushing in both of them (220 yards total) to go with 44 yards receiving. He had a streak of five straight games with 100 yards rushing or a touchdown in that season and averaged a healthy 4.5 yards per carry. He also caught 40 passes in 2010 for 310 yards, so he can be a three-down back if called upon. Given McFadden's injury history, it is likely that Goodson will make at least one start for an Oakland team that has averaged a league high 144 yards rushing per game over the last two years. That's why Goodson is a must have for McFadden owners and is a great late-round grab even if you don't draft McFadden, provided he remains second on the depth chart in Oakland.
Follow us, Like us, Join us
Want more? Join the discussion on our Facebook page and Google+ and follow us on Twitter for additional insight while interacting with a community geared toward Fantasy Football.


Honorable mention: Ronnie Hillman, RB, Broncos, Peyton Hillis, RB, Chiefs, Vincent Brown, WR, Chargers
Bust alert
Dwayne Bowe, WR, Chiefs: Bowe has been the crown jewel of the Chiefs' passing attack and is one of three receivers in the league (Larry Fitzgerald and Calvin Johnson are the other two) to lead his team in receptions, receiving yards and touchdowns in each of the last three seasons.
Bowe has been a top 20 Fantasy receiver in each of his last three full seasons, with his best season coming in 2010, when he caught 72 passes for 1,162 yards and 15 touchdowns to finish as the second-ranked receiver. I was skeptical about his touchdown production being repeatable and was not too surprised to see Bowe fall to five touchdowns in 2011. After all, if you take away the 2010 season (which was also an anomaly for Matt Cassel), Bowe has totaled just 21 touchdowns in his other 59 NFL games. To be fair, Bowe did catch four of his five touchdowns and posted all three of his 100 yard receiving games in the first nine games of the year with Matt Cassel under center in 2011. In fact, if you take his nine-game totals with Cassel of 41 catches for 663 yards and four scores and put those over a 16-game schedule, Bowe would have produced 160.5 Fantasy points or good for his 12th at the position.
I like that he is very involved in the offense and has averaged over 8.2 yards per target in each of the last two seasons despite seeing at least 131 targets each year. He ranked sixth with 142 targets last year and if he can get his scoring back up towards the seven to eight touchdown level, he will have a shot at another top 15 finish.
I am concerned about a couple of things, however. First, he had a career-low 17.3 percent red zone scoring rate in 2011 after posting three straight years at 30 percent or better. Given that the Chiefs do not average 200 yards passing per game with Cassel under center, touchdowns are critical to Bowe's value. He does not have a single 1,200-yard season under his belt and that is not likely to change, so he needs to snag eight touchdowns to be a top 20 receiver.
The other concern is his potential contract dispute and the impact that any missed time could have on his chemistry with Cassel, who is returning from an injury. Outside of a freakish year like 2010 when Bowe caught an unsustainable 55 percent of his team's touchdowns, how much upside is there for a receiver who has a quarterback averaging 199 yards and one touchdown passing per game? That lack of upside is why I rank Bowe as a steady but lower-tier second receiver for your teams.
Honorable mention: Jamaal Charles (knee), RB, Chiefs, Peyton Manning (neck), QB, Broncos, Willis McGahee (age), RB, Broncos
Stay in touch with the most passionate Fantasy staff in the business by following us via Twitter @CBSFantasyFB . You can also follow Nathan at @nathanzegura .