Funny thing about sleepers: I can suggest 50 names to you, but you probably won't have room for more than two, maybe three. With only so much space on a Fantasy roster, devoting spots to guys who may or may not pan out versus players with legitimate expectations doesn't make a ton of sense.
Yet a nice-sized list is provided here anyway. With a sleeper, we're not necessarily looking for men you've never heard of. In fact, if you're an even a mild Fantasy follower you'll know every single name on this list. We're looking for bargains here -- players who will get picked at a spot later than their expectations dictate. Nothing's better than coming through on a sleeper, so here are a dozen guys I have on my list.
Jay Cutler, QB, Bears: Forget everything you know about Cutler as a Bear so far: The 63-to-49 touchdown-to-interception ratio, the 59.9 completion percentage, the 7.1 yards per attempt average and even the 100 sacks he took over 41 games with Chicago. The offensive schemes he worked in and the receivers he's regularly worked with have been completely overhauled. Former Broncos teammate Brandon Marshall has rejoined him in the Windy City, as has big rookie Alshon Jeffery. Devin Hester is being reconsidered for a big role in the passing game and fellow Vanderbilt Commodore Earl Bennett will fill in the blanks between those guys. Cutler also should find his running backs often through the air and even could get a welcome surprise from his tight ends. But with a completely new scheme led by offensive coordinator Mike Tice and quarterbacks coach (and Cutler confidant) Jeremy Bates, Cutler should begin proving that he is among one of the best passers in football and not a rag doll behind an offensive line that can't routinely protect him on seven-step drops. With a more up-tempo offense expected, Cutler should be in line to come close to his 2008 numbers while in Denver. Not bad for a guy you'll take as your second quarterback.
My projection: 4,027 yards, 25 TDs, 16 INTs; 192 rush yards, TD
Early-August ADP: 105th overall
I'd take him: 89th overall
FREE Draft Kits!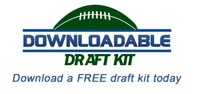 Get everything you need to dominate on Draft Day in one convenient place with our Downloadable Draft Kit, complete with projections, rankings and outlooks for 2013!
Download your Draft Kit now!
Alex Smith, QB, 49ers: Here's another player you need to have amnesia with. Smith's first six seasons were as pretty as a plate of palak paneer, but Jim Harbaugh brought out the best in him in 2011. Smith set career-bests in completions (273), completion percentage (61.3 pct.), passing yards (3,144), yards per attempt (7.07), rushing yards (179), total touchdowns (19) and interceptions (five over 16 games). His effort landed him a new contract in San Francisco, where he'll enjoy being in the same offense for consecutive seasons for the first time since college. He'll also have three new receivers to upgrade the Niners passing game, including Super Bowl XLVI hero Mario Manningham and former All Pro Randy Moss. I'm not saying Smith is going to turn into Tom Brady and lead the universe in quarterback stats, but if you're shopping for a No. 2 quarterback on Draft Day, he's one who will not only be there late but not even be on the radar of other owners in your league because "he's been so bad for so long."
My projection: 3,859 yards, 26 TDs, 19 INTs; 117 rush yards
Early-August ADP: 143rd overall
I'd take him: 138th overall
Alex Green, RB, Packers: Green represents a low-risk, high-reward Fantasy player who could give your team a real boost if he does well and won't cause you to break a sweat if he doesn't. Like several other rushers, Green is coming off a torn ACL that short-circuited his rookie year. But Green's never been a quick-cutting speed merchant, he's more of a physical between-the-tackles fighter with a decent second gear. Typically ACL injuries don't rob these kinds of running backs of their playing ability (Jamal Lewis is a good example). What's more, the Packers had many opportunities to improve their rush attack after last season and didn't do it. They're fine with James Starks but many reports out of Wisconsin said Green was the guy the coaching staff wanted to see more of. And they're seeing plenty of him so far -- he passed his physical and wasn't on the PUP list to begin camp. After Starks' disappointing 2011 season, Green could get a chance to not only swipe some carries from week to week but also take over for John Kuhn at the goal line. He's a superb late-round choice.
My projection: 107 carries, 451 yards, four TDs; seven catches, 54 yards
Early-August ADP: 151st overall
I'd take him: 128th overall
Mark Ingram, RB, Saints: Guilty as charged: I'm the guy who loved Ingram last season. Then I watched in horror as he averaged under 4.0 yards per carry and scored five touchdowns in 10 games before toe and knee injuries sidelined him for the season. So why haven't I learned my lesson? Figure it's still the allure of Ingram pounding in touchdowns from a few yards out, or gashing defenses between the tackles while the safeties are lined up deep to protect against a Drew Brees bomb. The injury concerns can't be ignored, but neither can the draft value -- he's the only running back with seven-plus touchdown potential going after the first 100 picks in a Fantasy draft. Compared to where he went last year (roughly 59th overall), he's a bargain in 2012.
My projection: 106 carries, 430 yards, six TDs; 14 catches, 87 yards
Early-August ADP: 97th overall
I'd take him: 90th overall
Mikel Leshoure, RB, Lions: The prospects of an injury-plagued running back who has never played a down in the NFL and is suspended for the first two games of the season typically aren't very good. But Leshoure happens to be in the right place at the right time -- on a team without any long-term solutions at running back. Jahvid Best's future is very much up in the air following a pair of concussions that he hasn't been cleared for though the month of July and Kevin Smith has been productive but has his own physical problems that have held him back over the last three years. Leshoure isn't the picture of health himself but has recovered from a torn Achilles and is dealing with other minor ailments through the early part of camp. If the Lions weren't sure about his availability or durability they would have addressed their ground game this offseason. They never did. Leshoure has some massive potential playing in a Lions offense that never had the confidence to lean on their ground game for much of last season. If he can make it through camp healthy and rest easy during his suspension, he could be a house of fire beginning with a matchup at the Titans in Week 3.
My projection: 172 carries, 757 yards, seven TDs; 17 catches, 130 yards
Early-August ADP: 80th overall
I'd take him: 60th overall
Evan Royster, RB, Redskins: Royster wasn't a favorite of mine when he landed two starts toward the end of last season behind the Redskins' tattered offensive line, but back-to-back trouncings of the Vikings and Eagles surely opened my eyes. Now he's part of one of the ugliest running back trios for Fantasy owners to handicap, working with Tim Hightower and Roy Helu in Mike Shanahan's pick-a-rusher offense. Here's what I know: Helu is a good back with excellent receiving skills but for whatever reason Shanahan isn't ready to hand him the keys. Hightower is coming off a torn ACL, has a lot of wear and tear and is no lock to make it 12 games, much less 16. Enter Royster, who is only a year older than Helu but has the physical abilities Hightower might not be able to achieve anymore. The dilemma for Fantasy owners is whether or not Helu will be worth taking with a pick in Round 6, which is where his average draft spot is. If you won't take that risk, take this one: Royster will be around well into the late portion of your draft and has just as much of a chance to succeed in Washington as anyone else on the roster. Might as well go for the bargain, especially with a back who proved last year he can play.
My projection: 100 carries, 406 yards, four TDs; five catches, 25 yards
Early-August ADP: 148th overall
I'd take him: 129th overall
Check out our Fantasy Football podcast!
There is no better source for entertaining Fantasy advice than our Fantasy Football Today podcast. Dave Richard, Jamey Eisenberg and Adam Aizer will help you pass the time as you anticipate Draft Day 2014!
Latest episode | Subscribe today!
Doug Baldwin, WR, Seahawks: Baldwin might be the most plain-jane name in Fantasy drafts. An undrafted rookie a year ago, he's basically the only sure thing in the Seattle passing game. Sidney Rice isn't a regular at practice and might be held out until the start of the season after shoulder and knee surgeries and concussion concerns. Golden Tate has barely made a dent in two seasons; he has 609 yards and three touchdowns in two years, Baldwin has 788 yards and four touchdowns in one year. A 1,000-yard, eight-score campaign from Baldwin would be surprising, but he should be expected to improve slightly from his rookie season. Remember, Baldwin had nine games last year with at least three grabs catching passes from Tarvaris Jackson. The Seahawks should have a better pass attack with someone other than Jackson under center and Baldwin will have every opportunity to be on the field.
My projection: 57 catches, 775 yards, four TDs
Early-August ADP: 151st overall
I'd take him: 130th overall
Malcom Floyd, WR, Chargers: It'll take a sophisticated Fantasy owner to roll the dice on Floyd. Here are the positives: He's played his entire career in San Diego and has been a receiver for Philip Rivers since Rivers began playing regularly. He knows the Chargers offense well and he knows what's expected. To back that up, Floyd has totaled 1,573 yards and 11 touchdowns over the past two seasons. Now the bad: He's missed nine games in those two years. Floyd's no lock to play 16 games but in the games he will play he should figure prominently. Plus, he might be motivated to play through some minor injuries this year as he's due a new contract after 2012. He saw Vincent Jackson leave San Diego with a wad of cash in his wallet and he could be eyeing the same path. Floyd is unheralded but good material for Round 10 or later.
My projection: 57 catches, 915 yards, 4 TDs
Early-August ADP: 106th overall
I'd take him: 100th overall
Darrius Heyward-Bey, WR, Raiders: The butt of first-round draft pick jokes is now a legit Fantasy option. Playing in his third year in 2011, Heyward-Bey led the Raiders with 975 yards on 64 catches in effectively 13 games (he played sparingly in two post-bye week games because of believed disciplinary issues). But here's the thing, 45 percent of his catches (29), nearly 47 percent of his receiving yards (456) and three of his four touchdowns came in his final five games, all with Carson Palmer under center. The offense has changed in Oakland but Palmer is still going to lean on Heyward-Bey's size/speed combination (he threw at him 50 times in those final five games last season). With the Raiders expected to play a bunch from behind, Heyward-Bey shouldn't take a step back. Denarius Moore might be the hot name in Oakland, but Heyward-Bey has just as much potential to top the 1,000-yard mark while scoring more often than he did a season ago. Not bad for a late round pick.
My projection: 63 catches, 875 yards, 6 TDs
Early-August ADP: 128th overall
I'd take him: 103rd overall
Randy Moss, WR, 49ers: Admittedly, there isn't much of a secret to Randy Moss in Fantasy. In fact, I'll take him right around where people have been drafting him. But that should underscore the point I'm trying to make: Moss is worth the Round 9 or 10 risk in drafts. It might be a different story if he never sat out a season and was trying to re-establish his career after the washout season where he was on three different rosters. But everything points to Moss playing with a chip on his shoulder, like he has something to prove, like he warrants one more pay day. Moss has been a choir boy in the 49ers facility and a speed demon on the practice field, showing off good moves in camp every day. Remember, this is a man who has set major receiving records and has also made star quarterbacks out of Jeff George, Daunte Culpepper, Kerry Collins and Matt Cassel. Having Smith lob balls to him won't be the biggest challenge in his life. And remember, we're not talking about a big draft pick here, just a middle-round one. He should be well worth the risk.
My projection: 52 catches, 693 yards, six TDs
Early-August ADP: 104th overall
I'd take him: 98th overall
Follow us, Like us, Join us
Want more? Join the discussion on our Facebook page and Google+ and follow us on Twitter for additional insight while interacting with a community geared toward Fantasy Football.


Coby Fleener, TE, Colts: Everyone knows that Coby Fleener has built-in chemistry with quarterback Andrew Luck from their days together at Stanford, but not many people know that Fleener had a built-in connection with Colts coach Chuck Pagano before the draft. When asked about Fleener before the draft, Pagano told me he loved his skills -- they were obvious when you watched the tape on Luck that Fleener had talent. But Pagano also went on and on about the Patriots tight ends and how they caused him such a headache when he tried to defend against them in the AFC title game when he was the Ravens defensive coordinator. He wished he could create mismatches like those this season. Remember, this is all before Fleener was a Colt. Now Pagano has him. Now Luck keeps him. And now should be the time he loads up on targets and stats considering the rest of the Indy receiving corps is good but not great. He's a tremendous late-round pick whether you need a tight end or not.
My projection: 58 catches, 694 yards, six TDs
Early-August ADP: 143rd overall
I'd take him: 133rd overall
Tony Gonzalez, TE, Falcons: Gonzalez is not retired. He is active, healthy and ready to contribute to the Falcons in 2012. This news shouldn't be a shock to you, but the fact is he's getting passed over in drafts like he's already collecting Social Security. Gonzalez actually had his best year as a Falcon in 2011, collecting seven touchdowns on 80 catches for 875 yards. This followed up back-to-back 70-catch, six-score seasons. Why might he go out with a bang? Gonalez plays in an offense that will demand attention to two receivers and one running back. He'll be in single coverage against smaller safeties all the time, including in the red zone. There's no way he'll be as productive as Jimmy Graham and he'll probably pale in comparison to Antonio Gates and Jason Witten, but if you whiff on those guys then Gonzalez should be on your radar starting in Round 9.
My projection: 68 catches, 761 yards, seven TDs
Early-August ADP: 102nd overall
I'd take him: 91st overall
Off the radar: 10 deep sleepers of varying degrees

Vick Ballard, RB, IND
Donald Brown isn't built for every down and distance and Ballard is better than Delone Carter.
Juron Criner, WR, OAK
Solid offseason could provide early opportunity in three-receiver sets.
Kellen Davis, TE, CHI
Six-foot-seven and on the field a bunch, he could repeat as the Bears' receiving TD leader.
Jonathan Dwyer, RB, PIT
A fave of ours coming out of Georgia Tech, Dwyer can snipe reps from Redman with a good camp.
Josh Gordon, WR, CLE
Has found time with the first-team offense after joining the Browns in July. Big talent but lacks experience.
Rob Housler, TE, ARI
Big, fast tight end could work as the Cardinals No. 2 receiver. Definitely in the Gronk mold.
Lamar Miller, RB, MIA
Might be too good to leave on the bench week after week in Miami's thin offense.
Phillip Tanner, RB, DAL
DeMarco Murray is injury prone. Felix Jones is injury prone. Do the math.
Tim Tebow, QB, NYJ
Oh, come on. Like you don't know he'll do some good things for the Jets this season!
Damian Williams, WR, TEN
The more time Kenny Britt misses, the more time Williams can play as Titans' third receiver.
Stay in touch with the most passionate Fantasy staff in the business by following us via Twitter @CBSFantasyFB . You can also follow Dave at @daverichard and on Facebook .