Adrian Peterson has been a fixture in the first round of Fantasy drafts for the majority of his six-year career. He was the No. 1 overall selection many of those years.
But heading into this season, Peterson has fallen out of the first round following his knee injury in Week 16 last year. Our current Average Draft Position data shows Peterson surprisingly being drafted toward the end of Round 2 at No. 24 overall. Still, he's being drafted in the right spot based on the risk associated with his quick comeback.
Peterson's ADP is intriguing because it shows how the Fantasy community views his value coming into the season. And there are several players to analyze this way. We're starting with the data prior to the start of preseason games and we want to see what changes each week leading up to the regular season.
Along with our rankings, projections, updates and mock drafts, you should rely on ADP heading into your Draft Day. Public perception is useful information that should help in your preparation because it gives you an idea where you might find a certain player in the right round.
FREE Draft Kits!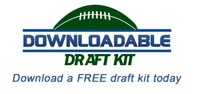 Get everything you need to dominate on Draft Day in one convenient place with our Downloadable Draft Kit, complete with projections, rankings and outlooks for 2013!
Download your Draft Kit now!
The first round looks like this ...
1. Arian Foster, RB, Texans
2. Aaron Rodgers, QB, Packers
3. LeSean McCoy, RB, Eagles
4. Ray Rice, RB, Ravens
5. Tom Brady, QB, Patriots
6. Drew Brees, QB, Saints
7. Calvin Johnson, WR, Lions
8. Ryan Mathews, RB, Chargers
9. Chris Johnson, RB, Titans
10. Maurice Jones-Drew, RB, Jaguars
11. Darren McFadden, RB, Raiders
12. Matthew Stafford, QB, Lions

Foster is expected to be the No. 1 overall pick, but Rodgers is somewhat surprising at No. 2. We wouldn't be surprised if McCoy and Rice pass him with the depth at running back much thinner than quarterback.
Rodgers likely won't fall much further than No. 4 overall, and you can see how much people value quarterback this year with four being drafted in the Top 12 overall picks. Rodgers, Brady and Brees were expected to be first-round selections, but Stafford going ahead of Trent Richardson and DeMarco Murray is questionable. Again, finding top-tier running backs this season is more difficult compared to a quality quarterback, so don't be surprised if Stafford falls a little.
Calvin Johnson is the only receiver worthy of first-round consideration, and No. 7 overall is a safe landing spot. It is interesting to note that despite their flaws, Fantasy owners are still drafting Mathews, Chris Johnson, Jones-Drew and McFadden in Round 1. That shows just how valuable a featured running back is this season.
Quarterback
Decisions at the top: Fantasy owners likely have to make tough decisions between two quarterbacks in various spots throughout the draft. Those decisions include Brady vs. Brees, Stafford vs. Cam Newton and Michael Vick vs. Tony Romo.
My choice in each case is Brady, Newton and Vick. ADP shows Brady, Stafford and Vick is how the public votes, but they are fairly close. Brady is going one spot ahead of Brees, and Fantasy owners likely see the additions the Patriots made this offseason as a plus, while Brees losing coach Sean Payton to suspension as a detractor.
Stafford is being drafted one spot ahead of Newton, with Newton the first player going in Round 2. Some believe Newton will regress this year following his breakout rookie campaign, and Stafford is coming off a 5,000-yard season and has the best receiver in the NFL in Calvin Johnson.
Vick is being drafted four spots ahead of Romo, with both quarterbacks being selected in Round 3. Vick has the upside to be a Top 5 Fantasy quarterback, but Romo is definitely the safer option based on Vick's injury history.
Philip Rivers is the No. 8 quarterback drafted in Round 4, which is a surprise since he's going ahead of the Manning brothers, and he just lost Vincent Jackson in free agency. Rivers could easily live up to this selection based on his resume prior to last year when he was off his game with a career-high 20 interceptions. Getting a healthy Antonio Gates (foot) back at 100 percent this season will definitely help.
Eli vs. Peyton: The Manning brothers are being drafted as the No. 9 and 10 quarterbacks this year, with Eli going in Round 4 at No. 44 overall and Peyton at No. 46. We don't understand why Eli is being drafted behind Romo and Rivers since last year he finished as the No. 6 Fantasy quarterback. Maybe the injury to Hakeem Nicks (foot) has some owners scared.
Follow us, Like us, Join us
Want more? Join the discussion on our Facebook page and Google+ and follow us on Twitter for additional insight while interacting with a community geared toward Fantasy Football.


Peyton is worth the risk at this spot. His comeback from last year's neck surgery has been extremely positive so far, and he should return as a No. 1 Fantasy quarterback. Still, the correct move is to draft a top-end No. 2 quarterback soon after taking Peyton, and some quality candidates include Robert Griffin III (No. 82 overall), Matt Schaub (No. 85) and Jay Cutler (No. 90). Peyton and any of these three quarterbacks is a good combo for your team.
The best value at quarterback is ... Josh Freeman at No. 140 overall. He was a Top 10 Fantasy quarterback in 2010 before struggling last year. But he's in better shape now, and the Bucs gave him new toys in Jackson, Dallas Clark and Doug Martin. He is definitely a No. 2 quarterback to target with a late-round pick.
Running back
Questionable running backs still coveted: We'll see what happens as we get closer to the regular season, but Fantasy owners aren't shying away from drafting several running backs with warts in the early rounds. That group includes Jones-Drew (holdout), Marshawn Lynch (possible suspension) and Jamaal Charles (returning from a torn ACL), who are all going in the first three rounds.
Jones-Drew could take his holdout right up to the start of the regular season, but he's still being drafted in Round 1 as the No. 6 running back. We expect him to report in a timely manner, but his value will drop if this holdout continues through the majority of the preseason.
Lynch is facing a possible suspension for his arrest in July on alleged DUI charges, which was his third run-in with the law in five years. There are differing reports on when his possible suspension could be announced, but Fantasy owners are still drafting him in Round 2 at No. 20 overall. That's the right spot for him until news of his suspension is revealed.
Charles has received rave reviews in his comeback from last year's knee injury, and his ADP of No. 29 overall in Round 3 might be too low. But the presence of Peyton Hillis could temper some of the early hype for Charles, who is headed for a 50-50 tandem.
Afraid of Gore? Should Fantasy owners be afraid to draft Frank Gore this season as a starting option? After all, the 49ers added Brandon Jacobs and LaMichael James and still have Kendall Hunter. ADP shows Gore is being drafted at No. 32 overall in Round 3, which is too high.
Even if Gore gets the majority of carries, he could lose goal-line reps to Jacobs and passing downs to James. With Hunter also getting touches, the 49ers have made it clear they want to reduce Gore's workload. Gore is being drafted ahead of Darren Sproles, Doug Martin and Shonn Greene, which could be a mistake.
Check out our Fantasy Football podcast!
There is no better source for entertaining Fantasy advice than our Fantasy Football Today podcast. Dave Richard, Jamey Eisenberg and Adam Aizer will help you pass the time as you anticipate Draft Day 2014!
Latest episode | Subscribe today!
The best Lions running back is ... Mikel Leshoure, according to ADP. He is being drafted in Round 7 at No. 78 overall. Jahvid Best is being drafted in Round 8 at No. 94 overall, and Kevin Smith is going in Round 12 at No. 137 overall. I plan on passing on Leshoure and Best and waiting on Smith. He's the only one healthy heading into the season. Leshoure, who has yet to play a down in the NFL after sitting out last year with a ruptured Achilles, is dealing with a hamstring injury in training camp. And Best has yet to be cleared from last year's concussion woes.
Smith isn't the picture of health, but if the season started today he would easily be the starter, with the Lions facing the Rams in Week 1. Keep in mind Leshoure is suspended for the first two games, and don't be surprised if Smith's ADP starts to rise dramatically the longer Leshoure and Best remain sidelined.
The best Redskins running back is ... Roy Helu, according to ADP. He is being drafted in Round 6 at No. 66 overall. Tim Hightower is being drafted in Round 11 at No. 127 overall and Evan Royster is going in Round 14 at No. 167.
While I still expect Helu to be the best running back for the Redskins, the right approach might be to pass on Helu and Hightower and wait for Royster. He has been the best running back in Washington during training camp.
The coaches don't appear to trust Helu, and Hightower is not at 100 percent following last year's knee injury. So far Royster has the lead in this camp battle, and he could present tremendous value on Draft Day.
The best value at running back is ... Ronnie Hillman at No. 138 overall. Even with Willis McGahee remaining the starter in Denver, Hillman is still going to get plenty of playing time, especially on passing situations. He's worth a flier as your No. 4 running back in all leagues.
Wide receiver
The No. 2 receiver being drafted is ... After Calvin Johnson, there's a good debate over the No. 2 receiver. Some consider Larry Fitzgerald, others Andre Johnson. You can make an argument for Greg Jennings, Julio Jones, Roddy White, A.J. Green and Wes Welker, among others.
ADP shows Fitzgerald going second at No. 17 overall in Round 2. After that it's Johnson at No. 23, Jennings at No. 25, White at No. 26 and Welker at No. 28. I consider Johnson the No. 2 receiver, but I can understand the hesitancy to draft him in Round 2 given his injury woes over the past year, including his recent groin problem.
The best of the tandem receivers are ... Another good debate is who the best receiver will be in some high-profile receiver tandems in Atlanta, Dallas, Philadelphia, Denver and the Giants. So far, ADP shows White (No. 26) over Jones (No. 35), Miles Austin (No. 42) over Dez Bryant (No. 54), DeSean Jackson (No. 58) over Jeremy Maclin (No. 60), Demaryius Thomas (No. 51) over Eric Decker (No. 74) and Victor Cruz (No. 37) over Nicks (No. 39).
I agree with taking White over Jones and Austin over Bryant. While the younger receivers present tremendous upside, the veteran options won't disappear. I also like Thomas over Decker because Thomas has much more big-play ability.
I completely disagree with Jackson over Maclin. Even though Jackson has more highlight-reel plays, Maclin is the more consistent threat. I also would take Nicks over Cruz. While Nicks is hurt now, he is more talented than Cruz, who will struggle to duplicate last year's performance.
Where are the holdout receivers? Mike Wallace and Dwayne Bowe remain absent from training camp while seeking a new contract. ADP shows Wallace is being drafted at No. 41 overall in Round 4, and Bowe is being selected at No. 61 overall in Round 6.
Since both are unsigned that is fair value for each. But if you're drafting before they sign then they could be steals on Draft Day. Wallace has Top 10 potential, and Bowe could be a Top 15 receiver.
Moss on the rise: Randy Moss has drawn rave reviews in his comeback effort, and he is being drafted in Round 9 at No. 101 overall. If he continues to look good and does well in the preseason then look for his stock to rise.
We consider Moss a No. 4 receiver with upside. He is easily worth the risk of drafting him in Round 9, especially if you can afford to take a flier on a player who can out-perform his draft class without hurting your overall roster.
The best value at wide receiver is ... Brandon LaFell at No. 164 overall. LaFell is a third-year receiver slated to start opposite Steve Smith and catch passes from Cam Newton. He has a ton of upside and should be a steal in Round 14. He is someone I'm targeting in every draft.
Tight end
Graham vs. Gronkowski: One tough decision Fantasy owners need to make is Rob Gronkowski vs. Jimmy Graham. The duo finished as the top two tight ends last year, and they are at the top of everyone's draft board this season.
ADP shows Graham being drafted at No. 18 overall, with Gronkowski going at No. 22 overall. If you want one of these elite tight ends you need to draft them in Round 2, but I would take Gronkowski over Graham in a standard league.
Gronkowski has 28 total touchdowns in his career, including 18 last season. He also had 90 catches for 1,327 yards. While the increased weapons in New England will take away some targets, Gronkowski isn't going to disappear, especially in the red zone.
Graham will be awesome as well, and I like him better in PPR leagues. He had 99 catches for 1,310 yards and 11 touchdowns last year, and he's still learning how to play tight end. He's only getting better, and he warrants the early ADP.
Gates vs. Hernandez: Once you get past Gronkowski and Graham, the next decision is between Aaron Hernandez and Gates. ADP shows Gates being drafted at No. 53 overall in Round 5, and Hernandez is being drafted at No. 59 overall.
I like Hernandez slightly better than Gates because of Gates' inability to stay healthy. All the offseason reports have been glowing, but he's missed nine games over the past two years.
Hernandez has also dealt with injuries, but he still managed 79 catches for 910 yards and seven touchdowns last year. A slight bump in stats, which is expected, could push Hernandez closer to Gronkowski and Graham and further away from Gates. Either way, both tight ends are a steal in Round 5.
The best value at tight end is ... Jermaine Gresham at No. 117 overall. He had a productive season in 2011 with 56 catches for 596 yards and six touchdowns, but offensive coordinator Jay Gruden is expecting Gresham to play like Gronkowski or Graham this year. We hope that's the case, and he's worth the gamble as a starting option with a pick in Round 10.
Stay in touch with the most passionate Fantasy staff in the business by following us via Twitter @CBSFantasyFB . You can also follow Jamey at @JameyEisenberg and on Facebook .