The NFC South is just as loaded as the North and East divisions of the NFC. The Falcons, Saints and Panthers are all elite offenses and the Buccaneers made many moves this offseason to try and join them at that level.
Spotlight players
Cam Newton: Newton had the best season of any rookie quarterback in history in 2011 and posted the sixth-best Fantasy season in history with an astonishing 410 points. Newton scored a record 150 points as a runner thanks to his NFL record 14 rushing touchdowns and 706 yards on the ground. Newton also threw for 4,051 yards and 21 touchdowns with 17 interceptions as a rookie, blowing away all expectations to finish as the fifth-ranked Fantasy quarterback. Newton was tied for eighth with a 69 percent consistency rate but produced eight big games, tied for fifth among all quarterbacks. He was solid in the red zone too with a 25.1 percent scoring rate, good for 11th among the 35 quarterbacks with at least 25 chances. His 26 red zone touchdowns ranked sixth among all quarterbacks and at the goal line Newton was second with 13 touchdowns and ninth with a 52 percent scoring rate.
FREE Draft Kits!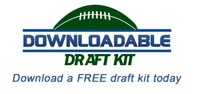 Get everything you need to dominate on Draft Day in one convenient place with our Downloadable Draft Kit, complete with projections, rankings and outlooks for 2013!
Download your Draft Kit now!
There was a lot to like about what Newton did as a rookie, but looking ahead to his sophomore season I have some reservations as well as some hopes. I am concerned that 36.5 percent of Newton's points came from his rushing totals in 2011 -- second only to Tim Tebow -- because that kind of production is completely unsustainable. There is no chance Newton scores 14 touchdowns rushing again this year and he will probably even see a little regression on his yardage to the 600-yard level with maybe eight scores. That is a 46-point loss if Newton hits 600 yards and eight scores, which is about three points per game. The good news is that I think Newton has plenty of room to grow as a passer and a full offseason should help him do just that. Yes, Newton threw for 4,051 yards as a rookie and averaged a solid 7.8 yards per attempt (10th), but I think he can improve dramatically on his touchdown-to-interception ratio.
Newton should throw more than 21 touchdowns in Year 2 and I think the extra experience will help him to cut down on the 17 interceptions. He should also become more consistent as a yardage producer. After topping 300 yards in three of his first four games and 250 yards in six of his first 10, Newton eclipsed 250 yards just once in his last six games. Even though Newton averaged just over 200 yards passing per game over the second half of the season, he still was the fifth-ranked quarterback during that span. However, I don't think he will be able to do that in 2012 with just 200 yards and 1.25 passing touchdowns per game. Newton will need improved passing to offset the natural decrease in his rushing totals that has to occur. I really do think the full offseason plus his incredible work ethic will help him do just that, and if Brandon Lafell can break out as many are expecting, this could easily be one of the Top 5 offenses in the NFL. I have Newton as the fifth quarterback on my board, but I don't think he can hang with the Rodgers, Brady, Brees group over the course of the full season in a six-point per passing touchdown format. If he shocks the world (for the second straight year) with a major improvement in his passing, Newton will become the gold standard at the position for years to come.
Julio Jones: Like Hall of Famer Jerry Rice, I am also predicting a breakout season for Julio Jones, who is firmly entrenched as the third overall receiver on my draft board. There is a ton to like about Jones after a rookie season in which he showed flashes of brilliance. He totaled 54 catches for 959 yards and eight touchdowns in only 13 games of action to finish as the 18th-ranked Fantasy receiver. Jones caught 57.4 percent of his targets, which is fine, but his other efficiency metrics were off the charts. Jones averaged 10.2 yards per target (ninth best among the 63 most targeted receivers), posted an 8.5 percent touchdown rate (eighth best) and averaged 1.53 points per target (seventh best).
I will forgive the catch rate, since Jones averaged 17.8 yards per catch, which gave the Falcons the vertical threat they had sorely been lacking. In fact, he scored three touchdowns from 48 or more yards last year, which is even more impressive considering that the Falcons as a team did not have a passing score of that length in 2010. Jones had a 54 percent consistency rate and a 31 percent big game rate in games played, which would have placed 11th and fifth respectively. I do want to see Jones improve and become more involved in the red zone, and if he does, look out Calvin! Last year, Jones only scored two of his eight touchdowns inside the 20 and his 22.2 percent scoring rate was below average. He only saw nine red zone targets, however, which pales in comparison to the league high 30 that teammate Roddy White received. That will even out in my opinion and we will see Jones at 15 to 20 red zone targets this year, giving him a great shot at 10 scores.
Keep in mind, Jones got better as his rookie season progressed and he finally overcame a hamstring injury that slowed him early. From Week 14 to Week 17, Jones caught 20 of his 33 targets (60.6 percent) for 393 yards (11.9 yards per target and 19.7 yards per catch) and six touchdowns (which were the most in the league). He was the second-ranked Fantasy receiver during that stretch, trailing only Megatron. With a full offseason (and he has reportedly been dominant) to get even better acclimated, I believe the sky is the limit for Jones, who showed incredible efficiency and explosiveness as a rookie. He is a strong top receiver for your teams and I love the fact that you can potentially steal him as your second receiver on Draft Day.
Breakout players
Matt Ryan: It's time for Matt Ryan to make the jump to the elite in the game with arguably the league's best receiver tandem in Roddy White and Julio Jones. For the year, Ryan completed 347 of his 566 attempts for a career high 4,174 yards with 29 touchdowns (also a career high) and 12 interceptions. His 331 points were also a career high and Ryan finally got back above 7.0 yards per attempt for the first time since his rookie season, checking in at 7.4. Ryan was tied with Matthew Stafford for fourth among all quarterbacks with an 81 percent consistency rate, but was just tied for eighth with a 38 percent big game rate. He finished as the eighth-ranked Fantasy quarterback (was seventh in 2010), but I really like what he did over the second half of the year. Following the team's Week 8 bye, Ryan finally had a healthy Jones and White at receiver and showed what he is actually capable of.
In the final eight games of the year (excluding Week 17 when he barely played), Ryan looked like a Fantasy superstar. From Week 9 to Week 16, Ryan was actually the fourth-ranked Fantasy quarterback trailing only Aaron Rodgers, Drew Brees and Tom Brady. He posted an 87.5 consistency rate in those games and produced five of his six big games on the year (62.5 percent big game rate). In those eight games, Ryan threw for 2,388 yards (298.5 yards per game) with 18 touchdowns and only four interceptions. He averaged a healthy 7.9 yards per attempt and 24.69 points per game. A full season of that kind of production would have made Ryan the sixth-ranked Fantasy quarterback with 4,776 yards passing, 36 touchdowns and only eight interceptions. While he would have only gained two ranking spots, it would have put Ryan right at the 400-point level (which would have been the seventh best season in Fantasy history) and made him a difference maker for your teams given his mid-round draft value.
Check out our Fantasy Football podcast!
There is no better source for entertaining Fantasy advice than our Fantasy Football Today podcast. Dave Richard, Jamey Eisenberg and Adam Aizer will help you pass the time as you anticipate Draft Day 2014!
Latest episode | Subscribe today!
If any quarterback is going to make a Matthew Stafford like leap in 2012, it is Ryan. He is one of the best goal line quarterbacks in the league (66.7 percent scoring rate last year, third at the position) and will continue to air the ball out as the Falcons shift to being a more dynamic, down the field passing attack under Dirk Koetter. If Ryan can get over eight yards per attempt and maintain what we saw in the second half of last year, we should be looking at a season with 4,500 yards passing and 32 touchdowns, which makes him a great option if you wait at quarterback this season and still want Top 5 potential.
Doug Martin: The Buccaneers traded back into the first round to take Doug Martin, because his solid all-around game reminded new coach Greg Schiano of his former player at Rutgers, Ray Rice. Martin is an excellent runner (2,569 yards and 28 touchdowns the last two years) and can be a weapon out of the backfield as well. At Boise State, Martin caught 28 passes in each of his last two collegiate seasons. The Buccaneers want to emphasize the run but also want to utilize their backs in the passing game, which gives Martin a serious leg up on incumbent starter LeGarrette Blount. With Vincent Jackson in town to stretch the field and Pro Bowl guard Carl Nicks added via free agency, I expect Tampa to be a much improved team on offense and Martin should reap the benefits. The new regime has no patience for Blount's ball security issues and all indications are that Martin will open the season as the starter. If he does, look for Martin to finish as a solid top 20 running back in 2012, because he should rack up total yardage as both a runner and a receiver.
Honorable mention: Mark Ingram (potential steal as fourth running back)
Sleepers
Josh Freeman: Freeman was my bust quarterback of 2011 and lived down to the hype with a brutal season. What a difference a year makes though, as Freeman is now one of my favorite sleepers as a second quarterback on Draft Day.
Back in 2010, Freeman was a model of consistency as he threw for 3,451 yards with 25 touchdowns and only six interceptions. He completed over 61 percent of his passes, had a 96.0 quarterback rating and added another 364 yards rushing, which is why he finished the year as the eighth-ranked Fantasy quarterback. He was not a big yardage producer but was a monster in the red zone, where his 28.6 percent scoring rate ranked fifth. The lack of yardage and the elite efficiency were what caused me to be down on Freeman because if his efficiency faltered at all, he was going to be in trouble. Well, Freeman took a big step back in 2011 in every aspect of the passing game. Yes, he set a career high with 346 completions and 3,592 yards, but he bested his 2010 yardage by only 141 yards despite attempting 77 more passes. His yards per attempt fell from 7.3 in 2010 to just 6.5 last year, which ranked 25th among all quarterbacks. He tossed only 16 touchdowns and threw a career worst 22 interceptions. Freeman also fell short in the red zone, where his 20.3 percent touchdown rate was 21st among the 36 busiest quarterbacks. The only area where Freeman improved last year was as a runner, where he finally broke through with four touchdowns (the first of his career) to go with 258 yards rushing.
So why am I optimistic about Freeman in 2012? He has had a great offseason in terms of personal development and personnel acquisitions. The team added a legit No. 1 receiver in Vincent Jackson, a good pass catching three down back in Doug Martin, a reliable tight end in Dallas Clark and a Pro Bowl guard in Carl Nicks. Yes, Kellen Winslow is gone, but nine of Freeman's 22 interceptions came on passes intended for Winslow, so that could also be considered addition by subtraction. Having a legit deep threat like Jackson, who has averaged over 10 yards per target and 17 yards per catch for his career, will be huge for Freeman who has struggled to get the ball down the field. Jackson will also open things up for Mike Williams as the second receiver and increase the efficiency of the short passing game.
New offensive coordinator Mike Sullivan was the quarterback coach for Eli Manning and the Giants, so he knows how to orchestrate an excellent passing game. Freeman has also lost some weight (at Sullivan's request) and the team wants to utilize his mobility more this season, which could give him a bump to 400 yards rushing (same as 1,000 yards passing) and four touchdowns on the ground. With Jackson and Martin in the mix along with Nicks providing superior protection, I think Freeman will see his yards per attempt climb back over seven and he will improve his touchdown interception ratio. Keep in mind that as bad as Freeman was last year, he was still the 16th-ranked quarterback in the best Fantasy season for that position in history. With new weapons, a better offense, an improved offensive line and enhanced rushing totals you have to like his chances to sneak back into the Top 10 in 2012. He is a great backup quarterback to target on Draft Day (I have him right behind Jay Cutler and Ben Roethlisberger, but ahead of Matt Schaub and Joe Flacco) and I think he will vastly exceed expectations this year with a very cheap price tag.
Brandon Lafell: Lafell is a great sleeper for 2012 as he will get every chance to become the team's second receiver opposite Steve Smith. He posted career highs with 613 yards and three touchdowns in 2011, but the exciting part to me is that he improved his efficiency across the board and showed signs of a player who could really explode with more chances. As a rookie in 2010, Lafell was bad in every efficiency category including target conversion rate (50 percent), yards per target (6.2), yards per catch (12.3) and touchdown rate (1.3 percent). In his second year, Lafell made huge leaps in every category with a 64.3 percent catch rate, a 10.9 yards per target average (fourth best among the 80 most targeted receivers), 17.0 yards per catch and a 5.4 percent touchdown rate. In fact, Lafell's 1.42 points per target ranked 13th among the 80 most targeted receivers, so with more chances I am expecting more production.
Follow us, Like us, Join us
Want more? Join the discussion on our Facebook page and Google+ and follow us on Twitter for additional insight while interacting with a community geared toward Fantasy Football.


Lafell has the size to be the team's go-to guy in the red zone and his 28.6 percent red zone scoring rate (two scores on seven targets) last year was tied for 20th among the 79 receivers who saw at least seven targets. In other words, Lafell produced like a Top 15 receiver last year, but his targets were too limited for most to notice. With a full offseason to work as the starter with Cam Newton, I am expecting Lafell to be more involved and more productive in 2012. I would not at all be surprised if he tops 800 yards and six touchdowns, making him a great bargain at the end of your drafts.
Honorable mention: Greg Olsen, Jacquizz Rodgers, Pierre Thomas, Devery Henderson, Nick Toon (deep sleeper)
Bust alert
Michael Turner: I love Matt Ryan, I love Julio Jones and I love Roddy White this year, but the other Falcon mainstay, Michael Turner, has me a little concerned headed into 2012. Turner was solid again in 2011, with 1,340 yards and 11 touchdowns running along with a career high 17 catches and 168 receiving yards. He finished sixth at the running back position and has been in the Top 10 in each of his three full seasons as a Falcon.
So what's the problem you might ask given that Turner has produced at least 1,456 total yards and 11 touchdowns in each of his full seasons with the Falcons? Well the answer is that Turner has slowed down in the second half of each of the last two years and I think the Falcons are moving to more of a passing attack. In 2010, Turner was held under 4.0 yards per carry in six of his final nine games and posted a 3.7 yards per carry average during that span. Last year, Turner averaged just 3.7 yards per carry again from Week 9 to Week 16 until he blew up against a Tampa Bay team that had quit on its coach in a meaningless Week 17 game. In those eight games from Week 9 to Week 16, Turner had only one game of 100 yards rushing (he had five in his first seven games) and was held under 65 yards rushing four times. He scored just three touchdowns in those games and was the 19th-ranked Fantasy running back at a time when the Falcons' offense was playing better than ever thanks to Matt Ryan and the passing game. To put it into a full-season perspective, Turner ran for 547 yards (68.3 per game) and was on pace for a season with basically 1,100 yards rushing and six touchdowns. The scariest part about his 19th-place ranking is that Turner was sixth among all runners with 146 carries during that span, so the decline did not come from a lack of opportunities.
At 30 years of age, it is no surprise Turner is slowing down since he has 300-plus carries in three of the last four seasons. I am not expecting another 1,300-yard rushing season from Turner this year and there is more talk than usual about limiting his touches, including an outright declaration from his coaches that he will not have 300 carries this year. The one area where Turner should continue to produce is in the touchdown department, but we are seeing red flags there too. Only Turner and Adrian Peterson have at least 10 touchdowns in each of the last four years and he remains a top goal line option in terms of opportunities. Turner led the league with 28 goal line chances in 2011, but his 32.1 percent scoring rate (ranked 15th among the 25 busiest backs inside the five yard line) left a lot to be desired. After scoring on a league high 62 percent of his goal line chances in 2008 and 2009, Turner has been under 38 percent in each of the last two seasons with last year's 32.1 percent representing the worst of his career. Given how bad the running back class is this year, I still see Turner as a borderline No. 1 running back because he should fall into 10 touchdowns as the goal line hammer for the Falcons. I strongly prefer him as a second running back for your teams and I don't think he will end up on many of my squads because all of the warning signs point to a decline and I don't think he has any real upside given his current ADP.
Vincent Jackson: This is the year where we will find out if Vincent Jackson truly is the elite receiver he appeared to be with Philip Rivers and the very friendly Norv Turner offense before his offseason move to Tampa Bay. Jackson was in an offense that played to his strengths and enabled him to be extremely productive on a low target volume. Over the last four years, Jackson has three Top 12 finishes (three for three in full seasons) at the wide receiver position thanks to his efficiency. During that span, Jackson has been elite with a 10.5 yards per target average (fourth), an 18.0 yards per catch average (third), an 8.1 percent touchdown rate (ninth) and a 1.6 points per target average (third). Maintaining that efficiency will be almost impossible following the move to Tampa Bay, which gives me some concern about Jackson's totals for 2012.
Jackson has topped 60 catches only once in his career and does not yet have a 1,200-yard season under his belt. If you were to take Jackson's career catch rate and adjust his yards per target average for the expected decrease with Freeman under center, he will need to set a career high in targets just to produce 1,000 yards this year. In San Diego, Rivers completed 65 percent of his passes over the last four years and Jackson caught 58 percent of his targets. Rivers also averaged an NFL best 8.4 yards per target during that span, so Jackson's 10.5 was still a significant jump, but it was a net 2.1 yards per play gain. When you consider that Josh Freeman averaged 6.5 yards per attempt last year, Jackson would have to be 3.5 yards per attempt better than his quarterback to get back to 10 yards per target. I don't see that happening because Freeman's strength has been in the short to intermediate passing game, whereas Jackson is primarily a vertical receiver.
Receivers that switch teams and sign big deals have had very disappointing first seasons in the past and I think Jackson will fall into that trap. This will be a run first team, so getting to 130 targets will be very tough for Jackson. In the Josh Freeman era, no receiver has had 130 targets or 1,000 yards in a season for the Bucs and they have not even had a single season with two receivers over 70 targets. That's why I expect Jackson to barely reach 1,000 yards, if he does so at all. In Tampa, Jackson will also be hard pressed to match the 8.67 touchdowns per season that he averaged with the Chargers, which is why Jackson is a third receiver, not a Top 20 option, in my mind on Draft Day. I expect that he will be someone who is chronically overvalued and taken among the Top 18-20 receivers, so you will not see him on many of my teams in 2012.
Stay in touch with the most passionate Fantasy staff in the business by following us via Twitter @CBSFantasyFB . You can also follow Nathan at @nathanzegura .