We all know that the quarterback position is the key to winning in the NFL (Trent Dilfer excluded), but it is quickly becoming the key to winning in Fantasy Football. Five of the top seven seasons in Fantasy history occurred in 2011 as Aaron Rodgers, Drew Brees, Tom Brady, Matthew Stafford and Cam Newton all topped the 400-point mark, joining Brady (2007) and Dan Marino (1984) in the exclusive club.
Quarterback Fantasy points are exploding and the changes are coming extremely rapidly. In 2003, the league's top quarterback was Peyton Manning and his 326 points would have placed just ninth in 2011. In 2008, Drew Brees had his first 5,000-yard season and was the top-ranked quarterback with 362 points, which would have placed just sixth last year. The average Top 12 quarterback in 2011 outscored his 2003 counterpart by 80 points over the course of a full season. Amazingly, the differential in 2008 was 77 points and it was even 54 points in the 2010 season.
FREE Draft Kits!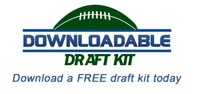 Get everything you need to dominate on Draft Day in one convenient place with our Downloadable Draft Kit, complete with projections, rankings and outlooks for 2013!
Download your Draft Kit now!
Looking at it from a purely statistical standpoint, it becomes even more shocking. We will start with the position as a whole and then get into the individual players. In 2003, quarterbacks passed for a grand total of 97,601 yards. In 2008, that number jumped to 111,010 yards, or a 13.4 percent jump from 2003. Last year, there were an NFL record 124,877 passing yards, which is a 27.9 percent leap from 2003 and a 12.5 percent gain over 2008. The change from 2003 to 2008 in total yards (13,409) was very similar to the change from 2008 to 2011 (13,867), so in another four years will we have a league with nearly 140,000 passing yards, (4,375 per team)? A near 30 percent jump in passing yardage from 2003 is astonishing in such a short period of time and when you break it down on the individual level it becomes almost laughable.
In 2003, Peyton Manning led the league with 4,267 yards passing and was one of two quarterbacks to top the 4,000 yard barrier. Last year, Manning's 2003 yardage total would have come in seventh among the 10 quarterbacks who topped 4,000 yards. 2011 also saw Ben Roethlisberger become the first quarterback to ever throw for 4,000 yards and finish outside of the Top 12 at his position in terms of Fantasy points.
Yardage is clearly off the charts and the arrow continues to point up, so what about touchdowns? Quarterbacks threw for 596 touchdowns in 2003 and saw a modest jump (5.3 percent) to 628 passing scores in 2008. Things exploded last year with an NFL record 741 passing scores, which is a massive jump of 18 percent over 2008 and 24 percent over 2003. Touchdowns grew slightly slower than the yards over the last nine years, but really shot up over the last four and on the individual level it is pretty amazing. In 2003, Brett Favre led the NFL with 32 touchdown passes and was the only quarterback to break the 30 score barrier. In 2011, three quarterbacks topped 40 touchdowns, eight produced at least 30 total scores and Favre's 32 would have landed in a three way tie for fifth. Even as recently as 2008, there were only four quarterbacks above 30 touchdowns and not one of them exceeded 35 scores.
I think you can trace the touchdown jump to the recent trend of spreading teams out at the goal line and throwing the ball much more often in today's NFL. In 2003, teams threw the ball on nearly 60 percent of their plays inside the 10 yard line and scored more touchdowns rushing (327) than passing (287). That was still true in 2008 when teams threw the ball on 56.8 percent of their plays and scored 348 scores on the ground compared to 292 touchdowns passing. Things have changed dramatically since then, however, and the league ran on just over 50 percent of its plays inside the 10 yard line in 2011. It should come as no surprise then, that there were more passing touchdowns (336) than rushing touchdowns (299) last year as well. This is why we are seeing tight end and wide receiver touchdown totals explode, because a three or four wide receiver/tight end set inside the 10 is becoming every bit as popular as the tried and true goal line formation.
The last trend I wanted to examine was the spread (the difference between the top quarterback and the No. 12 quarterback as well as the top quarterback versus the average starting quarterback) among starting Fantasy quarterbacks and how it has changed over time. My belief headed into this was that the elite are further separating themselves from the pack even though the pack itself is improving. In 2003, Peyton Manning (326) outscored the 12th-ranked Fantasy quarterback by 67 points and was 41.5 points better than the average quarterback over the course of the full season. In 2008, the top dog Drew Brees (363 points) was 129 points better than the 12th-ranked quarterback and finished 74 points better than the average starter. Last year, Aaron Rodgers outscored the 12th-ranked quarterback (Mike Vick) by a ridiculous 218 points and was 121 points better than the average starter. To put Rodgers' edge on the competition into perspective, you need to know that only six non quarterbacks in all of Fantasy even topped 218 points last year. So Rodgers would have beaten Vick and any non quarterback not named Ray Rice, Arian Foster, LeSean McCoy, Maurice Jones-Drew, Calvin Johnson or Rob Gronkowski in a one on two handicap match. The elite are becoming super elite and with the way quarterbacks are scoring, it sure looks like a good idea to have one of them on your team.
Clearly everything passing related is on the rise and as we head into 2012, the quarterback position seems as loaded as it ever has before. Aaron Rodgers, Tom Brady and Drew Brees have been in the top six in each of the last three seasons. Matthew Stafford and Cam Newton look like top six fixtures for years to come after their breakout 2011 campaigns. Then you have Tony Romo, Michael Vick, Philip Rivers, Peyton Manning, Eli Manning, Matt Ryan and Matt Schaub, all of whom have finished in the top seven at least once in the last three years. That's 12 quarterbacks right there, not to mention Jay Cutler, Ben Roethlisberger, Josh Freeman, Carson Palmer and rookies Robert Griffin III and Andrew Luck. So there are at least 18 quarterbacks (19 if Jake Locker wins the starting job) headed into 2012 with legitimate Fantasy potential, so the real question becomes which ones should you target on Draft Day? Let's start to answer that question by looking at the trends at the position as it relates to draft position and ranking consistency since 2008.
Check out our Fantasy Football podcast!
There is no better source for entertaining Fantasy advice than our Fantasy Football Today podcast. Dave Richard, Jamey Eisenberg and Adam Aizer will help you pass the time as you anticipate Draft Day 2014!
Latest episode | Subscribe today!
Let's start with the consistency at the quarterback position, which is the highest of any position in Fantasy. In each of the last three seasons, seven of the top 12 quarterbacks have remained in the top 12 the following season for a 58 percent consistency carryover. Rodgers, Brady, Brees, Rivers and Eli Manning have made the list in each of the last three seasons. Tony Romo (injury), Peyton Manning (injury), Michael Vick, Matt Schaub (injury) and Matt Ryan have each made the list in two of the last three years. What that tells me is that the quarterback position is incredibly deep, so we will see some yearly turnover at the bottom of the top 12, but the cream always rises to the top..
That being said, the true stars of the position shine the brightest and while they require early picks, they seem to deliver very safe returns on their investments. In 2009, the first four quarterbacks taken all finished in the top six with Brett Favre (in to camp extremely late) and breakout quarterback Matt Schaub also crashing the party. In 2010, five of the first six quarterbacks taken finished in the top six, with only Vick (who was not a starter on Draft Day) making the big leap. Last year, three of the first four quarterbacks taken finished in the top three, with only Vick (who I had deemed undraftable given his ADP) failing to land in the top six. While the early picks certainly seem to pay dividends, it should also be noted that a quarterback not taken before the seventh round has finished in the top six at the position in five straight seasons, so there is a lottery ticket out there.
An elite quarterback is not the only path to the title, even though I think it is the best one. If you do not want to spend an early pick on an elite quarterback, you must load up your team elsewhere (perhaps jump early on Jimmy Graham) and then come back with one of the second tier quarterbacks with top five potential like Romo, Vick, the Mannings, Rivers or even Ryan. Missing out on those guys in a 12 team league is foolish this year. Frankly, I would personally only feel truly comfortable with the top seven from Rodgers to Vick (if you take Vick, you will get top-five per game production but will need a good backup) on my team because I feel very secure in what they will produce. I think you can win with the Mannings, Philip Rivers and Matt Ryan, but you will need to pick correctly on the one of them that makes the top five leap like Stafford (my bet is Ryan) last year. It also means you will need a lot of help from the rest of your team, which places too much pressure on positions that have proven to be incredibly inconsistent and tightly bunched year to year. I'd rather go with the elite quarterback.
Follow us, Like us, Join us
Want more? Join the discussion on our Facebook page and Google+ and follow us on Twitter for additional insight while interacting with a community geared toward Fantasy Football.


Last year, of the 10 players who had the highest winning percentage at CBSSports.com, four of them were quarterbacks, including Aaron Rodgers leading the way at 59 percent. Those elite quarterbacks did not just put up big-time points, but they also delivered championships. This year, it looks like we could have five elite quarterbacks go in the first two rounds. If you do not have a shot at Foster, Rice or McCoy, I would strongly consider a quarterback in the first round and certainly look at one in Round 2 if you miss on Rodgers, Brady or Brees. I think Rodgers and Brady are in a class to themselves this year and are both great first round picks as early as No. 4 overall. Brees is a good late first round option and I think both Stafford and Newton are solid second round selections. Those five guys will key many Fantasy titles because this game is starting to simplify itself given the changes in offensive philosophies and production.
Elite quarterbacks produce the biggest point totals year in and year out, which has been magnified by the 30 percent growth we have seen in their Fantasy points over the last nine years. Elite quarterbacks provide the biggest differentials relative to a replacement starter than we see at any other position (again it was 218 points from No. 1 to No. 12 last year). Elite quarterbacks are very safe first round investments in terms of both guaranteed production and injury risk, especially when compared to Ryan Mathews, Chris Johnson, Darren McFadden and really any running back or wide receiver. Finally, elite quarterbacks have the highest winning percentages (over the last three years Rodgers, Brady and Brees are first, second and third respectively) of players at any position and at the end of the day, isn't Herm Edwards right? You play to win the game! So go draft an elite quarterback and win the game my friends!
Stay in touch with the most passionate Fantasy staff in the business by following us via Twitter @CBSFantasyFB . You can also follow Nathan at @nathanzegura .