Dez Bryant was a breakout star in 2012. So were Matt Ryan, Doug Martin, Stevan Ridley and Demaryius Thomas. All those players were listed in this space last season, and we hope to have similar success this year.
FREE Draft Kits!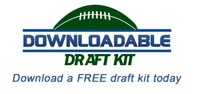 Get everything you need to dominate on Draft Day in one convenient place with our Downloadable Draft Kit, complete with projections, rankings and outlooks for 2013!
Download your Draft Kit now!
When looking at breakout players I usually look for three things. I'm trying to find someone who has had moderate success in the NFL on the verge of doing something great, someone great on the verge of a career year or a rookie who can immediately become a star.
There are 10 solid candidates listed below who fit that criteria for you to mull over heading into training camp. We'll be taking another stab at this prior to the start of the season to give you an updated version following preseason action, and you can check out my sleepers here.
Andrew Luck, QB, Colts: Colts coach Chuck Pagano is looking forward to watching Luck improve in his second year, and so are we. "The speed of the game is going to slow down for Andrew," Pagano told me at the NFL owners meetings in March. "He's a really bright guy. He doesn't forget very much, if anything. We'll analyze all the stuff, he'll analyze it and going into his second year, he'll do nothing but improve." The Colts lost Bruce Arians as the offensive coordinator, but they replaced him with someone Luck knows quite well in Pep Hamilton, who was Luck's offensive coordinator at Stanford. He should help Luck improve on his accuracy, which was just 54.1 percent last year due in part to Arians' downfield attack. Luck was still successful with 4,374 passing yards, 23 touchdowns and 18 interceptions and 255 rushing yards and five touchdowns, but we expect his touchdowns to improve and his interceptions to go down. He's a No. 1 Fantasy quarterback, and you can wait on him until Round 5 or 6 in the majority of leagues.
I'd take him ahead of: Robert Griffin III, Russell Wilson, Tony Romo
Lamar Miller, RB, Dolphins: Miller is going to start for the Dolphins this year, and he has limited competition for carries with Daniel Thomas and Mike Gillislee. Miller has already said he wants 1,500 rushing yards, and we think he can reach that goal. He's going to replace Reggie Bush, who last year managed over 1,200 total yards and eight touchdowns in this offense and was a Top 15 Fantasy running back in standard leagues. Miller might be faster than Bush, and if he can prove to be as durable (Bush missed just one game in two years with Miami) and also do as well catching the ball he could post better stats. You're going to have to draft Miller toward the end of Round 3 or beginning of Round 4 to get him in a 12-team league, and we think he's worth the price tag. The Dolphins have revamped their offense this offseason with the additions of Mike Wallace, Brandon Gibson and Dustin Keller, but they didn't make any significant upgrades at running back even with Bush gone. That's because they believe Miller can be a star, and we agree.
I'd take him ahead of: Darren Sproles, David Wilson, Le'Veon Bell
David Wilson, RB, Giants: The Giants plan to use Wilson in tandem with Andre Brown, but understand the hope is that Wilson becomes a star in the mold of Tiki Barber and Ahmad Bradshaw. Wilson, a first-round pick out of Virginia Tech last season, has blazing speed, and the Giants just hope he can improve his pass blocking and fumble issues from his rookie year. So far, so good this offseason. "David, we used him in spots last year," coach Tom Coughlin told me at the owners meetings. "He's capable of more. We certainly will exploit his tremendous quickness and speed." Fantasy owners saw what Wilson is capable of during the final four games last season when he had 49 Fantasy points even though Bradshaw was active for three of those outings. It wouldn't be a surprise to see Wilson get 1,500 total yards. The key will be how many touchdowns he loses to Brown, but he scored five times on offense as a rookie. Bradshaw averaged nine touchdowns a season for the past three years, so Wilson should be fine. Don't be surprised when Wilson is drafted toward the end of Round 3 in most leagues. He should live up to the billing.
I'd take him ahead of: Chris Ivory, Ahmad Bradshaw, Montee Ball
Chris Ivory, RB, Jets: We've wanted to see what Ivory would look like as a featured running back after seeing him dominate in limited action with the Saints. He gets that chance this season with the Jets, and we hope he can live up to the hype. Ivory has averaged 5.1 yards per carry over three seasons in New Orleans. He's also scored a touchdown on average once every three games. The Jets are going to remain a run-first team, and Ivory is replacing Shonn Greene. Say what you want about Greene's ability, but based on his workload (at least 250 carries each of the past two seasons) and ability to avoid injuries he was a Top 20 Fantasy running back in standard leagues in 2011 and 2012. Ivory is more talented than Greene, so he should at least fall in a similar range. Now, Ivory needs to improve as a receiver (he has 18 career catches in the NFL and college), but he should be able to rush for around 1,100 yards and at least six touchdowns. We'd take Ivory in Round 5 in standard formats and in Round 6 in PPR leagues.
I'd take him ahead of: Ryan Mathews, Eddie Lacy, Giovani Bernard
Shane Vereen, RB, Patriots: Vereen steps into Danny Woodhead's role, and he's one of my favorite players heading into this season. He should be in line for a big boost in production. Last year, Woodhead played on most passing downs in New England. He had 76 carries for 301 yards and four touchdowns and 40 catches for 446 yards and three touchdowns, and he finished as the No. 24 Fantasy running back in standard leagues. Vereen is an upgrade over Woodhead in terms of talent, and hopefully he will earn Tom Brady and Bill Belichick's trust like they had in Woodhead. Keep in mind that the Patriots need help in their passing game now with Rob Gronkowski (back) hurt and Aaron Hernandez, Wes Welker and Brandon Lloyd gone, and Vereen caught seven passes for 105 yards and two touchdowns in the postseason last year. He will also get his share of carries in tandem with Stevan Ridley, and he's a great running back to target in Round 7 in standard leagues and Round 6 in PPR formats.
I'd take him ahead of: Rashard Mendenhall, BenJarvus Green-Ellis, Jonathan Stewart
Randall Cobb, WR, Packers: Cobb had a breakout season last year, but this year is going to be even better. He had 80 catches for 954 yards and eight touchdowns and 10 carries for 132 yards. He was the No. 18 receiver in standard leagues, but this year he should be in the Top 10. It's his third season in the NFL, so he's ready for the uptick in production, and his coach and quarterback are talking about Cobb getting 100 catches. If he gets 100 catches, at his yards per catch last season (11.9) that would give him 1,190 receiving yards, which is a difference of about 24 Fantasy points from 2012. With those additional points he would have been a Top 10 receiver last year. I asked coach Mike McCarthy if Cobb was just scratching the surface of his talent. "I hope so. That would be fun, huh?" McCarthy said. "He's a very good football player, and I think he's going to be an excellent player for us for a long time."
I'd take him ahead of: Vincent Jackson, Victor Cruz, Wes Welker
Danny Amendola, WR, Patriots: I've been an Amendola supporter for several years now, and I'm excited about this move to New England. This should be his best year in the NFL. The key, of course, is health since he's missed 20 games combined the past two seasons for a dislocated elbow, shoulder and foot problem. But when he's been on the field he's been productive. In 2010 he had 85 catches for 689 yards and three touchdowns, and last year before going down the first time in Week 5 he was on pace for 124 catches for 1,404 yards and eight touchdowns. He's expected to replace Welker, who averaged 112 catches, 1,243 yards and six touchdowns a year in New England over six years. It's unrealistic for Amendola to hit those averages, but with Gronkowski hurt and a revamped receiving corps, Amendola could have a monster year. He's a Top 24 receiver in standard leagues and a potential Top 15 option in PPR formats.
I'd take him ahead of: James Jones, Cecil Shorts, Antonio Brown
Tavon Austin, WR, Rams: I've already said in a dynasty league that Austin should be the first rookie drafted, even ahead of running backs like Giovani Bernard, Le'Veon Bell and Montee Ball. Austin's upside is tremendous, and he should be exceptional this season. The Rams plan to get Austin involved as much as possible, including lining him up in the backfield, with the hopes he can become like Percy Harvin or Cobb. With Amendola gone, Austin should become Sam Bradford's favorite target, and he should be electric on the turf in St. Louis. In fact, the Rams play 13 games on turf (road games at Atlanta, Dallas, Houston, Indianapolis and Arizona). Austin had over 100 catches each of his final two years at West Virginia with 2,475 yards and 20 touchdowns over that span. He also had 72 carries for 643 yards and three touchdowns in 2012, so he's clearly a dual threat. Target Austin in Round 7 in standard leagues and Round 6 in PPR formats, and you'll be happy if you get him on your team.
I'd take him ahead of: Steve Johnson, Mike Wallace, Greg Jennings
Kenny Britt, WR, Titans: Britt has been plagued by injuries to his knee and hamstring, and he's been in trouble off the field almost annually since entering the NFL in 2009. This year, however, he's healthy coming into training camp, and he's only been in the news for positive reasons. He's entering a contract year, so Britt is saying and doing all the right things. This might be the first time since his rookie season that I'm confident in drafting him, and I'd take him as a No. 3 Fantasy receiver. Britt has shown flashes of his potential before. In 2011, before he suffered a torn ACL in Week 3, he was on pace for 91 catches, 1,541 yards and 16 touchdowns. He also scored nine touchdowns in just 12 games in 2010. Having the inconsistent Jake Locker at quarterback is a concern, and the Titans are still a run-first team. But Britt has the talent to be a difference maker, and he should land in your lap in Round 8 or 9. If he stays healthy -- and out of trouble -- he should reward you with a big season.
I'd take him ahead of: DeSean Jackson, Danario Alexander, Mike Williams
Jared Cook, TE, Rams: Cook has said he was underutilized with the Titans, and we'll find out if that was the case now that he's in St. Louis. So far this offseason, Cook might be right. He's apparently lining up all over the place -- at tight end, in the slot, out wide and even in the backfield -- so the Rams can create mismatches for Cook. They want to feature him on offense, and we expect him to have a big season. He never posted dominant stats in Tennessee (his season-best totals are 49 catches, 759 yards and four touchdowns), but he has the potential to be a Top 10 Fantasy tight end this year. The best part about drafting Cook is you can wait to select him late, and he's a great tight end to settle for if you miss out on the upper echelon guys. The Rams should be throwing quite a bit this year, and it's doubtful Cook is coming off the field for many plays. He could be the next great tight end in the NFL, and we love his upside.
I'd take him ahead of: Martellus Bennett, Jermichael Finley, Owen Daniels
Other potential breakouts to consider for Draft Day

Russell Wilson, QB, Seahawks
The addition of Harvin should only enhance his production.
Le'Veon Bell, RB, Steelers
Has the chance to be the best rookie running back this season.
Mark Ingram, RB, Saints
Don't be surprised if Ingram reaches double digits in touchdowns.
Ronnie Hillman, RB, Broncos
Ball should be the best Denver back, but Hillman will play a prominent role.
Torrey Smith, WR, Ravens
A third-year breakout is probable, especially with Anquan Boldin gone.
Antonio Brown, WR, Steelers
The new No. 1 receiver in Pittsburgh has the potential to be a weekly starter in all leagues.
T.Y. Hilton, WR, Colts
Playing time won't be an issue, and he should improve on last year's seven TDs.
Denarius Moore, WR, Raiders
Easily the No. 1 option in Oakland's passing game and entering his third year.
Pierre Garcon, WR, Redskins
If he stays healthy he should easily be a Top 15 Fantasy receiver.
Martellus Bennett, TE, Bears
Jay Cutler likes to rely on his tight ends when it comes to scoring TDs.
Stay in touch with the most passionate Fantasy staff in the business by following us via Twitter @CBSFantasyFB . You can also follow Jamey at @JameyEisenberg .