Training camp is approaching, which means your Draft Day is just around the corner. With that in mind, we encourage you to participate in as many mock drafts as possible, which you can do here at CBSSports.com.
It's the best practice for your real draft. You can test different strategies and see how a draft will unfold without any pressure. It's a fun exercise, and I try to do at least one a week.
We recently did a 12-team standard mock draft with our staff, which should reflect all the news from the offseason (the Patriots mess at tight end, Michael Crabtree's Achilles injury, Robert Griffin III's comeback from knee surgery, etc.). And there will be more mock drafts to come over the next few weeks as we approach the season.
FREE Draft Kits!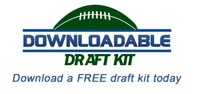 Get everything you need to dominate on Draft Day in one convenient place with our Downloadable Draft Kit, complete with projections, rankings and outlooks for 2013!
Download your Draft Kit now!
In this draft, my colleague Nando Di Fino wanted to try a different strategy at No. 5 overall. His plan was to take three running backs with his first three picks, but he got derailed. He started with C.J. Spiller in Round 1 and Reggie Bush in Round 2, but Demaryius Thomas fell into his lap in Round 3. He couldn't pass on Thomas there. He wanted to load up on running back depth early knowing there would be plenty of quality receivers in the middle rounds he could use and be comfortable with. But like all drafts, things can change your approach, and you have to adjust when that happens.
For my team, I had two scenarios that I would like to do over again. I was thrilled with my first seven picks of Jamaal Charles, A.J. Green, David Wilson, Montee Ball, Ahmad Bradshaw, Matthew Stafford and Torrey Smith. But in Round 8 I made a silly mistake.
Since I waited to take a second receiver and already had four running backs I went with a third receiver in Josh Gordon hoping that Ben Tate, Bryce Brown or Vick Ballard would make it back to me in Round 9. All went before my selection, and I wasn't happy. In hindsight, I should have taken Tate, and I still could have gotten a quality No. 3 receiver in Lance Moore, who I took with my next pick.
Then in Round 12 I decided to go with the best talent on the board, which was the 49ers DST. I rarely ever take a DST before the second-to-last round, but it made the most sense at that spot. I figured in Round 13 that I could get Knile Davis, the expected handcuff for Charles, but again he went two picks before I was up.
Check out our Fantasy Football podcast!
There is no better source for entertaining Fantasy advice than our Fantasy Football Today podcast. Dave Richard, Jamey Eisenberg and Adam Aizer will help you pass the time as you anticipate Draft Day 2014!
Latest episode | Subscribe today!
While I like my team, those two picks were frustrating. But again, that's why we practice in preparation for the real thing.
As always, we ask you to share your thoughts on this draft. Take advantage of our Twitter feed (@CBSFantasyFB) and post your comments there, or share your thoughts on our Facebook page.
In this league, all touchdowns are worth six points, and we award one point for every 10 yards rushing and receiving and one point for every 25 yards passing. We feature a starting lineup of QB, 2 RB, 2 WR, TE, K, DST and a FLEX (RB/WR/TE). There will also be six reserve spots for a 15-round draft.
Our draft order is as follows:
1. Nathan Zegura, Senior Fantasy Writer
2. Peter Madden, Editorial Director, Fantasy Sports
3. Al Melchior, Data Analyst
4. Jamey Eisenberg, Senior Fantasy Writer
5. Nando Di Fino, Senior Fantasy Writer
6. J. Darin Darst, College Football Producer
7. Joe Polito, Social Media Coordinator, Fantasy Sports
8. Jeff Tobin, Associate Managing Editor
9. Will Brinson, CBSSports.com Eye on Football Blogger
10. Michael Hurcomb, Editor, Fantasy Sports
11. Adam Aizer, Podcast/Video Host
12. Scott White, Senior Fantasy Writer
Round by Round

Round 1

Pick
Team
Player
1
Zegura
Adrian Peterson, RB, MIN
2
Madden
Arian Foster, RB, HOU
3
Melchior
Doug Martin, RB, TB
4
Eisenberg
Jamaal Charles, RB, KC
5
Di Fino
C.J. Spiller, RB, BUF
6
Darst
Marshawn Lynch, RB, SEA
7
Polito
LeSean McCoy, RB, PHI
8
Tobin
Trent Richardson, RB, CLE
9
Brinson
Ray Rice, RB, BAL
10
Hurcomb
Calvin Johnson, WR, DET
11
Aizer
Alfred Morris, RB, WAS
12
White
Matt Forte, RB, CHI

Round 2

Pick
Team
Player
13
White
Stevan Ridley, RB, NE
14
Aizer
Jimmy Graham, TE, NO
15
Hurcomb
Chris Johnson, RB, TEN
16
Brinson
Steven Jackson, RB, ATL
17
Tobin
DeMarco Murray, RB, DAL
18
Polito
Aaron Rodgers, QB, GB
19
Darst
Maurice Jones-Drew, RB, JAC
20
Di Fino
Reggie Bush, RB, DET
21
Eisenberg
A.J. Green, WR, CIN
22
Melchior
Drew Brees, QB, NO
23
Madden
Julio Jones, WR, ATL
24
Zegura
Brandon Marshall, WR, CHI

Round 3

Pick
Team
Player
25
Zegura
Lamar Miller, RB, MIA
26
Madden
Rob Gronkowski, TE, NE
27
Melchior
Dez Bryant, WR, DAL
28
Eisenberg
David Wilson, RB, NYG
29
Di Fino
Demaryius Thomas, WR, DEN
30
Darst
Roddy White, WR, ATL
31
Polito
Randall Cobb, WR, GB
32
Tobin
Larry Fitzgerald, WR, ARI
33
Brinson
Andre Johnson, WR, HOU
34
Hurcomb
Darren McFadden, RB, OAK
35
Aizer
Frank Gore, RB, SF
36
White
Victor Cruz, WR, NYG

Round 4

Pick
Team
Player
37
White
Percy Harvin, WR, SEA
38
Aizer
Darren Sproles, RB, NO
39
Hurcomb
Peyton Manning, QB, DEN
40
Brinson
Vincent Jackson, WR, TB
41
Tobin
Jordy Nelson, WR, GB
42
Polito
Le'Veon Bell, RB, PIT
43
Darst
Tom Brady, QB, NE
44
Di Fino
Reggie Wayne, WR, IND
45
Eisenberg
Montee Ball, RB, DEN
46
Melchior
Chris Ivory, RB, NYJ
47
Madden
Hakeem Nicks, WR, NYG
48
Zegura
Wes Welker, WR, DEN

Round 5

Pick
Team
Player
49
Zegura
Dwayne Bowe, WR, KC
50
Madden
Eddie Lacy, RB, GB
51
Melchior
Marques Colston, WR, NO
52
Eisenberg
Ahmad Bradshaw, RB, IND
53
Di Fino
Rashard Mendenhall, RB, ARI
54
Darst
Eric Decker, WR, DEN
55
Polito
Shane Vereen, RB, NE
56
Tobin
Cam Newton, QB, CAR
57
Brinson
Giovani Bernard, RB, CIN
58
Hurcomb
Andre Brown, RB, NYG
59
Aizer
Danny Amendola, WR, NE
60
White
Ryan Mathews, RB, SD

Round 6

Pick
Team
Player
61
White
Matt Ryan, QB, ATL
62
Aizer
Steve Smith, WR, CAR
63
Hurcomb
Tavon Austin, WR, STL
64
Brinson
Tony Gonzalez, TE, ATL
65
Tobin
James Jones, WR, GB
66
Polito
Pierre Garcon, WR, WAS
67
Darst
Jonathan Stewart, RB, CAR
68
Di Fino
Steve Johnson, WR, BUF
69
Eisenberg
Matthew Stafford, QB, DET
70
Melchior
Cecil Shorts, WR, JAC
71
Madden
Zac Stacy, RB, STL
72
Zegura
Jason Witten, TE, DAL

Round 7

Pick
Team
Player
73
Zegura
Mark Ingram, RB, NO
74
Madden
T.Y. Hilton, WR, IND
75
Melchior
Vernon Davis, TE, SF
76
Eisenberg
Torrey Smith, WR, BAL
77
Di Fino
DeSean Jackson, WR, PHI
78
Darst
Antonio Brown, WR, PIT
79
Polito
Dennis Pitta, TE, BAL
80
Tobin
BenJarvus Green-Ellis, RB, CIN
81
Brinson
Bernard Pierce, RB, BAL
82
Hurcomb
Mike Wallace, WR, MIA
83
Aizer
Danario Alexander, WR, SD
84
White
Greg Jennings, WR, MIN

Round 8

Pick
Team
Player
85
White
Mikel Leshoure, RB, DET
86
Aizer
Ronnie Hillman, RB, DEN
87
Hurcomb
Jeremy Maclin, WR, PHI
88
Brinson
Miles Austin, WR, DAL
89
Tobin
Kenny Britt, WR, TEN
90
Polito
Pierre Thomas, RB, NO
91
Darst
Kyle Rudolph, TE, MIN
92
Di Fino
Daryl Richardson, RB, STL
93
Eisenberg
Josh Gordon, WR, CLE
94
Melchior
Fred Jackson, RB, BUF
95
Madden
Ben Tate, RB, HOU
96
Zegura
Andrew Luck, QB, IND

Round 9

Pick
Team
Player
97
Zegura
Bryce Brown, RB, PHI
98
Madden
Russell Wilson, QB, SEA
99
Melchior
Vick Ballard, RB, IND
100
Eisenberg
Lance Moore, WR, NO
101
Di Fino
Antonio Gates, TE, SD
102
Darst
Anquan Boldin, WR, SF
103
Polito
DeAndre Hopkins, WR, HOU
104
Tobin
DeAngelo Williams, RB, CAR
105
Brinson
Mike Williams, WR, TB
106
Hurcomb
Isaiah Pead, RB, STL
107
Aizer
Tony Romo, QB, DAL
108
White
Colin Kaepernick, QB, SF

Round 10

Pick
Team
Player
109
White
Justin Blackmon, WR, JAC
110
Aizer
Emmanuel Sanders, WR, PIT
111
Hurcomb
Robert Griffin III, QB, WAS
112
Brinson
Eli Manning, QB, NYG
113
Tobin
Danny Woodhead, RB, SD
114
Polito
Johnathan Franklin, RB, GB
115
Darst
Michael Bush, RB, CHI
116
Di Fino
Alshon Jeffery, WR, CHI
117
Eisenberg
Ryan Broyles, WR, DET
118
Melchior
Andy Dalton, QB, CIN
119
Madden
Aaron Dobson, WR, NE
120
Zegura
Santonio Holmes, WR, NYJ

Round 11

Pick
Team
Player
121
Zegura
Joseph Randle, RB, DAL
122
Madden
Denarius Moore, WR, OAK
123
Melchior
Michael Floyd, WR, ARI
124
Eisenberg
Jared Cook, TE, STL
125
Di Fino
Knowshon Moreno, RB, DEN
126
Darst
Jacquizz Rodgers, RB, ATL
127
Polito
Joe Flacco, QB, BAL
128
Tobin
Greg Olsen, TE, CAR
129
Brinson
Rueben Randle, WR, NYG
130
Hurcomb
Seahawks DST
131
Aizer
Toby Gerhart, RB, MIN
132
White
Shonn Greene, RB, TEN

Round 12

Pick
Team
Player
133
White
Jermichael Finley, TE, GB
134
Aizer
Michael Vick, QB, PHI
135
Hurcomb
Mohamed Sanu, WR, CIN
136
Brinson
Jay Cutler, QB, CHI
137
Tobin
Mike Gillislee, RB, MIA
138
Polito
Martellus Bennett, TE, CHI
139
Darst
LaMichael James, RB, SF
140
Di Fino
Josh Freeman, QB, TB
141
Eisenberg
49ers DST
142
Melchior
Kendall Wright, WR, TEN
143
Madden
Sidney Rice, WR, SEA
144
Zegura
Bears DST

Round 13

Pick
Team
Player
145
Zegura
Mike Goodson, RB, NYJ
146
Madden
Knile Davis, RB, KC
147
Melchior
Bengals DST
148
Eisenberg
Chris Givens, WR, STL
149
Di Fino
Willis McGahee, RB, DEN
150
Darst
Broncos DST
151
Polito
Brian Hartline, WR, MIA
152
Tobin
Texans DST
153
Brinson
Ravens DST
154
Hurcomb
Brandon Pettigrew, TE, DET
155
Aizer
Kendall Hunter, RB, SF
156
White
Brandon LaFell, WR, CAR

Round 14

Pick
Team
Player
157
White
Patriots DST
158
Aizer
Packers DST
159
Hurcomb
Jacoby Jones, WR, BAL
160
Brinson
Denard Robinson, RB, JAC
161
Tobin
Ben Roethlisberger, QB, PIT
162
Polito
Blair Walsh, K, MIN
163
Darst
Philip Rivers, QB, SD
164
Di Fino
Rams DST
165
Eisenberg
Robert Turbin, RB, SEA
166
Melchior
Daniel Thomas, RB, MIA
167
Madden
Giants DST
168
Zegura
Montario Hardesty, RB, CLE

Round 15

Pick
Team
Player
169
Zegura
Phil Dawson, K, SF
170
Madden
Stephen Gostkowski, K, NE
171
Melchior
Matt Bryant, K, ATL
172
Eisenberg
Matt Prater, K, DEN
173
Di Fino
Sebastian Janikowski, K, OAK
174
Darst
Garrett Hartley, K, NO
175
Polito
Titans DST
176
Tobin
Justin Tucker, K, BAL
177
Brinson
Kai Forbath, K, WAS
178
Hurcomb
Mason Crosby, K, GB
179
Aizer
David Akers, K, DET
180
White
Randy Bullock, K, HOU

 

Team by Team

Adam Aizer

Rd.Pk
Player
1.11
Alfred Morris, RB, WAS
2.2
Jimmy Graham, TE, NO
3.11
Frank Gore, RB, SF
4.2
Darren Sproles, RB, NO
5.11
Danny Amendola, WR, NE
6.2
Steve Smith, WR, CAR
7.11
Danario Alexander, WR, SD
8.2
Ronnie Hillman, RB, DEN
9.11
Tony Romo, QB, DAL
10.2
Emmanuel Sanders, WR, PIT
11.11
Toby Gerhart, RB, MIN
12.2
Michael Vick, QB, PHI
13.11
Kendall Hunter, RB, SF
14.2
Packers DST
15.11
David Akers, K, DET

Will Brinson

Rd.Pk
Player
1.9
Ray Rice, RB, BAL
2.4
Steven Jackson, RB, ATL
3.9
Andre Johnson, WR, HOU
4.4
Vincent Jackson, WR, TB
5.9
Giovani Bernard, RB, CIN
6.4
Tony Gonzalez, TE, ATL
7.9
Bernard Pierce, RB, BAL
8.4
Miles Austin, WR, DAL
9.9
Mike Williams, WR, TB
10.4
Eli Manning, QB, NYG
11.9
Rueben Randle, WR, NYG
12.4
Jay Cutler, QB, CHI
13.9
Ravens DST
14.4
Denard Robinson, RB, JAC
15.9
Kai Forbath, K, WAS

J. Darin Darst

Rd.Pk
Player
1.6
Marshawn Lynch, RB, SEA
2.7
Maurice Jones-Drew, RB, JAC
3.6
Roddy White, WR, ATL
4.7
Tom Brady, QB, NE
5.6
Eric Decker, WR, DEN
6.7
Jonathan Stewart, RB, CAR
7.6
Antonio Brown, WR, PIT
8.7
Kyle Rudolph, TE, MIN
9.6
Anquan Boldin, WR, SF
10.7
Michael Bush, RB, CHI
11.6
Jacquizz Rodgers, RB, ATL
12.7
LaMichael James, RB, SF
13.6
Broncos DST
14.7
Philip Rivers, QB, SD
15.6
Garrett Hartley, K, NO

Nando Di Fino

Rd.Pk
Player
1.5
C.J. Spiller, RB, BUF
2.8
Reggie Bush, RB, DET
3.5
Demaryius Thomas, WR, DEN
4.8
Reggie Wayne, WR, IND
5.5
Rashard Mendenhall, RB, ARI
6.8
Steve Johnson, WR, BUF
7.5
DeSean Jackson, WR, PHI
8.8
Daryl Richardson, RB, STL
9.5
Antonio Gates, TE, SD
10.8
Alshon Jeffery, WR, CHI
11.5
Knowshon Moreno, RB, DEN
12.8
Josh Freeman, QB, TB
13.5
Willis McGahee, RB, DEN
14.8
Rams DST
15.5
Sebastian Janikowski, K, OAK

Jamey Eisenberg

Rd.Pk
Player
1.4
Jamaal Charles, RB, KC
2.9
A.J. Green, WR, CIN
3.4
David Wilson, RB, NYG
4.9
Montee Ball, RB, DEN
5.4
Ahmad Bradshaw, RB, IND
6.9
Matthew Stafford, QB, DET
7.4
Torrey Smith, WR, BAL
8.9
Josh Gordon, WR, CLE
9.4
Lance Moore, WR, NO
10.9
Ryan Broyles, WR, DET
11.4
Jared Cook, TE, STL
12.9
49ers DST
13.4
Chris Givens, WR, STL
14.9
Robert Turbin, RB, SEA
15.4
Matt Prater, K, DEN

Michael Hurcomb

Rd.Pk
Player
1.10
Calvin Johnson, WR, DET
2.3
Chris Johnson, RB, TEN
3.10
Darren McFadden, RB, OAK
4.3
Peyton Manning, QB, DEN
5.10
Andre Brown, RB, NYG
6.3
Tavon Austin, WR, STL
7.10
Mike Wallace, WR, MIA
8.3
Jeremy Maclin, WR, PHI
9.10
Isaiah Pead, RB, STL
10.3
Robert Griffin III, QB, WAS
11.10
Seahawks DST
12.3
Mohamed Sanu, WR, CIN
13.10
Brandon Pettigrew, TE, DET
14.3
Jacoby Jones, WR, BAL
15.10
Mason Crosby, K, GB

Peter Madden

Rd.Pk
Player
1.2
Arian Foster, RB, HOU
2.11
Julio Jones, WR, ATL
3.2
Rob Gronkowski, TE, NE
4.11
Hakeem Nicks, WR, NYG
5.2
Eddie Lacy, RB, GB
6.11
Zac Stacy, RB, STL
7.2
T.Y. Hilton, WR, IND
8.11
Ben Tate, RB, HOU
9.2
Russell Wilson, QB, SEA
10.11
Aaron Dobson, WR, NE
11.2
Denarius Moore, WR, OAK
12.11
Sidney Rice, WR, SEA
13.2
Knile Davis, RB, KC
14.11
Giants DST
15.2
Stephen Gostkowski, K, NE

Al Melchior

Rd.Pk
Player
1.3
Doug Martin, RB, TB
2.10
Drew Brees, QB, NO
3.3
Dez Bryant, WR, DAL
4.10
Chris Ivory, RB, NYJ
5.3
Marques Colston, WR, NO
6.10
Cecil Shorts, WR, JAC
7.3
Vernon Davis, TE, SF
8.10
Fred Jackson, RB, BUF
9.3
Vick Ballard, RB, IND
10.10
Andy Dalton, QB, CIN
11.3
Michael Floyd, WR, ARI
12.10
Kendall Wright, WR, TEN
13.3
Bengals DST
14.10
Daniel Thomas, RB, MIA
15.3
Matt Bryant, K, ATL

Joe Polito

Rd.Pk
Player
1.7
LeSean McCoy, RB, PHI
2.6
Aaron Rodgers, QB, GB
3.7
Randall Cobb, WR, GB
4.6
Le'Veon Bell, RB, PIT
5.7
Shane Vereen, RB, NE
6.6
Pierre Garcon, WR, WAS
7.7
Dennis Pitta, TE, BAL
8.6
Pierre Thomas, RB, NO
9.7
DeAndre Hopkins, WR, HOU
10.6
Johnathan Franklin, RB, GB
11.7
Joe Flacco, QB, BAL
12.6
Martellus Bennett, TE, CHI
13.7
Brian Hartline, WR, MIA
14.6
Blair Walsh, K, MIN
15.7
Titans DST

Jeff Tobin

Rd.Pk
Player
1.8
Trent Richardson, RB, CLE
2.5
DeMarco Murray, RB, DAL
3.8
Larry Fitzgerald, WR, ARI
4.5
Jordy Nelson, WR, GB
5.8
Cam Newton, QB, CAR
6.5
James Jones, WR, GB
7.8
BenJarvus Green-Ellis, RB, CIN
8.5
Kenny Britt, WR, TEN
9.8
DeAngelo Williams, RB, CAR
10.5
Danny Woodhead, RB, SD
11.8
Greg Olsen, TE, CAR
12.5
Mike Gillislee, RB, MIA
13.8
Texans DST
14.5
Ben Roethlisberger, QB, PIT
15.8
Justin Tucker, K, BAL

Scott White

Rd.Pk
Player
1.12
Matt Forte, RB, CHI
2.1
Stevan Ridley, RB, NE
3.12
Victor Cruz, WR, NYG
4.1
Percy Harvin, WR, SEA
5.12
Ryan Mathews, RB, SD
6.1
Matt Ryan, QB, ATL
7.12
Greg Jennings, WR, MIN
8.1
Mikel Leshoure, RB, DET
9.12
Colin Kaepernick, QB, SF
10.1
Justin Blackmon, WR, JAC
11.12
Shonn Greene, RB, TEN
12.1
Jermichael Finley, TE, GB
13.12
Brandon LaFell, WR, CAR
14.1
Patriots DST
15.12
Randy Bullock, K, HOU

Nathan Zegura

Rd.Pk
Player
1.1
Adrian Peterson, RB, MIN
2.12
Brandon Marshall, WR, CHI
3.1
Lamar Miller, RB, MIA
4.12
Wes Welker, WR, DEN
5.1
Dwayne Bowe, WR, KC
6.12
Jason Witten, TE, DAL
7.1
Mark Ingram, RB, NO
8.12
Andrew Luck, QB, IND
9.1
Bryce Brown, RB, PHI
10.12
Santonio Holmes, WR, NYJ
11.1
JosIeph Randle, RB, DAL
12.12
Bears DST
13.1
Mike Goodson, RB, NYJ
14.12
Montario Hardesty, RB, CLE
15.1
Phil Dawson, K, SF