Our latest installment of statistically-based divisional Fantasy previews takes us to the NFC North, a division with plenty of Fantasy options for Draft Day 2012..
Baltimore Ravens
Offensive Coordinator: Cam Cameron returns
Training Camp stories to watch: Is Torrey Smith ready to emerge as an elite receiver in the NFL? Will Bernard Pierce win the backup running back job?
Quarterbacks
FREE Draft Kits!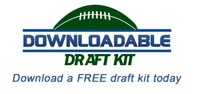 Get everything you need to dominate on Draft Day in one convenient place with our Downloadable Draft Kit, complete with projections, rankings and outlooks for 2013!
Download your Draft Kit now!
Joe Flacco: In his last three NFL seasons, Flacco has thrown for between 3,610 and 3,622 yards with between 20 and 25 touchdowns every season. Not surprisingly, he has also been the 16th ranked Fantasy quarterback twice in those seasons and had a career-best finish of 11th in 2010. Even though Flacco managed 3,610 yards passing in 2011, he did so on a career high 542 attempts (previous best was 499 passes) and had a career worst 6.7 yards per attempt average. In today's NFL, 6.7 yards per attempt is, to quote Stephen A. Smith, "bad. Really, really bad." In fact, Flacco ranked 22nd in the league in yards per attempt and was a full 2.5 yards less than league leader Aaron Rodgers.
Big yards early, ugly totals late: Flacco finished 2011 by throwing for less than 200 yards in four of his final eight games. He finished 19th among all quarterbacks with 1,559 yards (less than 200 per week) in those final eight games from Week 10 on trailing such studs as Matt Moore, Alex Smith and John Skelton. Of his nine career games with 300 yards passing, eight have come in the first eight games of the regular season. Among the 15 quarterbacks who posted a 50 percent or better consistency rate in 2011, Flacco was tied for last with only two big games and his six games with multiple touchdowns was the second lowest total. In other words, in this era of a passing explosion in the NFL, Flacco is not putting together the kinds of games needed to be a Fantasy star.
Flacco has exactly two passing touchdowns in all six Fantasy playoff games (Weeks 14 through 16) over the last two years and has multiple scores in eight of his last nine games. However, it should also be noted that Flacco was held under 250 yards passing in all nine of those games and did not even reach the 200-yard mark in four of those games. The emergence of Torrey Smith combined with the acquisition of Jacoby Jones will provide the strong armed Flacco with his best combination of vertical receivers yet. That should help Flacco improve his yards per attempt average and it will likely enable Anquan Boldin to move into the slot where he will be more effective. Everything is in place for Flacco to have his best year yet and approach 4,000 yards for the first time in his career, making him a solid backup quarterback on Draft Day who could sneak back into the top 12 if he can have a good second half of the season.
Running backs
Ray Rice: The measuring stick: Over the last three seasons no running back has produced more Fantasy points than Rice's 725, which translates to roughly 241.7 per season. Rice has been in the top 10 in each of the last three years and has been in the top four twice, including his first number one overall finish in 2011 when he set career highs in rushing yards (1,364), rushing touchdowns (12), receiving yards (704), receiving touchdowns (3), total yards (2,068), total touchdowns (15), Fantasy points (298), consistency rate (81.3 percent), big game rate (37.5 percent), games with a touchdown (11), red zone touchdowns (11) and goal line touchdowns (8). I guess being the full time MAN really suited Rice.
There is no better dual threat back in the NFL: Rice's league high 217 catches and 1,962 receiving yards over the last three years are incredibly impressive when you consider that only nine running backs have at least 1,000 yards during that span and only Rice and Darren Sproles eclipsed the 1,500 yard mark. Rice is also third in the league with 3,917 yards during that span. If it weren't for Arian Foster's explosiveness, Rice would be the first pick in all drafts. He is not a bad pick at number one overall, but I have Rice slotted as the second name to be called in 2012.
Bernard Pierce: Just a name you need to know for a late round pick as Rice insurance, though it should be noted that Pierce scored 27 touchdowns last year as a junior at Temple.
Wide receivers
Torrey Smith: Make no mistake about it, Smith should be the first Ravens receiver you target in 2012 and why not, Smith was the team's top point scorer at the position and was the 22nd ranked Fantasy receiver overall despite Joe Flacco's previously documented second half swoon (Smith was ranked 25th at receiver from Week 10 on). Smith is a vertical receiver, which means he will be prone to some inconsistency until he becomes a better route runner. In his 14 games as a starter, Smith was held under 40 yards and without a touchdown seven times, which is an unacceptable Fantasy killing 50 percent dud rate. The good news is that Smith averaged a very healthy 8.9 yards per target and had a great 7.4 percent touchdown rate (14th overall at wide receiver).
Is Smith better than A.J Green? If you were to take Smith's yards per target and touchdown rate as a rookie and give him Green's 115 targets (Smith had 90), he would have produced 1,024 yards and 8.6 touchdowns last year. That would have given Smith roughly 158 points (counting his 39 rushing yards), good for a 13th place finish at receiver, ahead of both Green and Brandon Marshall to name a few. Look for Smith to top 100 targets this year and I think he makes for a great upside late second or early third receiver for your teams.
Anquan Boldin: Since joining the Ravens, Boldin has never topped 900 yards receiving in a season nor has he finished in the top 24 at the receiver position. On the decline: In 2011, Boldin set full-season career lows in touchdowns (three), touchdown rate (2.8 percent), target conversion rate (53.8 percent), Fantasy points (106) and Fantasy rank (37th). His career averages in those categories entering 2011 and excluding his injury shortened 2004 season were as follows: touchdowns (7.3), touchdown rate (5.4 percent), target conversion rate (62.7 percent), Fantasy points (157) and Fantasy rank (15th). Boldin also struggled in the red zone last year, turning just one of his 15 targets into a touchdown. Among the 56 receivers who saw at least 10 red zone targets last year, Boldin's 6.7 percent red zone scoring rate was the third worst in the league, besting only superstars Devin Aromashodu and Michael Crabtree.
It should also be noted, however, that Boldin averaged a career high 15.6 yards per catch in 2011, so clearly he is at his most productive working underneath rather than vertical routes. The addition of Jacoby Jones should allow Boldin to work out of the slot more often, so I expect his target conversion rate to get back towards 60 percent in 2012. However, his targets will fall and he has no shot at 1,000 yards, leaving Boldin with limited upside that is directly linked to his touchdown total (he averages five per year over the last three years). He is not in my top 36 for 2012 and I'd look elsewhere for more upside from your top backup receiver on Draft Day, like Titus Young for example.
Jacoby Jones: For his career, Jones averages a very solid 8.25 yards per attempt but has never topped 600 yards in a season. He is a good vertical receiver but has problems with drops. I do not expect Jones to see enough targets on a weekly basis to be a Fantasy factor.
Tight ends
Ed Dickson and Dennis Pitta: Among the 30 most targeted tight ends in 2011, Dickson had the fifth worst yards per target average (5.9) and his 9.8 yards per catch average was the second worst. Dickson has to share targets with Pitta, who saw 56 targets to Dickson's 89 last year, which limits his overall upside given that the Ravens' two tight ends are not quite utilized like those two guys in New England. Pitta was the more efficient of the two tight ends, besting Dickson in target conversion rate (71.4 to 60.7 percent), yards per target (7.2 to 5.9) and red zone touchdown rate (50 to 38.5 percent), so if I was going to make one of them my primary pass catcher, it would be Pitta. In a perfect world, you would draft the tight end known as Edennis Pittakson, who produced a very solid 94 catches for 933 yards and eight touchdowns last year. Unfortunately, this is the real world and on their own, neither Dickson nor Pitta is worth a look on Draft Day.
Cleveland Browns
Offensive Coordinator: Brad Childress fills vacant job
Training Camp stories to watch: Can Greg Little make the strides necessary to be a number one receiver and how many weeks will it take Brandon Weeden to officially be named the starter? Is there anyone other than Trent Richardson or Greg Little worth drafting from this team? Can Josh Gordon make an immediate impact?
Quarterbacks
Brandon Weeden: Over the last 10 years, the Browns quarterbacks rank dead last in passing yards (3,146.5 per season), yards per attempt (6.3), Fantasy points (228 per season) and have the second fewest touchdowns (174). Sure has been fun to watch the Browns high flying offense! In 2007, Derek Anderson was the only Browns quarterback to finish in the top 12 at his position in the last 10 years. Weeden is a 29 year old rookie and if he can beat his age by more than five in terms of his final Fantasy rank, it will be quite the accomplishment given his unproven receiving corps.
Running backs
Trent Richardson: The Cleveland offense is horrendous and they play in a brutal division, right? It's fairly close to the truth, but that did not stop Peyton Hillis from finishing as the second best Fantasy running back in 2010 as a member of the Browns. We can all agree that Richardson is much more talented than Mr. Hillis, right? Richardson should be in line to touch the ball at least 320 times this year, which is something that can really only be said about a handful of runners in 2012.To sum it up, in this weak running back year that is 2012, opportunity plus talent equals Richardson as a top 12 Fantasy back when it is all said and done.
Montarrio Hardesty: The oft-injured Hardesty is likely to be the handcuff for Richardson owners on Draft Day. He averaged just three yards per carry in 2011, but did amass 122 total yards in his only career game with 20 touches, although it did take 35 touches to get there.
Wide receivers
Check out our Fantasy Football podcast!
There is no better source for entertaining Fantasy advice than our Fantasy Football Today podcast. Dave Richard, Jamey Eisenberg and Adam Aizer will help you pass the time as you anticipate Draft Day 2014!

Latest episode | Subscribe today!
Greg Little: Little showed promise as a rookie, leading the Browns with 61 catches and 709 yards, but he has to do a better job catching the ball. Little dropped a league high 14 passes last year and his target conversion rate of 50.8 percent ranked 30th out of the 31 receivers who saw 100 targets in 2011. Little was a top 36-receiver (35th) from Week 10 on in 2011 and totaled an impressive seven games with five or more receptions, so the potential for good production clearly exists. With improved quarterback play in the form of rookie Brandon Weeden and a full offseason; look for Little to improve his efficiency in 2012. Given that he will easily see 100 or more targets again this season, Little is a solid upside late third receiver or an ideal fourth receiver on Draft Day.
Josh Gordon: The Browns used a second round pick in the supplemental draft to land Gordon, who had 42 catches for 714 yards and seven touchdowns in his last collegiate season -- which was 2010 -- at Baylor. A marijuana incident cost Gordon his 2011 season, but he possesses the rare combination of size, speed and great hands that could lead him to becoming a dominant No. 1 receiver for years to come. In fact, many analysts think that Gordon projects better long term than teammate Kendall Wright, who was taken 20th overall in this year's draft. With Gordon, Little, Weeden and Richardson all set to develop together, the Browns finally have the makings of a high-flying offense. Many speculate that Gordon is a bit of a project, so I am not sure he will make an immediate impact, but keep an eye on his offseason development and give him a look in dynasty leagues once the top five rookie receivers are off the board.
Mohammed Massaquoi: The former second round pick has never reached 500 yards, four touchdowns or Fantasy relevance in his three-year career. The last of those three dubious distinctions is not likely to change anytime soon.
Josh Cribbs: Cribbs has never finished in the top 50 at the wide receiver position in a league that does not award return yardage points.
Tight ends
Benjamin Watson: It was only two years ago that Watson caught 68 passes for 763 yards and two touchdowns as the 13th ranked Fantasy tight end. Last year, his production fell to just 37 catches for 410 yards and two scores as the 30th ranked tight end. Watson has topped 500 yards receiving in just one of his last five seasons and averages just 2.5 scores per season as a member of the Browns. He's a bye week fill in at best if Weeden leans on Watson more than Colt McCoy did last year, but you don't need to draft Watson this year.
Evan Moore: In the right offense, I think Moore could be a big time Fantasy producer. He's someone to keep on your radar screen should Brad Childress utilize this excellent pass catcher more often in 2012. Moore has never reached 50 targets, 35 receptions or 325 yards in a season, yet his metrics suggest a bigger workload would yield excellent production. Moore's 8.6 yards-per-target average over the last three seasons is fifth best among the 46 tight ends who have seen at least 70 targets during that span. Moore has seen 94 targets for his career, which would be a full season for a top starting tight end. He has turned those 94 targets into 62 catches (66 percent target conversion rate), 804 yards (impressive 8.6 yards per target) and five touchdowns. That translates to 110 Fantasy points or what would have been a 10th place finish at the position in 2011. Unless he sees a huge jump in targets, Moore shouldn't be on any rosters in 2012.
Cincinnati Bengals
Offensive Coordinator: Jay Gruden returns
Training Camp stories to watch: Will it really be a running back by committee with BenJarvus Green-Ellis and Bernard Scott or will BJGE be the featured back? Who will emerge as the second starting receiver to work opposite A.J. Green?
Quarterbacks
Andy Dalton: Dalton exceeded all expectations as a rookie, throwing for 3,398 yards and 20 touchdowns en route to a 14th place finish at quarterback. After throwing for 300 yards or scoring multiple touchdowns in seven of his first 10 games (solid 70 percent consistency rate), Dalton had just one more game with multiple touchdowns, did not have a 300 yard game and was held under 200 yards four times in his last six games. Of the 15 quarterbacks who posted at least a 50 percent consistency rate in 2011, Dalton ranked last or tied for last in big games (two), 250 yard passing games (five), 300 yard passing games (two) and had the second lowest total of games with multiple touchdowns with six.
Dalton averaged just 6.6 yards per attempt last year, 24th among qualifying quarterbacks, so clearly he still has plenty of room for improvement. With A.J Green, Jermaine Gresham, the returning Jordan Shipley and Mohammed Sanu, Dalton has some excellent weapons at his disposal, so I do expect improvement in all of the key metrics for the second-year signal caller following a full offseason. Even with improvement, I'd say 10th place is the absolute best Dalton could do in 2012 because the Bengals are still a run-first team (20th in pass attempts, 10th in rushing attempts). Therefore, Dalton is best suited as a good backup quarterback on Draft Day because he lacks the explosive upside of the consensus top 14 signal callers.
Running backs
BenJarvus Green-Ellis: The Law Firm left the greenest of green pastures for scoring in New England for the less explosive, but more run oriented Bengals in 2012. He could see more carries as a Bengal and will be a solid touchdown producer, but maintaining his average of 12 rushing scores per year will be a tall order. After all, in his last two seasons, BenJarvus has more rushing touchdowns (24) than Bengals running backs have totaled (23) in the previous three seasons combined. Still, he could hit double digits in 2012 in terms of touchdowns due to his efficiency at the goal line. Over the last two years, Green-Ellis has scored on 52 percent of his goal line carries (18 touchdowns on 35 carries). In those same two years, Cedric Benson had 34 goal line carries himself (sixth most in the NFL during that span), but was half as efficient as the Law Firm, converting them into only nine touchdowns (26.5 percent). In other words, Benson had just about as many goal line carries as BenJarvus over the last two seasons, so if BGE can maintain his career efficiency, it sure looks like he will get chances to keep on scoring 10 touchdowns per year in Cincy.
In his only season of 200 carries, Green-Ellis ran 229 times for 1,008 yards and 13 touchdowns in 2010. Considering that Cincinnati running backs carried the ball 405 times last year, he should see more than 200 carries again in 2012. Benson averaged 299 carries and 1,143 yards per year as the featured runner in Cincinnati from 2009 to 2011. Talk is once again emerging that Bernard Scott will have a bigger role this year and that he will be in an almost equal share with Green-Ellis. Don't believe it. I see Scott once again working on third downs, with Green-Ellis handling first and second down duties along with goal line work. After all, Scott has never exceeded 125 touches, 418 total yards or three touchdowns in a season.
If BJGE touches the ball over 250 times this year, I see Green-Ellis ending up as a solid No. 2 running back for your teams with top 15 potential. I like him as a later second running back or top tier third running back for your teams on Draft Day because he offers nothing in the passing game and could struggle to match his Patriot level of scoring efficiency in Cincy.
Bernard Scott: Every year we hear that Scott will be more involved and every year that turns out to be erroneous. Scott has never exceeded 125 touches, 418 total yards or three touchdowns in a season. He has a career yards per carry average of 4.0 and averages only 5.5 yards per catch, so it is not like he is so efficient that he has earned more touches. In his only game with 20 touches last year, Scott managed just 76 total yards on 25 touches, which is a paltry three yards per touch. In a point-per-reception league, consider Scott a deep sleeper but in standard formats, I think his true value comes as a late handcuff to Green Ellis.
Wide receivers
Follow us, Like us, Join us
Want more? Join the discussion on our Facebook page and Google+ and follow us on Twitter for additional insight while interacting with a community geared toward Fantasy Football.


A.J. Green: Green had a remarkable rookie season in which he was one of only seven receivers to produce 100 yards or a touchdown in 10 games. He did only have one big game however, which was the fewest among the special seven. Green ended his rookie year with 65 catches for 1,057 yards and seven touchdowns to finish as the 14th ranked wide receiver. Like his quarterback, Green seemed to slow down later in the year as injuries and the long season took a toll. From Week 1 through Week 10, Green was actually the eighth-ranked Fantasy receiver, averaging just over 11 points per week.
After the injury against Pittsburgh in Week 10, Green missed Week 11. From Weeks 12 through 17, Green averaged 8.6 points per game and was the 24th ranked receiver. Green averaged an excellent 9.2 yards per target as a rookie, tied for 16th with Larry Fitzgerald among the 75 receivers who saw at least 60 targets last year. That figure also ranked eight best among the 30 receivers who saw at least 100 targets last year.
If Green can get better in scoring situations, he will hit the 10 touchdown mark every single year. Last year, he scored on only three of his 17 red zone targets (tied for 13th most). His 17.6 percent red zone scoring rate was the ninth worst figure among the 37 most targeted receivers inside the 20. Inside the opponent's five yard line, Green scored just once on six targets (tied for fifth most) and his 16.7 percent scoring rate was the fourth worst among the 20 most targeted receivers up close. If he can become average, let alone elite, the sky is the limit.
Green worked all offseason with Calvin Johnson and Larry Fitzgerald to improve his skills, which should be a scary thought for opposing defenses. Look for Green to "make the leap" in year two and I think he is a solid No. 1 receiver for your teams on Draft Day with legit top five potential.
Mohammed Sanu: Sanu is being called a bigger and faster version of T.J. Houshmandzadeh by the Bengals' coaching staff, which is high praise considering Housh had five straight extremely productive years as Chad Johnson's running mate.Sanu caught 115 passes last year at Rutgers and Housh's best year in Cincy saw him haul in 112 passes. If he wins the second starting receiver job in Cincy, consider Sanu a good flier as your fifth receiver on Draft Day with enhanced value in point-per-reception leagues, because he projects more as a high volume possession receiver in the NFL.
Jordan Shipley: Shipley's 2011 season ended after only two games due to a torn ACL. Shipley has some of the best hands in the league as evidenced by his ridiculous career target conversion rate of 71 percent. He's a deep sleeper in point-per-reception leagues, but I am not sure the Bengals will throw the ball enough to have three receivers with Fantasy value.
Marvin Jones: The other rookie in Cincy is in the running for the second receiver job. If he wins that battle, then he goes on the list as a deep sleeper.
Brandon Tate: The speed burner never excelled in New England, but he is getting a long look in Cincy. You should give him a look too if he somehow steals the second receiving job from Sanu and Jones.
Tight ends
Jermaine Gresham: Gresham went to the Pro Bowl following a career year in 2011 where he set career highs with 56 receptions, 596 yards, six touchdowns and a 13th place finish at the tight end spot despite missing two games. Gresham did his best work in the red zone, catching five touchdowns (tied for eighth among all tight ends) on 14 targets (tied for 11th most). His 35.7 percent red zone scoring rate was seventh best among the 21 tight ends who saw at least 10 targets inside the 20. Gresham was tied for fourth among all tight ends with a touchdown in six games. If he's going to become a Fantasy force, he will need to be a more consistent yardage producer. He topped 60 yards only three times all year, which was the fewest among the 14 tight ends who had at least seven games with 60 yards or a touchdown. He also had five games of less than 25 yards and those duds are what separate Gresham from the truly elite players at his position.
Gresham's lack of top end speed (very suspect career 9.9 yards per catch and 5.9 yards per target averages) will make it tough for him to ever have a monster yardage season. Take a look at the four tight ends who had between 90 and 99 targets last year. Brent Celek saw 98 targets and produced 811 yards. Vernon Davis was the target of 95 passes and amassed 792 yards. Jermichael Finley and Gresham both had 92 targets in 2011, but Finley's led to 762 yards while Gresham checked in 166 yards behind Finley at 596. If you were wondering, Gresham's 5.9 yards per target average ranks dead last among the 31 tight ends who have seen at least 100 total targets during the last two seasons. His 9.9 yards per catch ranks 28th among those same 31 tight ends, which is not too impressive.
That being said, I like Gresham and think he will finish somewhere between 10th and 15th at tight end this year, thanks to continued development between the 20s and his solid red zone production. If he can get his yards per catch and target up to above average levels he could really break out, but there are no signs that such a statistical change is forthcoming. I would prefer that you end up with an elite option at the position, but if you wait at tight end you could do worse than snagging Gresham as part of a tight end duo with Brent Celek, Fred Davis, Owen Daniels or Jacob Tamme for example.
Kicker
Mike Nugent: Nugent nailed a league high 14 field goals from 40 to 49 yards last year and was second with 33 made field goals (out of 38 attempts) en route to a career best 11th place finish at the kicker position. Nugent was tied for second among all kickers with 11 multiple field goal games in 2011 If the Bengals can score some more points in 2012, Nugent remains a solid sleeper at kicker to target on the waiver wire if your Draft Day kicker falters.
Pittsburgh Steelers
Offensive Coordinator: Todd Haley (replaces Bruce Arians)
Training Camp story to watch: How will the shift from Arians to Haley impact Big Ben and the passing game and will the Steelers really become more run oriented (I don't buy it)? Will Mike Wallace be a camp holdout? Is Isaac Redman ready to be the main man for the Steelers on the ground?
Quarterbacks
Ben Roethlisberger: Believe it or not, Big Ben has been a top 12 Fantasy quarterback just once in the last four years, when he ranked ninth in 2009. For his career, Big Ben has been a top 12 quarterback just twice in his eight seasons, with a personal best ranking of fourth in 2007. That year was also Roethlisberger's only year with 30 touchdown passes, as he tossed 32 in that season. Since 2007, Big Ben is averaging just 20.25 touchdowns per season, which doesn't cut it in today's pass-happy league.
In 2011, Roethlisberger was tied for 12th with a 50 percent consistency rate, but among the 15 quarterbacks at 50 percent or better, he ranked dead last with only five multiple touchdown games. To score more, you need to be a bigger factor in the red zone. Big Ben ranked tied for 16th last year with 70 red zone opportunities and was tied for 15th with 15 red zone touchdowns. His overall percentages were not elite, but they were not terrible either, as his 21.4 percent red zone touchdown rate was middle of the road. The real issue in the red zone is that Ben's red zone chances represented just 13.6 percent of his overall attempts. Elite quarterbacks like Brady, Brees and Rodgers received 16.3 (Brees) to 20 percent (Rodgers) of their chances inside of the opponent's 20 yard line. If Ben gets up to those levels he will easily pick up another five touchdowns yearly, which will help him get back into the top 12.
Over the last three seasons, Roethlisberger's 8.24 yards per attempt ranks third among all quarterbacks, trailing only Aaron Rodgers and Philip Rivers. So, if he gets to air it out like a top quarterback, he will have a monster yardage season in 2012. At that yards per attempt level, Ben would throw for 5,000 yards with just over 600 pass attempts a La Brady, Brees and Stafford. Ben has averaged a very healthy 276.3 yards passing per game during that span, which translates to a very healthy 4,421 yards per season. Touchdowns are the real issue here assuming Ben stays at his current levels of 33.5 passes per game.
New offensive coordinator Todd Haley ran the ball constantly in Kansas City, but when he was calling the plays in Arizona, the Cardinals -- led by quarterback Kurt Warner -- were all about the pass. In 2008, with Haley calling the plays, the Cardinals ranked second in the NFL in passing attempts (630), passing yards (4,674), passing touchdowns (31) and led the league in red zone pass attempts (104) and red zone passing touchdowns (25). That year, Warner was the fourth ranked Fantasy quarterback, scoring 313 points. I think the Arizona talent situation is much more closely related to what Haley has to work with in Pittsburgh, so I expect some similarities. In 2008, Warner had 16.5 percent of his passes come from inside the opponent's 20 yard line, which was right at the elite level needed to hit 30 touchdowns. Just saying.
Last red zone point. In 2008 under Haley, the Cardinals threw the ball 57 percent of the time inside the red zone, third most in the NFL. Over the last four years, the Steelers have thrown the ball just 48 percent of the time inside the 20, which ranks 20th in the league. With two of the best young receivers in the NFL in Mike Wallace and Antonio Brown, an improved offensive line and Haley in the mix, I think Big Ben is a legit breakout candidate for 2012. I have him right at the 12 or 13th spot in my rankings depending on your scoring system and if Haley lets him throw it up close he should easily sneak back into the top 10. His lack of consistent touchdown production has been his Achilles' heel, but that will change with proper play calling.
Running backs
Isaac Redman: Redman picked up 479 yards and three touchdowns on 110 carries (4.4 yards per carry) last year for the Steelers and will be asked to carry the load for the team this year with Rashard Mendenhall rehabbing a torn ACL suffered in Week 17 of 2011. In his two career games as "the man," Redman ran for 92 yards and a touchdown on 19 carries against the Browns in Week 17. He followed that up with a 121-yard game on just 17 carries in the Steelers' playoff loss to the Broncos. That adds up to a very solid 100 percent consistency rate as a featured back. I do also want to point out that Redman was held to 49 yards on 15 carries against the Titans in 2011, so he can struggle with 15 or more carries. But when he gets to 20 touches, he has been very good in his limited sample set. It should also be noted that as the starter in 2011, Mendenhall had 20 or more total touches in only three games.
Redman has shown that he can be a solid pass catcher as well, hauling in 27 of his 33 career targets (82 percent target conversion rate) for 150 yards (not so great 5.6 yards per catch). The addition of guard David DeCastro should help Redman drive the ball up the middle in scoring situations, so I am expecting an improvement on his 12.5 percent red zone touchdown rate and 16.7 percent goal line scoring rate from last year. With Mendenhall out, Redman could touch the ball close to 20 times per game for the Steelers and he has averaged over 125 total yards per game in his limited games with such a workload. I think Redman has 1,000 yard potential with seven or more touchdowns (Mendenhall has 29 over the last three seasons) if he gets at least 12 starts, making him a very attractive second running back for your teams on Draft Day with a lot of upside. If he goes wire to wire as the starter, it would not surprise me if Redman ends up in the top 15, like Mendenhall has done in two of the last three seasons.
Rashard Mendenhall: Mendenhall suffered a torn ACL in Week 17 of the 2011 season and should be considered unlikely to make a major impact this year. He has been a top 13 Fantasy back in two of the last three seasons, with a career best finish of eighth in 2010. During that span, Mendenhall has scored 29 rushing touchdowns, third most in the NFL. Believe it or not, Mendenhall was held under 60 yards in eight games in 2011 and had only one game of 20 carries compared to seven games of 20 or more carries in 2010. Mendenhall is likely to start the year on the PUP list and I am not expecting a major contribution from him in 2012 with so little time to recover from a major knee injury.
Jonathan Dwyer: In his only career game with at least 10 carries, Dwyer ran for 107 yards against Tennessee on 11 carries in Week 5 of the 2011 season. A total of 76 of those yards came on the Steelers' longest run of the year, so he managed just 31 yards on his other 11 carries. Despite that performance, Dwyer was called upon to carry the ball only five more times all year, netting just 16 yards. He will likely open the year as the backup to Redman and is the late round handcuff should Mendenhall open the year on the PUP list as expected.
Chris Rainey: Rainey is an explosive undersized running back who could be a factor in the passing game after catching 56 passes for 597 yards and five touchdowns in his final two years at the University of Florida.
Wide receivers
Mike Wallace: Wallace may be the best pure deep threat in the NFL. He has averaged at least 10.5 yards per target and 16.6 yards per catch in each of his three NFL seasons. He has back-to-back seasons of 1,257 and 1,193 yards with 10 and eight touchdowns in 2010 and 2011 respectively. Not surprisingly, Wallace has been a top eight Fantasy receiver in both of those seasons and enters 2012 looking for the hat trick. His 10.6 yards per target average in 2011 was down from his NFL best mark of 12.2 in 2010, but it still ranked sixth among the 75 most targeted receivers in the game.
Of Wallace's 24 career touchdowns, a league best 19 of them have come from 21 or more yards over the last three seasons (DeSean Jackson is second with 15 such scores). Eleven of those scores came from 41 or more yards, which is tied with D-Jax for most in the NFL during that span as well. In 2011, Wallace did set a personal best with three red zone touchdowns (he had two total in 2009 and 2010), but he still has a ways to go inside the 20 as his 23.1 red zone scoring rate was still very average. That being said, red zone scores will be key for Wallace to continue to score at a high clip year after year and it is good to see some marked improvement in that area. Since joining the league in 2009, Wallace has scored the sixth most points at the wide receiver position and over the last two seasons, he is the third ranked receiver behind only Calvin Johnson and Roddy White.
Since joining the league, Wallace has averaged 1.7 Fantasy points per target, tops among all receivers who have seen at least 200 targets over the last three years. Among all receivers, that ranks third behind only Robert Meachem and Jordy Nelson. One bit of concern I have for Wallace heading into 2012 (other than the contract squabble which may cost him valuable time learning Todd Haley's offense) is that teams really took away his deep ball over the second half of 2011 and that crushed his value. After all it is hard to rely on catching a bomb week after week. In his first eight games last year, Wallace topped 100 yards four times, was never below 70 yards, caught five touchdowns and was the fourth ranked Fantasy receiver. He totaled 43 catches for 800 yards (18.6 yards per catch) and five scores in those games. In his final eight games, Wallace did not have a 100 yard game, was held below 70 yards seven times, scored three touchdowns and was the 32nd ranked Fantasy receiver. He totaled just 29 catches for 393 yards (13.5 yards per catch) and three touchdowns. To drop for 800 yards in eight games to 393 yards in eight games in the same calendar year is a definite red flag.
Todd Haley knows how to get the ball down the field to his receivers, so I think Wallace will find a happy medium between those two half-seasons. But it is pretty clear that without the deep ball he is a pedestrian producer. I like Wallace better as second receiver for your teams due to the up and down nature of a receiver who relies on the home run for the bulk of his production. That being said, he is absolutely a good pick as a late first receiver, but again I prefer him as the ideal second receiver for your teams on Draft Day.
Antonio Brown: I loved Brown headed into 2011 because he looked very impressive as a rookie, catching 16 of his 19 targets for 167 yards in limited action. Well Brown blew away even my expectations by catching 69 passes for 1,108 yards and two touchdowns en route to a 24th place finish at the receiver position. Brown actually led the Steelers in targets (59), receptions (35), receiving yards (677), yards per catch (19.3), yards per target (11.5), Fantasy points (75) and Fantasy rank (19th) in the second half of the season (Weeks 9 through 17). His second half production projects to a season of 70 catches for 1,344 yards and two touchdowns, which would have been a top 20 finish at the position. Brown won't have the big games like Wallace (he had one compared to four for Wallace), but he may very well be the team's most consistent receiver on a weekly basis.
From Week 7 against Arizona on, Brown produced at least eight points six times and had only one game with fewer than five points. He also hauled in five or more passes in seven of those games. While the reception and yardage totals were consistently strong, Brown was consistently shut out in the scoring department. Among the 31 receivers who saw at least 100 targets last year, Brown's 1.6 percent scoring rate was the worst of the bunch. I am more impressed with his solid 9.1 yards per target average, which ranked 10th among those same 31 receivers. The yards per target is a great indicator of future success because touchdowns often normalize from year to year, which is why I fully expect Brown to more than double his touchdown output of 2011 in the upcoming season.
As the top target of Ben Roethlisberger over the second half of 2011, you know he has his quarterback's trust and you can expect another season of solid reception and yardage totals. Look for Brown to top 70 catches, 1,100 yards and put up at least five scores, making him a great later second receiver for your teams or an elite third receiver on Draft Day.
Emmanuel Sanders: Sanders has not yet lived up to they hype in Pittsburgh, catching just 50 percent of his targets and averaging a pedestrian 6.6 yards per target in his two year NFL career. With Hines Ward retiring in the offseason, Sanders will be called upon to play his biggest role yet for the Steelers. The good news is that in his four career games with at least eight targets, Sanders has produced at least seven points in each game and averages just under nine points per game. He will not see eight targets often as the team's third receiver (Ward averaged 4.2 targets per game last year), but should be able to set career highs in every category.
It should also be noted that over the last two years, Sanders has been the team's most efficient red zone receiver (excluding the retired Ward), converting his 13 red zone targets into three touchdowns (23 percent). Over the same time period, Wallace and Brown have scored five touchdowns on 33 combined targets (15 percent). Keep an eye on whether or not Sanders appears to be an early factor in the red zone and if he is, keep him on your "bye week broski" list as a potential waiver add and fill-in down the line because he could score six touchdowns in that role.
Tight ends
Heath Miller: Miller enters 2012 after failing to crack the top 20 at the tight end position in each of the last two seasons. The Steelers just do not feature the tight end like other teams in the league and as a result, Miller has topped 80 targets just once in his career and his 4.6 targets per game average in 2011 was 22nd, just like his final Fantasy ranking (21st). Todd Haley has never been known to heavily utilize the tight end either, so a return to the 100-target level like Miller enjoyed in his career year of 2009 is highly unlikely, which makes a return to the top 12 at tight end highly unlikely as well. When you consider that his 2009 season in which he set career highs in every category would have made him the 12th ranked tight end in 2011, it is hard to get too excited about a return to glory for Miller under any circumstances.
Compounding the involvement issue is that Miller has disappeared as a touchdown scorer. Yes, he scored six times in 2009, but he has just four total touchdowns in the last two years and has topped three touchdowns just once in his last four. His 10 red zone targets in 2010 ranked 20th among all tight ends, so it mirrored his overall target level closely. However, his 20 percent scoring rate on those chances was the third worst among the 21 tight ends who saw at least 10 targets. Haley has been talking Miller up this offseason, but he is no more than a future waiver target on Draft Day given that there are better upside options who are focal points in their team's passing attacks.
Stay in touch with the most passionate Fantasy staff in the business by following us via Twitter @CBSFantasyFB . You can also follow Nathan at @nathanzeguraTFC .