Say the name Ryan Mathews to a Fantasy owner and you're likely to get a polarizing response. He is a running back some owners love, while others approach with caution.
Mathews is entering his third year in the NFL, but this will be his first season as a featured running back for the Chargers and coach Norv Turner. That's a great thing, but some owners remain worried about his injury history and perceived ability to underachieve.
FREE Draft Kits!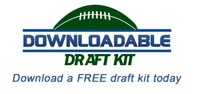 Get everything you need to dominate on Draft Day in one convenient place with our Downloadable Draft Kit, complete with projections, rankings and outlooks for 2013!
Download your Draft Kit now!
We say those concerns are bogus, and Mathews is about to break out with the best season of his career. The prediction here is Mathews will finish 2012 as a Top 5 Fantasy running back.
So far, Mathews is saying all the right things. He recently told the Union-Tribune San Diego that his goal this year is "to shut everyone up" with the people who doubt him. And judging by a recent poll on Twitter, there are still plenty of doubters out there.
I posed this question to my Twitter followers: When would you draft Mathews this year? Give me the overall draft pick you would feel comfortable with him.
Keep in mind that I have Mathews ranked as the No. 4 running back and No. 4 overall pick behind Arian Foster, Ray Rice and LeSean McCoy. I would draft him ahead of Aaron Rodgers based on the quality of depth at quarterback compared to the slim pickings of featured running backs.
The results of the poll were 43 said they would draft him Top 5 overall, 73 said they would take him later in the first round and 25 said they would only draft him in the second round or later.
Two negative responses that stood out were by @Elyiggy, who wrote "been burned by Mathews EVERY YEAR he's been a pro. He's off my Fantasy board." And @MattySuzuki, who wrote "I do not think he is durable enough, so he is off my radar."
That's the kind of attitude Mathews is trying to change.
"I worked on a lot of little things that kept me on the sideline at times over the past few seasons," Mathews told the North County Times. "I don't ever want to come off the field. I want to be the best guy for every situation. I know I can handle a heavy workload and be that three-down back people believe I can be. That's what I've been preparing myself for all offseason. It drives me every day, to be the best player I can be."
Check out our Fantasy Football podcast!
There is no better source for entertaining Fantasy advice than our Fantasy Football Today podcast. Dave Richard, Jamey Eisenberg and Adam Aizer will help you pass the time as you anticipate Draft Day 2014!

Latest episode | Subscribe today!
Mathews was actually pretty good in 2011. He finished as the No. 8 Fantasy running back in standard leagues, and that was sharing touches with Mike Tolbert. Mathews played in 14 games and finished with 222 carries for 1,091 yards and six touchdowns and 50 catches for 455 yards. He had nine games with double digits in Fantasy points.
Mathews was one of eight running backs with at least 50 catches, and he could be a Top 3 running back in receptions since Tolbert had 54 grabs last season. That makes Mathews a tremendous option in PPR leagues.
Tolbert also had 121 carries for 490 yards and eight touchdowns, and he had 433 receiving yards and two touchdowns. The majority of that production should go to Mathews since the Chargers backup running backs are Ronnie Brown, Jackie Battle and Curtis Brinkley. Turner is ready to lean on Mathews for a heavy workload.
"The impressive thing about Ryan is that he has overcome every obstacle put in front of him," Turner said to the San Diego media. "He's gotten better each step of the way over the last two years. I'm like every Chargers fan, and I'd like to see him do well from day one. In this league, that's not realistic. Ryan has come a long way, and he's excited about the season. I'll be excited to watch him go."
Turner knows a thing or two about great running backs, having coached the likes of LaDainian Tomlinson, Emmitt Smith and Ricky Williams as a head coach or coordinator. All three are former rushing champions, and Turner also coached Frank Gore to his breakout season in 2006.
Mathews will be the next great running back added to Turner's resume. He is going to be a breakout Fantasy option, and you should feel confident drafting him as a Top 5 overall pick in the majority of leagues. He will live up to the hype.
Stay in touch with the most passionate Fantasy staff in the business by following us via Twitter @CBSFantasyFB . You can also follow Jamey at @JameyEisenberg and on Facebook .