We all know at a high level that the NFL is changing in to a pass-first league and that teams are utilizing running back by committees more often than ever before.
We also know that tight ends are becoming a bigger part of offenses and that teams are utilizing more and more multiple receiver sets. These shifts in offensive philosophies and player specialization certainly impact statistical outputs and therefore Fantasy production, so it is something we need to better understand in order to get an edge on the competition in our leagues. In fact, the real questions for Fantasy Football players are, what does this all mean for me and how can I use it to win? Well, I am going to attempt to give you some answers to those questions over the next few weeks by examining the changes in Fantasy Football scoring over the last nine years.
FREE Draft Kits!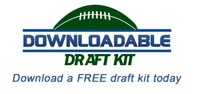 Get everything you need to dominate on Draft Day in one convenient place with our Downloadable Draft Kit, complete with projections, rankings and outlooks for 2013!
Download your Draft Kit now!
I decided to take a look at the 2003 and 2011 seasons as the benchmarks for my analysis (I also used the 2008 season as a mid-point and will focus on that in the more in-depth position analyses) and what I wanted to understand was the following: How have the total points scored in Fantasy grown over time? Was the growth across the board or did certain positions make up the majority of that growth? Were the starters at each position (i.e. the top 12 quarterbacks, top 24 running backs, top 36 receivers, top 12 tight ends, kickers and defenses) maintaining their same slice of the pie or were the positions becoming deeper than ever before, thereby diluting the talent? Are there trends that can be identified as key changes in the game from 2003 to 2011?
What I found was at times surprising, at times expected, but certainly always enlightening. I will go over some of the overall findings in this column and will follow it up with four more columns diving much deeper into the quarterback, running back, wide receiver and tight end positions. I will then cap it off with my 2012 Draft Strategy Basics article, which will incorporate all of my analysis into an actionable plan for you to utilize on Draft Day in order to assemble a winning team. Without further ado, here we go.
We will start with the overall point scoring trends. In 2003, there were 34,457 Fantasy points scored by all players, a number that has risen 23.9 percent to a record setting 42,702 points in 2011.
So where has all of this growth come from?
Well, it has pretty much been across the board at the offensive positions with Team Defense, not surprisingly, being the only position to score fewer points in 2011 (5,660) than it did in 2003 (6,019), with an overall drop of 6.0 percent. The biggest gainer would be the tight end position, which nearly doubled its 2003 output of 2,081 points by scoring a position record 3,916 last year. That 88 percent jump is by far the biggest of any position in Fantasy and is one of the clear indicators of change in the modern offensive schemes. The tight ends have actually grown by more total points (1,835 than running backs 1,725) during that span, which is amazing when you think about it.
Quarterbacks jumped from 7,035 points in 2003 to a record 9,196 points in 2011, which represented a 30.7 percent increase, second most among any position. In terms of total points gained, quarterbacks ranked first at 2,161. Both running backs and wide receivers were right around the average growth rate from 2003 to 2011. The receivers saw a 24.1 percent increase from 8,752 to a league high 10,860 points, and they were the highest scoring position group in both years of the study. Running backs grew at a slightly below average 23.2 percent from 7,451 points in 2003 to 9,176 points in 2011. It should be noted, however, that running back points peaked in 2009 at 9,769 and have decreased in each of the last two seasons, which is something to watch in 2012. With the shortage of stud running backs and top notch ground attacks, we could see the running backs fall back below 9,000 this year. Finally, the kickers benefitted from the overall point explosion in the NFL and have grown 24.8 percent from 3,119 points in 2003 to a position record 3,894 last year. The passing games were clearly the biggest winners of the past decade, with the tight ends leading the charge by becoming almost twice as important as they were back in 2003.
When you look at each position as an overall percentage of the total points scored we see some interesting trends as well. Obviously tight ends made the biggest jump from just 6.0 percent to 9.2 percent, which is a remarkable 53.3 percent jump. Quarterbacks were the only other position to see a nice bump, going from 20.4 percent in 2003 to 21.5 percent in 2011. The other offensive positions were actually pretty level, with receivers staying at a constant 25.4 percent and running backs falling slightly from 21.6 percent in 2003 to 21.5 percent in 2011. It should be noted however, that running backs scored their highest overall percentage of points back in 2008, accounting for 24.5 percent that year, so they have actually seen a big decrease in the last three years alone.
It is interesting that quarterbacks accounted for their smallest percentage of points in 2008, the biggest year for running backs, when they scored just 20.2 percent of the overall points that season. Kickers have held steady at 9.1 percent of the overall points and the only loser was the team defense, who accounted for 17.5 percent of the overall points in 2003 and made up just 13.3 percent last year. Again, passing is exploding, scoring is out of control and rushing is declining, which is plain as day to see on a macro level. When you focus in on the starters at each position it becomes even more apparent, but not in the way you might think.
In terms of overall points scored, we had increases at every offensive position with only the defenses scoring fewer points in 2011 than they did in 2003. Sure the growth rates were different, but every offensive position scored more points as total points exploded with the evolution of the game over the last nine seasons. When you look at the starter points though, we see that three of our positions are growing and three of them are decreasing. Can you guess which three are growing?
If you said quarterbacks, tight ends and kickers, then you are correct. In 2003, the top 12 starters at quarterback accounted for 3,415 points, or 18.3 percent of the overall starting points. By 2011, that number had jumped to 4,382 points, which now makes up 21.7 percent of the overall starter points. To put it into yearly Fantasy terms, the average top 12 quarterback of 2011 outscored his 2003 counterpart by five points per week (22.8 vs. 17.8) or 80 points per season. Suddenly you begin to see why having a stud quarterback like Aaron Rodgers, Drew Brees or Tom Brady really does matter.
The starting tight ends, not surprisingly, made the biggest jump from 914 points (4.9 percent of overall starter points) in 2003 to 1,606 last year (7.9 percent). The top 12 tight ends of last season outscored his 2003 counterpart by 3.6 points per game (from a useless 4.8 points per game to a very useful 8.4) or 57.7 points per season, the second biggest discrepancy behind quarterback.
Where was the biggest drop you might ask? Was it at the team defense position? Nope, it came at the running back position. In 2003, the top 24 running backs scored 4,981 points and accounted for 26.7 percent of the overall starter points. Last year, the top 24 runners scored only 4,542 points and accounted for 22.5 percent of the overall starter points, the lowest mark in the position's history. The average top 24 running back was more than a full point worse on a weekly basis than they were in 2003 and were down 18.8 points per year on average. Another way to think about it is that in 2003, the average starting running back outscored their tight end counterparts 13.0 to 4.8 on a weekly basis, which is an 8.2 point gap. Last year, a top 24 runner averaged 11.8 points per game compared to 8.4 for the tight end, or a 3.4 point gap.
I think this one pretty much sums it up: overall scoring at the running back position is up by 1,725 points since 2003, yet the top 24 runners are scoring 439 fewer points, which is astonishing. While the top 24 running backs appeared to be in a nosedive, wide receiver starters actually scored more points in 2011 (5,410) than they did in 2003 (5,108). However, the growth was not as fast as the overall point growth and the 5,410 accounted for just 26.8 percent of the overall starter points, down from 27.4 percent in 2003. That's a very small drop, but it is a drop all the same and made me want to investigate one last piece of the puzzle further. If we are really to believe that the running back by committees and the multiple wide receiver sets and ultra specialization at the positions is diluting the effectiveness of the top dogs, we should see it in one key stat.
That stat is the percentage of the total points scored by the starters at a position and how it has changed over time. In 2003, the starters at every position scored 54.2 percent of the total points. That has fallen to 47.4 percent as the specialization of the game has really taken hold.
Looking at the running backs and the wide receivers in this light was eye opening. Before we get into their numbers, the overall explosion of offense has caused every position to see a drop in terms of the percentage of points the starters account for due to the better depth at every position, but I must point out at quarterback and tight end it was only a percent or two drop. That was not the case with the running backs and wide receivers.
In 2003, the top 24 running backs scored 66.9 percent of the position's points, the most at any position by 8.5 percent. That was still very much in era when owners for the most part drafted running backs with their first two picks. In 2011, the top 24 running backs accounted for just 49.5 percent of the total points from the position, a 26 percent drop. That's remarkable when you think about it and is the absolute proof that the day of the stud, bell cow running back is over.
The top 36 receivers made up 58.4 percent of the overall receiver points in 2003, second to the running backs and just about 10 percent higher than quarterbacks and kickers who checked in at 48.5 percent. By 2011, even though the starters were scoring more, they were producing just 49.8 percent of the overall points coming from the wide receiver position. This is the statistical backup to what I have been saying the last couple of years, which is get a top quarterback, a top tight end and load up on as many running backs and receivers as possible. Obviously you want to have one stud runner (if that's even possible this year) and one or two top level receivers, but the value at those positions now comes from depth and snagging all of the upside that resides in the middle rounds of your drafts.
I will get into each position in detail in the coming weeks, but thought this was a very interesting top level look at the changes in Fantasy Football over the last nine years. Understanding that while the game is the same, the rules and philosophies are clearly changing.
YEAR
2003
2011
Change from
'03-'11
% change from
'03-'11
Overall Fantasy
growth % ('03-'11)
TOT QB PTs
7035
9196
2161
30.7%
26.2%
QB %
20.4%
21.5%
 
 
 
Tot RB PTs
7451
9176
1725
23.2%
20.9%
RB %
21.6%
21.5%
 
 
 
TOT WR PTS
8752
10860
2108
24.1%
25.6%
WR%
25.4%
25.4%
 
 
 
TOT TE PTS
2081
3916
1835
88.2%
22.3%
TE %
6.0%
9.2%
 
 
 
TOT K PTS
3119
3894
775
24.8%
9.4%
K%
9.1%
9.1%
 
 
 
TOT DEF PTS
6019
5660
-359
-6.0%
-4.4%
DEF %
17.5%
13.3%
 
 
 
TOT PTS
34457
42702
 
 
 
| | | | | | |
| --- | --- | --- | --- | --- | --- |
| YEAR | 2003 | 2011 | Per starter/Per week 2003 | Per starter/Per week 2011 | Differential |
| Top 12 QB PTS | 3415 | 4382 | 17.8 | 22.8 | 80.6 |
| QB % | 18.3% | 21.7% |   |   |   |
| Top 24 RB PTS | 4981 | 4542 | 13.0 | 11.8 | -18.3 |
| RB % | 26.7% | 22.5% |   |   |   |
| Top 36 WR PTS | 5108 | 5410 | 8.9 | 9.4 | 8.4 |
| WR % | 27.4% | 26.8% |   |   |   |
| Top 12 TE PTS | 914 | 1606 | 4.8 | 8.4 | 57.7 |
| TE % | 4.9% | 7.9% |   |   |   |
| Top 12 K PTS | 1512 | 1715 | 7.9 | 8.9 | 16.9 |
| K % | 8.1% | 8.5% |   |   |   |
| Top 12 DEF PTS | 2736 | 2566 | 14.3 | 13.4 | -14.2 |
| DEF % | 14.7% | 12.7% |   |   |   |
| TOTAL FANTASY POINTS | 18666 | 20221 | 66.5 | 74.7 | 131.1 |
Stay in touch with the most passionate Fantasy staff in the business by following us via Twitter @CBSFantasyFB . You can also follow Nathan at @nathanzegura .