Two of the league's top passing offenses and the best receiver in the league all reside in the suddenly Fantasy rich NFC North. In addition to those stalwarts and the just acquired Brandon Marshall, there are a ton of exciting young Fantasy prospects in the division that you need to know about on Draft Day.
Spotlight players
Matthew Stafford, QB, Lions: Last year I guaranteed that if Matthew Stafford played 16 games he would be a Top 5 Fantasy quarterback and one of the best Draft Day values. Well, sure enough, Stafford played the entire season and literally had one of the most prolific passing years in NFL history. When it was all said and done, Stafford joined Drew Brees, Tom Brady and Dan Marino as the only quarterbacks to ever throw for 5,000 yards in a season. Only Stafford, Brees and Marino have also thrown for 40 touchdowns in the same season as they topped 5,000 yards, which is even more amazing when you consider that Stafford had not reached 2,300 yards or 14 touchdowns in either of his two seasons prior to 2011.
FREE Draft Kits!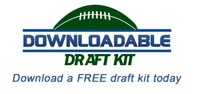 Get everything you need to dominate on Draft Day in one convenient place with our Downloadable Draft Kit, complete with projections, rankings and outlooks for 2013!
Download your Draft Kit now!
For the year, Stafford completed 421 of his 663 pass attempts for 5,038 yards (7.6 yards per attempt) with 41 touchdowns and only 16 interceptions. He was Top 4 among quarterbacks with an 81 percent consistency rate (fourth), a 50 percent big game rate (fourth), 13 games of 250 yards passing (third), eight games of 300 yards passing (fourth) and 12 multiple touchdown games (fourth). He finished the year as the fourth ranked Fantasy quarterback with 424 points, which is the fifth highest total in NFL history behind Brady (2011 and 2007), Brees (2011) and Rodgers (2011). In the red zone, Stafford's 29 touchdowns were the fourth most and his 27.6 percent scoring rate tied Brady for fifth best among the 32 busiest quarterbacks in the league. At the goal line, Stafford's 70.6 percent scoring rate was second best in the league and he is already finishing drives at an elite level.
There is so much to like about Stafford, but the fact that he has played in 29 of a possible 48 games in his career is still cause for concern. Other than the injury risk, though I don't see any downside with Stafford. In fact, as rookie Titus Young got more acclimated to the offense last season, Stafford became even more explosive. Over the second half of the 2011 season he averaged a league-high 357 yards per game and tossed 22 scores in eight games. With the best receiver in the world in Calvin Johnson to go with Young, Nate Burleson, Ryan Broyles, Brandon Pettigrew and the returning Jahvid Best at running back, Stafford has arguably the most explosive group of pass catchers in the game today.
I don't think the Lions will throw the ball on a league high 66 percent of their plays in 2012 like they did last year, but Stafford will certainly be in the top five of passing attempts again and if he can get his yards per attempt up over eight, look out. He may not throw for 5,000 and 40 again this year, but Stafford is the fourth-ranked quarterback on my board and will be an elite option every time he takes the field.
Percy Harvin, WR, Vikings: Harvin has gotten better in every single one of his NFL seasons and had a career year in 2011, when he finished the year as the eighth-ranked Fantasy receiver with 174 points. He caught a career-high 87 passes (fourth most among receivers) for 967 yards (also a career high) and six touchdowns. Harvin also rushed for a career high 342 yards and two touchdowns, so all told he accounted for 1,309 yards and eight touchdowns of total offense as one of the most dynamic playmakers in the NFL. He set a career high with a 56.3 percent consistency rate (tied for eighth at receiver) and was fourth with a touchdown in eight games.
Harvin is a great combination of upside and consistency. He has now been a Top 24 receiver in all three of his NFL seasons and has produced at least a 50 percent consistency rate, a 60 percent target conversion rate and eight yards per target every single year despite playing with four different quarterbacks during that span. In 2011, Harvin did set career a career high with a 72.5 percent target conversion rate (second best in the league), which is astonishing considering that the Vikings completed just 56.1 percent of their passes for the season. Over the last seven weeks of 2011 Harvin was at his best, with seven touchdowns and five games of 100 total yards.
It may surprise you to learn that he was the second-ranked Fantasy receiver from Week 11 on last year. He really clicked with quarterback Christian Ponder, which bodes well for 2012. Harvin scored all eight of his touchdowns with Ponder under center, while his targets and overall production shot up dramatically. In the first five games of the year, Harvin saw 5.2 targets per week and averaged 3.6 catches (69 percent) for 36.6 yards per game (7.1 yards per target) with no touchdowns. In the 11 games that Ponder had a hand in, Harvin was targeted 8.5 times per game and caught 6.3 of them (73.4 percent) for 71.3 yards per game (8.34 yards per target) and .55 touchdowns per game. That translates to 10.4 points per week and those numbers over 16 games would have made Harvin the 11th-ranked receiver on receiving totals alone. Add in his wide receiver-leading 342 yards and two scores rushing (not to mention his likely one return score) and Harvin would have finished as the fourth receiver overall -- just one point behind Wes Welker -- if he had 16 games with Ponder. That's pretty darn impressive, considering he played far fewer snaps last year than most elite receivers and had a sub par 15.4 percent red zone scoring rate.
With Adrian Peterson likely to be limited early, look for Harvin to stay very involved as both a rusher and a pass catcher. With a full offseason under his belt with Ponder, the two should only develop better chemistry. Harvin comes with some risks (injury, migraine and attitude) but the kid can flat out play the game. He should be a top 10 receiver for the second straight season in all formats (he is even better in PPR leagues), but can be had as a second receiver for your teams in the late fourth round, where he is an absolute steal in my opinion. I love Harvin this year and he is entering vastly underrated territory among Fantasy receivers.
Jordy Nelson, WR, Packers: Nelson followed up his amazing 2011 playoff run with one of the best seasons in NFL history for a wide receiver. Nelson had arguably the most efficient season we have ever seen in the NFL and it might never be duplicated. He ranked 40th among all receivers with 95 targets, but that was the only category in which Nelson was not elite. He finished the year with 68 receptions for 1,263 yards and 15 touchdowns to finish as the second-highest scoring Fantasy receiver with 216 points. He tied Calvin Johnson for the league lead with a touchdown in 10 games and was second in both consistency rate (62.5 percent) and big game rate (37.5 percent).
Among the 70 most targeted receivers, Nelson ranked fourth in target conversion rate (71.6 percent), fifth in yards per catch (18.6) and led the league in yards per target (13.3), touchdown rate (15.8 percent) and Fantasy points per target (2.27, which is the highest single season figure I have ever seen for a starting receiver). Not surprisingly, Nelson was also a beast in the red zone, scoring on 46.7 percent of his targets inside the 20, the second best rate in the NFL. His seven red zone scores also ranked third among all receivers. He scored from close, he scored from deep and he was absolutely amazing all season long.
It should be noted that he did trail Greg Jennings in their 12 full games together in 2011, but he did explode for 386 yards and six scores in the final four games of the year to put the exclamation point on many a Fantasy title. His breakout was not all that surprising after Nelson caught over 70 percent of his targets and averaged nearly 10 yards per target (including the playoffs) two seasons ago. Still, the improvement in the red zone (from 10 percent to 46.7 percent) was as amazing as his final numbers. I don't think Nelson will score 15 times again this year, but he has a good shot at another season with 10 scores and should remain a very solid yardage producer. I like Nelson as the second Green Bay receiver in the top 10. He is a great selection as your top option or an absolute gem as your second receiver on Draft Day.
Check out our Fantasy Football podcast!
There is no better source for entertaining Fantasy advice than our Fantasy Football Today podcast. Dave Richard, Jamey Eisenberg and Adam Aizer will help you pass the time as you anticipate Draft Day 2014!

Latest episode | Subscribe today!
Brandon Marshall, WR, Bears: In his last two seasons with Jay Cutler as his quarterback (in Denver), Marshall had 206 catches for 2,590 yards and 13 touchdowns, which propelled him to ninth and 11th-place finishes at the receiver position back in 2007 and 2008, respectively. Marshall is coming off of a very impressive 2011 season in which he caught 82 passes for 1,227 yards and six touchdowns from Chad Henne and Matt Moore to finish as the 13th-ranked receiver. He had a solid 50 percent consistency rate (tied for 12th) and posted a career best five games of 100 yards receiving, which was tied for sixth at the position.
I know that many are projecting Marshall to jump into the Top 5 at receiver and while it is certainly possible, I don't think he is a good enough touchdown scorer to get there. Despite being a physically dominant receiver with a 60 percent career catch rate, Marshall has really struggled in scoring situations. That's why he averages just 6.33 touchdowns per year as a starter, which is far from elite. In 2011, Marshall failed to score on his seven goal line targets and his 19 percent red zone scoring rate was in the bottom third of the 56 receivers with at least 10 chances. Even back to his days with Cutler, Marshall accounted for only 13 of Cutler's 43 touchdowns in 2007 and 2008 respectively, and had a below-average 20 percent red zone scoring rate. That's why I think Marshall gets to 8-9 scores in an absolute best-case scenario, but is more likely to check in at 6-7 again in 2012. He should be close to 100 catches and 1,300 yards, which is why I love Marshall as a top-flight second receiver in standard leagues and consider him a solid first receiver for your teams in PPR formats.
Adrian Peterson, RB, Vikings: When healthy, we all know Peterson is one of the best running backs in the league. AP has finished in the top three at his position in each of his four full NFL seasons, producing at least 1,609 total yards and 10 touchdowns in every one of those years. Last year, he was well on his way to a fifth straight great year as he had picked up 1,112 total yards and 13 touchdowns in 12 games before tearing his ACL in Week 16. Peterson was the eighth Fantasy back for the year and was the fourth-ranked runner before injuries started to impact him in Week 11.
The real questions for 2012 are when Peterson will be ready to play and how effective he will be coming back from major knee surgery. I'd be shocked to see Peterson play a big role in more than 10 games this year, so you have to temper your expectations for his final totals. That being said, he could be one of the best second half backs in the league and a great Draft Day value. I don't think he will immediately return to form as a yardage producer (only Jamal Lewis has ever topped 1,300 yards rushing in the season immediately after tearing an ACL), but AP is a great touchdown producer and that shouldn't change. Since coming into the league in 2007, Peterson has 36 goal line touchdowns (second most) and his 51 percent scoring rate is tied with BenJarvus Green-Ellis for best in the NFL over the last five years.
I see Peterson as a quality second running back on Draft Day, but I would be shocked if he climbs back into the top 10. If you take Peterson, be sure to grab Toby Gerhart and between the two of them, you should get top 12 production over the course of the season.
Breakout player
Titus Young, WR, Lions: I think Young is a great breakout candidate for your teams with Top 20 potential and a fourth receiver draft price. After a slow start in 2011, the talented rookie really turned it on, scoring six touchdowns in his final nine games to go along with 33 catches for 398 yards. In fact, Young was the 25th-ranked Fantasy receiver in those nine games and caught 62 percent of his targets with a 7.5 yards per target average.
Young also showed that he can be a very effective red zone receiver despite his smallish stature. Young scored on four of his nine red zone targets and his 44.4 percent scoring rate was fourth best among the 62 receivers who saw at least nine targets inside the 20. Young also scored on all three of his goal line targets as a rookie, tying Jeremy Maclin as the best scorer among the 42 receivers who saw at least three targets up close. Look for Young to see increases in his playing time, targets and production this year. I would not at all be surprised by a 1,000-yard, seven-touchdown season from the youngster out of Boise State. He was only eight points away from being the 36th receiver last year and I think he will blow his rookie numbers out of the water. He is a great third receiver for your teams on Draft Day and is an absolute steal as a fourth receiver with nothing but upside.
Honorable mention: James Starks, RB, Packers, Jay Cutler, QB, Bears, Mikel Leshoure, RB, Lions, Jermichael Finley, TE, Packers
Sleepers
Follow us, Like us, Join us
Want more? Join the discussion on our Facebook page and Google+ and follow us on Twitter for additional insight while interacting with a community geared toward Fantasy Football.


Randall Cobb, WR, Packers: Cobb is my favorite deep sleeper of the year and I think he has a great chance to breakout for the Packers this season. Cobb was the team's second round pick in 2011 and showed flashes of brilliance in limited action as a rookie. Cobb saw only 31 passes, but he caught 24 of them for 369 yards and one score. He caught 77.4 percent of his targets and averaged 11.9 yards per target, both of which are off the charts for a rookie receiver. In fact, he led all receivers in target conversion rate and his 11.9 yards per target ranked third among the 119 receivers who saw at least 30 targets. In other words, this kid looks like all he needs is the chance to become an absolute superstar.
The Packers do not hold down their young talent and I think Cobb will see a dramatic increase in his playing time. There is no better late-round player to target than Cobb and I think he is a virtual lottery ticket as your fifth receiver late in your drafts this year. Even if the hype grows, I'd take him as my fourth receiver, because it is only a matter of time before he is a household name.
Toby Gerhart, RB, Vikings: Gerhart is likely to open the season as the starting running back for the Vikings and could hold that role for six or more games to begin the season. If last year was any indication, Gerhart will be a very productive Fantasy back who should be in your lineups whenever he is starting.
In 2011, Gerhart set career highs in every category including rushes (109), rushing yards (531), yards per carry (4.9), receptions (23), receiving yards (190), receiving touchdowns (three) and total touchdowns (four). The vast majority of that production came from Week 12 to Week 17, when Gerhart was the featured back for five of the final six games. In those six games, Gerhart posted an 83 percent consistency rate and averaged 13 points per game, finishing as the 10th-ranked Fantasy back down the stretch. Gerhart totaled 542 yards (90.3 per game) and four touchdowns in those contests and topped 100 total yards or scored in five of the six games. He was great in scoring situations as well, checking in with a solid 22.2 percent red zone touchdown rate and he scored on two of his three goal line chances. If you get that production over the first six weeks of the season, the Gerhart and AP combo will be a top 10 pair on Draft Day and neither will cost you a first or second round pick.
Gerhart is one of my favorite sleepers this year because he will start some games for sure and you just never know how AP's knee will respond/hold up, so you may even get more than you bargained for. You can get Gerhart as your fourth running back on Draft Day and I think there may be no better value at the running back spot this year.
Honorable mention: Michael Bush, RB, Bears, Jerome Simpson, WR, Vikings, James Jones, WR, Packers, Ryan Broyles, WR, Lions, Kyle Rudolph, TE, Vikings
Stay in touch with the most passionate Fantasy staff in the business by following us via Twitter @CBSFantasyFB . You can also follow Nathan at @nathanzegura .