One of the best things we do after the season is over is look back on our sleepers from the previous year. It's a fun exercise to see how we did.
In 2011, I hit on Marshawn Lynch and Willis McGahee in this space, and I'd like to forget Sam Bradford and Daniel Thomas. That's the thing about sleepers; some will come through in a big way, while others will disappoint. It's just a matter of taking risks on these players in the right spots.
With that in mind, here are a dozen sleepers I'd take a chance on this season. Hopefully at this time next year we'll have more guys like Lynch and McGahee and less like Bradford and Thomas.
FREE Draft Kits!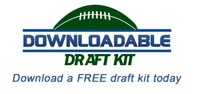 Get everything you need to dominate on Draft Day in one convenient place with our Downloadable Draft Kit, complete with projections, rankings and outlooks for 2013!
Download your Draft Kit now!
Josh Freeman, QB, Buccaneers: Freeman was a huge surprise in 2010 when he finished as a Top 10 Fantasy quarterback and a tremendous bust last year when he was just inside the Top 20. This year, Freeman could re-emerge as a potential starting option and shapes up as top-end backup Fantasy quarterback. Freeman has lost about 20 pounds and gained some quality weapons in Vincent Jackson, Doug Martin and Dallas Clark. The Buccaneers have improved their offensive line and Freeman is poised to play closer to his 2010 form. That year, Freeman had 25 touchdown passes and just six interceptions. He regressed last year to 16 touchdowns and 22 interceptions, but we expect Freeman to dramatically improve. He's a great No. 2 quarterback to pair with fragile starters like Michael Vick and Peyton Manning, and he is an excellent value pick based on his Average Draft Position.
My projection: 3,989 yards, 27 TDs, 12 INTs; 233 rush yards, four TDs
Early-August ADP: 138th overall
I'd take him: 113th overall

Jake Locker, QB, Titans: Locker might not open the season as the starter for the Titans, but he has more upside than Matt Hasselbeck. In the two games where Locker attempted at least 19 passes last year as a rookie he had at least 18 Fantasy points in a standard league. By comparison, Hasselbeck had just six games with at least 18 Fantasy points despite starting all 16 games. Locker has a lot to prove before Fantasy owners can count on him, but he's someone to keep on your radar. If he starts for the Titans at any point this season he could post quality stats, and you might end up adding him off the waiver wire. We'll find out how Locker does in an open competition against Hasselbeck during training camp, but we like what we saw from Locker in 2011 and hope for more this year.
My projection: 3,088 yards, 20 TDs, 14 INTs; 177 rush yards, two TDs
Early-August ADP: Not being drafted
I'd take him: 211th overall

Toby Gerhart, RB, Vikings: We all hope Adrian Peterson is back in Week 1 and ready to go following his knee injury last season. But I'm skeptical Peterson will be ready, which means more touches for Gerhart. And even if Peterson is back it would be surprising to see him get 19 carries a game, which is what he's averaged for the past three years. The Vikings don't want to overwork Peterson coming off his injury, and Gerhart was solid in place of Peterson last year. Gerhart had double digits in Fantasy points for five games in a row from Weeks 12-16, and he averaged 4.9 yards per carry. Gerhart is never going to be a dominant running back, but it's clear he can be a weekly starter if given enough touches. If something happens to Peterson in his comeback then look for Gerhart to shine, and he's definitely worth drafting in all leagues with a late-round pick.
My projection: 157 carries, 722 yards, six TDs; 34 catches, 211 yards, one TD
Early-August ADP: 95th overall
I'd take him: 85th overall

Peyton Hillis, RB, Chiefs: It's always good to draft a talented player coming off a down year who is motivated, especially when injury was a reason for that struggle. That's what we have in Hillis. He was a star in 2010 with the Browns but went through a nightmare season in 2011, mostly due to contract squabbles and a bum hamstring. He's healthy this year and now reunited with the offensive coordinator in Cleveland, Brian Daboll, who helped him become a star. Hillis will share carries with Jamaal Charles, but Charles is coming back from last year's torn ACL. We hope Charles is 100 percent, but even if he is, the Chiefs have said the two will split carries evenly. Hillis also figures to work at the goal line, and he has proven to be a quality receiver. Kansas City has a solid offensive line, and Hillis might present better value on Draft Day than Charles, who is being drafted in Round 3 on average. I'd much rather pass on Charles and settle for Hillis later in the draft.
My projection: 188 carries, 881 yards, eight TDs; 34 catches, 211 yards, three TDs
Early-August ADP: 75th overall
I'd take him: 69th overall

Ronnie Hillman, RB, Broncos: The Broncos are going with Willis McGahee as their starter, and coach John Fox remains loyal to his veterans. But with Peyton Manning now in town, he will likely have a prominent say in the personnel around him. While McGahee should dominate the carries, we could see Hillman play an important role in the passing game. And McGahee battled through injuries last year and will turn 31 this year. Hillman is easily a No. 3 Fantasy running back in PPR leagues, and he should be a key reserve coming into the year in all formats. But don't be surprised if by the middle of the season, especially after McGahee takes a pounding as the featured back, that Hillman takes over as the starter on all downs. If he proves he can pass protect for Manning then his playing time will continue to rise dramatically.
My projection: 144 carries, 703 yards, four TDs; 48 catches, 333 yards, one TD
Early-August ADP: 139th overall
I'd take him: 100th overall

Jacquizz Rodgers, RB, Falcons: Michael Turner isn't going away, but he's not going to see as much playing time as in recent years. Turner had at least 300 carries in three of the past four years, and coach Mike Smith said "we need to reduce his workload." The Atlanta Journal-Constitution reports Turner will likely see fewer than 250 carries, with Rodgers getting the additional work. Smith also believes Rodgers can be a three-down back, and we like his value with a late-round pick. He is an explosive playmaker who should help in the passing game, and the Falcons want to have a more aerial attack with Matt Ryan, Roddy White and Julio Jones. Rodgers is a solid option in PPR leagues, and he could do what Smith said and work on all downs. If Turner suffers a breakdown this year -- and keep in mind he's 30 -- then Rodgers will likely play a significant role in a dynamic offense.
My projection: 111 carries, 505 yards, two TDs; 44 catches, 311 yards, three TDs
Early-August ADP: 155th overall
I'd take him: 112th overall

Check out our Fantasy Football podcast!
There is no better source for entertaining Fantasy advice than our Fantasy Football Today podcast. Dave Richard, Jamey Eisenberg and Adam Aizer will help you pass the time as you anticipate Draft Day 2014!

Latest episode | Subscribe today!
Kevin Smith, RB, Lions: When last season ended, I was asked about my favorite sleeper for 2012. Without hesitation I said Mikel Leshoure. But after what has transpired this offseason and the early part of training camp, I'm sprinting away from Leshoure and running toward Smith. We might as well eliminate Jahvid Best from this backfield since his concussion woes are keeping him off the field. But Leshoure, who sat out last year with a ruptured Achilles, also can't stay healthy. He dealt with an ankle injury in offseason workouts and then suffered a hamstring injury in training camp. He also will start the season with a two-game suspension, so Smith continues to rise on my draft board. He also is injury-prone, but Smith should be Detroit's starter for the first two games of the season, including Week 1 against St. Louis. Smith appeared in seven games for the Lions last year and averaged 12.6 Fantasy points a game. I'll take that upside over the unproven Leshoure and his injury problems. Smith is a great No. 4 Fantasy running back for any roster.
My projection: 132 carries, 632 yards, five TDs; 22 catches, 177 yards, two TDs
Early-August ADP: 115th overall
I'd take him: 94th overall

Ryan Williams, RB, Cardinals: Williams has a lot to prove to Fantasy owners before anyone can consider him a starting option, but you should pass on Beanie Wells and his Round 5 ADP and wait for Williams. At least Williams is the healthier of the two at the start of training camp, with both battling knee injuries. Williams was expected to be the better option in 2011 before he went down with a torn patellar tendon. Wells opened training camp on the PUP list, but Williams has been able to practice. He has superior talent to Wells, and if both are healthy, Williams will post better stats. He's the better receiver and he should also have more total yards. If the touchdown split is close than Williams will perform like a quality No. 3 running back or flex option. It's no guarantee Williams will make it through a full 16 games, but you can't count on Wells either. I'd rather take my chances with the better player, which will prove to be Williams.
My projection: 184 carries, 840 yards, seven TDs; 22 catches, 155 yards, one TD
Early-August ADP: 119th overall
I'd take him: 95th overall

Randall Cobb, WR, Packers: The Packers have one of the deepest receiving corps with Greg Jennings, Jordy Nelson, James Jones, Donald Driver and Cobb. That likely will be the depth chart as well, which shows you how many people Cobb has to leap over to make an impact. But the Packers are known for playing their talented players, and Cobb has more upside than Jones and Driver. He could emerge as the No. 3 receiver for the Packers, and Aaron Rodgers will love looking for Cobb down the field. Cobb might not get drafted in the majority of leagues, but if you're looking for a No. 4 Fantasy receiver who could be a difference maker then put Cobb on your radar. The Packers will continue to use Cobb as a return man, which could limit his offensive snaps, but look for him to make the most of his playing time on offense in what should be a nice sophomore campaign.
My projection: 45 catches, 784 yards, five TDs
Early-August ADP: 178th overall
I'd take him: 138th overall

Robert Meachem, WR, Chargers: The Chargers lost one of the best big-play receivers in the NFL when Jackson signed as a free agent in Tampa Bay. Meachem will now assume Jackson's role as the No. 1 receiver in San Diego, and he should see plenty of targets from Philip Rivers. Meachem's career high in targets was 66 in 2010, and he's averaged just 3.9 targets a game over the past three seasons as part of a crowded receiving corps in New Orleans. Jackson, by comparison, had 115 targets last year and has averaged 6.8 targets a game over his past three full seasons. With the anticipated increase in targets we can expect a career year from Meachem, and he's a receiver to target as your No. 3 option with the chance to be a starter in all leagues. Antonio Gates will be the best receiving option for the Chargers and Malcom Floyd and Eddie Royal will also play prominent roles. But all of those guys are injury prone -- as is Meachem -- but the opportunity is there for the former Saint to succeed.
My projection: 57 catches, 945 yards, seven TDs
Early-August ADP: 90th overall
I'd take him: 79th overall

Follow us, Like us, Join us
Want more? Join the discussion on our Facebook page and Google+ and follow us on Twitter for additional insight while interacting with a community geared toward Fantasy Football.


Brian Quick, WR, Rams: We've heard good things out of Rams' training camp about nearly all of their receivers, including Danny Amendola, Greg Salas, Chris Givens and Steve Smith. That's all well and good, and hopefully one or more of those guys emerge because St. Louis has a miserable receiving corps. But look for Quick to be their best Fantasy receiver this year and a go-to target for quarterback Sam Bradford. He's a big target at 6-foot-3, 220 pounds, and Bradford should look for him in all scenarios. The Rams will likely be trailing in a lot of their games, and Quick should rack up plenty of production. He's not an elite talent, but he does have an exceptional opportunity given the lack of talent around him. Don't be surprised if Quick ends up as the best rookie receiver this season, and he could emerge as a No. 3 Fantasy option this year.
My projection: 54 catches, 811 yards, six TDs
Early-August ADP: 166th overall
I'd take him: 133rd overall

Kyle Rudolph, TE, Vikings: Rudolph did not have the rookie season many hoped for with just 26 catches for 249 yards and three touchdowns, and the Vikings added a veteran in John Carlson this offseason. But Carlson is clearly No. 2 on the depth chart, and Fantasy owners are hoping the way Rudolph closed last year -- three touchdowns in his final seven games -- is a sign of things to come. He's had a tremendous offseason and has developed a quality rapport with quarterback Christian Ponder. Rudolph will likely be the No. 2 option in the passing game after Percy Harvin and should be drafted as a No. 2 Fantasy tight end with upside. He might not emerge as the next Rob Gronkowski or Jimmy Graham, but Rudolph should turn into a quality playmaker in his second year.
My projection: 48 catches, 533 yards, five TDs
Early-August ADP: 187th overall
I'd take him: 174th overall
Off the radar: 10 deep sleepers of varying degrees

Greg Olsen, TE, CAR
He struggled last season after a hot start, but he should be more consistent this year as the only tight end in town.
Lestar Jean, WR, HOU
The Texans need a second receiver, and Jean has drawn rave reviews.
Austin Collie, WR, IND
He's healthy and starting and should prove to be a nice weapon for his rookie quarterback.
Taiwan Jones, RB, OAK
Mike Goodson is No. 2 in Oakland behind Darren McFadden, but Jones might have more upside.
Bilal Powell, RB, NYJ
Shonn Greene's backup might be Joe McKnight, but Powell should have more upside.
Chris Rainey, RB, PIT
Isaac Redman can't do it all with Rashard Mendenhall (knee) out, and Rainey could play on passing downs.
Eddie Royal, WR, SD
The Chargers envision Royal as their slot receiver, something PPR owners should take note of.
Emmanuel Sanders, WR, PIT
Depending on what happens with Mike Wallace, Sanders could emerge as a prime target for Big Ben.
Ryan Tannehill, QB, MIA
The Dolphins need someone to make plays, and he won't sit on the bench all season.
Nick Toon, WR, NO
Toon could replace Meachem and see plenty of targets from Drew Brees, a good thing.
Stay in touch with the most passionate Fantasy staff in the business by following us via Twitter @CBSFantasyFB . You can also follow Jamey at @JameyEisenberg and on Facebook .