After going through the other NFC divisions, which are three most Fantasy rich in the league, we conclude with the less exciting NFC West. The West has some declining superstars like Frank Gore, but there is some up and coming talent you can utilize in your pursuit of a Fantasy title this season.
Spotlight players
Marshawn Lynch: Who knew that Skittles could key one of the great running back streaks in NFL history?
Well, in 2011 Marshawn Lynch used a lethal combination of the fruit rainbow and his "beast mode" to set career highs with 1,204 yards and 12 touchdowns en route to a fifth-place finish at running back. The crazy part of his season is that they were really 13-game totals, because Lynch was not very involved the first two weeks of the season and was a late scratch against the Cleveland Browns. In the 13 games that Lynch played from Week 3 on, he scored all 13 of his total touchdowns and put together an unbelievable streak. Lynch scored in 12 straight games from Week 3 to Week 16 and had six 100-yard games. The most impressive game in the streak came in Week 16 against the top run defense in the NFL, the San Francisco 49ers. In that game, Lynch became the first runner to score a rushing touchdown or top 100 yards against the 49ers, who had not allowed a 100 yard rusher in over two years. He ran for 107 yards and the score that day to help propel many brave owners to Fantasy titles.
FREE Draft Kits!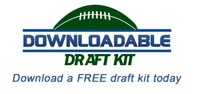 Get everything you need to dominate on Draft Day in one convenient place with our Downloadable Draft Kit, complete with projections, rankings and outlooks for 2013!
Download your Draft Kit now!
For the year, Lynch ranked in the Top 5 among running backs in every key metric. He had a 62.5 percent consistency rate (tied for fourth), a 37.5 percent big game rate (tied for third), six games of 100 yards rushing (tied for second), 10 games with a touchdown (third), 12 red zone touchdowns (second) and eight goal line touchdowns (fourth). Lynch was a beast in those scoring situations and his 23.5 percent red zone scoring rate was ninth best among the 43 busiest runners inside the 20. At the goal line he was unstoppable, scoring on 61.5 percent of his carries inside the five, the best figure among the 33 backs who had at least seven chances. That's bodes well for the future when you consider that the Seahawks ran the ball on the highest percentage of their plays inside the five.
His role as the featured back is extremely safe headed into 2012 and while he is not a great pass catcher, he will chip in 25 to 30 catches for 200 plus yards. I loved that Lynch had 20 or more total touches in 10 games last year. He had a streak of nine-straight 20-touch games to end the year when he averaged a solid 105 yards rushing per game, so you know he will be heavily involved week in and week out. In fact, from Week 9 on, Lynch was the second-ranked Fantasy back, trailing Ray Rice by only five points. In that span, he ran for a league-high 942 rushing yards with a league best nine scores.
When Lynch gets going, he is as utilized and productive as any pure rusher in the game today. The only real concerns are that he finally got paid this offseason and he has some off-the-field (DUI) issues that could cause him to miss time. However, the early word is that his legal issues will have no impact in 2012, which is great news. I consider Lynch one of the few workhorse backs left in the NFL (grab handcuff Robert Turbin), which makes him an excellent pick in late first round.
Steven Jackson: If Steven Jackson played his career for the Texans, Colts or Ravens, we may be talking about him as one of the greatest running backs to ever play the game. All he does is produce year in and year out while literally carrying the St. Louis Rams' offense on his back.
In 2012, with new head coach Jeff Fisher in town, Jackson may even carry a bigger load this year. That's tough to imagine for the 29-year old back who averages an NFL high 336 touches per season over the last seven years. Still, Jackson has seven straight 1,000-yard rushing seasons under his belt and thanks to his excellent receiving skills, he has produced at least 40 catches and 1,420 total yards in four straight years. He is the NFL's leading total-yardage producer over the last six years, which is incredible when you think about some of the bad offenses he has played in.
The only thing that has kept Jackson from dominating the Fantasy charts year in and year out is his lack of scoring. Jackson has been held to six or fewer total touchdowns in four of the last five seasons and has not topped eight in a season since 2006. He has just 16 touchdowns in his last 46 games, but has 16 games with 100 total yards in the last two seasons to ease that pain. Despite the lack of scoring, Jackson has been a Top 14 Fantasy back in seven straight years and remains remarkably consistent.
The good news is that Jackson was actually efficient in scoring situations in 2011 (he was awful in 2009 or 2010), and if that is a result of an offensive line improvement then we should see Jackson score more in 2012 under Jeff Fisher. Last year, Jackson's 25 percent red scoring rate ranked fifth among all runners, but his 20 red zone chances were 40th among all runners. At the goal line, Jackson was tied for 38th with just five chances, but scored on three of them for a 60 percent scoring rate, which was fifth best among the 44 backs who had at least five opportunities. For some reason, the Rams decided to throw the ball nearly 66 percent of the time in red zone and 50 percent of the time at the goal line. That will change under Fisher, so if Jackson and the Rams have actually improved in those situations, he will have the chance to get back to eight touchdowns this year.
Check out our Fantasy Football podcast!
There is no better source for entertaining Fantasy advice than our Fantasy Football Today podcast. Dave Richard, Jamey Eisenberg and Adam Aizer will help you pass the time as you anticipate Draft Day 2014!

Latest episode | Subscribe today!
He is not a spring chicken and his time as a dominant runner is coming to an end, but I still think Jackson is a solid late first runner or excellent second runner for your teams on Draft Day as a featured dual threat back in a running back friendly offense. Be sure to grab handcuff Isaiah Pead (the Big East player of the year in 2011) in case Jackson misses any time, but it should be noted that he has missed only two games over the last three years.
Sleepers
Alex Smith: The 49ers set a record for futility in the NFC title game with a grand total of one catch and three yards from their wide receivers. That disgusting lack of talent out wide was one of the things that kept Alex Smith from becoming a Fantasy factor in 2011. He ended up throwing for 3,144 yards (on a solid 7.1 yards per attempt) and 17 touchdowns last year, but really saved his Fantasy value with a league low-five interceptions. I expect Smith to massively improve on his numbers (except for the interception total) in 2012 thanks to some key offseason moves made by the 49ers that will directly impact the passing game. The team added wide receivers Randy Moss and Mario Manningham this offseason via free agency and then snagged A.J. Jenkins in the first round of the 2012 NFL Draft to immediately transform the position from a weakness to a strength. Adding Moss and Manningham to tight end Vernon Davis and the team's leading receiver Michael Crabtree, will finally provide Smith with an arsenal that is capable of producing a 4,000 yard season with 24 touchdowns in 2012.
The Niners are still a run oriented, defensive team but Smith will have the weapons and the opportunity to sneak into the top 12 in a best case scenario. Last year, the 49ers ranked 31st in pass attempts per game at 28.2, barely edging out the Tim Tebow-led Broncos. They will no doubt be throwing the ball more this year and they will be more efficient when they do it. I think Smith can get to 30 attempts per game and 7.5 yards per attempt, which would lead to a minimum of 3,600 yards passing.
He will also go north of 20 passing touchdowns this year, because Moss will almost single-handedly improve Smith's scoring efficiency. Last year, Smith had the worst red zone touchdown rate among all starting quarterbacks at 14.5 percent, which is why Moss's career 27 percent touchdown rate will be key. Moss may not be a burner like he used to be, but he is a smart receiver in the red zone who knows how to score and can open things up for the team's other pass catchers. Moss and Vernon Davis will form a dynamic one two punch near the goal line and anything less than a career year from Smith will be a huge disappointment.
Keep in mind, that Smith added nearly two points per week running the football and was the seventh-highest scoring quarterback as a runner in 2011, so he can chip in extra points with his legs. With huge jumps expected in both his passing yardage and touchdowns in 2012 thanks to a massive upgrade in his receiver corps, last year's 15th-ranked quarterback sure looks like a great high upside backup to target later in your Drafts.
Ryan Williams: Beanie Wells was excellent in 2011 but showed that he lacks the durability to be an every-down back over the course of a full season. That was why the Cardinals drafted Williams last year, but the rookie missed the entire season with a torn patellar tendon and forced Wells into that role.
This year, Williams is getting all of the first-team reps in training camp as Wells recovers from a knee surgery and I think he has the chance to play a big role. Williams is much more explosive as both a runner and a pass catcher than Wells and could bring a much needed home run hitting element to the Arizona attack. Williams was a very productive back in college, rushing for 1,655 yards (5.6 avg.) and 21 touchdowns in his best season at Virginia Tech.
Williams himself has not been an iron man, missing time in college as well his entire rookie season in the NFL, but if he can put that behind him I do think he has some serious upside. If Wells misses any time in 2012, look for Williams to take the job and not let it go. Even if Wells plays 16 games this year, Williams is going to get his chances and could steal the starting job due to his explosiveness. You can swipe Williams as a fourth running back on Draft Day, which makes him an excellent upside sleeper.
Doug Baldwin: Baldwin was the leading receiver for the Seahawks in 2011, finishing 40th at his position overall with 51 receptions for 788 yards and four touchdowns as an undrafted rookie. He didn't just lead the team in production, but he also led them in efficiency with a 60 percent catch rate and a very solid 9.3 yards per target average. He was not involved enough to be a huge weekly factor last year and failed to top 60 yards receiving in nine games, but a higher target volume would change that in a hurry.
I also want to see Baldwin better utilized in the red zone, as his three targets did not even rank in the top 100. He did score on one of those targets, but we need more chances for Baldwin to have the chance to become a consistent scorer.
Follow us, Like us, Join us
Want more? Join the discussion on our Facebook page and Google+ and follow us on Twitter for additional insight while interacting with a community geared toward Fantasy Football.


Seattle will be an improved passing attack with Matt Flynn likely under center and they have plans to increase Baldwin's utilization. He will be moved all around the formation per the coaching staff and should find things easier to navigate with Sidney Rice back in the fold. The fact that Baldwin produced at a highly efficient level in 2011 as an undrafted rookie without the benefit of a full offseason leads me to expect a nice jump from the Stanford product in 2012. That's why he is a great secret sleeper for your teams as a fifth receiver on Draft Day with no risk late in your drafts.
Brian Quick: The Rams made Quick the first pick of the second round in the 2012 NFL Draft and they hope that he can quickly, no pun intended, become the No. 1 receiver they have been missing for years. Other than Brandon Lloyd's cameo for the second half of 2011, the Rams have not had a go-to guy in the passing game since the days of Torry Holt and Isaac Bruce.
Quick is going to get every chance to be that guy for Sam Bradford and he has all of the physical tools to do it. Quick reminds many of Terrell Owens given his combination of size and speed, which he should hope turns out to be a good on-the-field comparison. Last year at Appalachian State, Quick caught 71 passes for 1,096 yards and 11 touchdowns.
Quick should be able to step in and see eight targets per game for the Rams as their top option, which means he will have plenty of opportunities to succeed. With a price tag in the last few rounds of your drafts, Quick is a great upside sleeper who will definitely have every chance to vastly out-produce his Draft Day cost.
Honorable mention: Sidney Rice, Isaiah Pead, Robert Turbin, Randy Moss
Bust alert
Frank Gore: Gore is one of my all-time favorites but the fact of the matter is that his days as an elite Fantasy back are over. After all, a crowded backfield plus declining speed at 29 years of age, blends with a dramatic decrease in receiving chances to create a recipe for a down statistical season in 2012.
This offseason, the 49ers added Brandon Jacobs via free agency and drafted LaMichael James in the third round of the NFL Draft with the intention of limiting Gore's workload so he can be fresh for the team's playoff run. After a close examination of Gore's 2011 season you can see why the Niners made that decision.
In his first seven games last year, Gore ran for 675 yards with five touchdowns on 4.8 yards per carry. He posted four games of 100 yards rushing and averaged a very healthy 96.4 yards per game. In the last nine games of the year, Gore ran for only 536 yards and three touchdowns on a paltry 3.7 yards per carry. He had no 100 yard rushing games and picked up just 59.6 yards per game. Clearly Gore started to wear down as the year went on and the 49ers have gone to great lengths to ensure that it does not happen again. Last year, Gore averaged a combined 11 yards per rush and catch (4.3 and 6.7 respectively), which is a full two yards under his previous career low of 13. So clearly, the surgically repaired man is slowing down.
Finally, Gore is losing looks in the passing game under the Jim Harbaugh regime. Prior to Harbaugh's arrival, Gore averaged 51 catches for 430 yards and two scores per season. Last year, Gore caught just 17 passes for 114 yards and did not score a single touchdown. To be fair, Gore caught a career-worst 54 percent of his targets in 2011, but his chances were way down. In fact, Gore saw 20 fewer targets (31) in 2011 than he averaged catches (51) from 2006 to 2010. On a per game basis, Gore went from averaging 5.3 targets, 3.6 receptions and 30.7 yards receiving each week to just 1.9 targets, 1.06 receptions and 7.1 yards per game in 2011. That is a massive dropoff in one year and when you consider that the team is likely to reduce Gore's time on the field, you have to wonder just how potent he can be.
Let's say Gore touches the ball 240 times (15 per season) this year, I would think that a best case scenario in terms of total yardage would be the 1,300 total yards that he produced on 249 touches in 2010. Even that could be a stretch though because over 450 of those yards came via the passing game and last year he touched the ball 299 times but produced only 1,325 total yards.
Gore will have to pay his bills at the goal line and it will be very important to see if he keeps that job or if the team turns it over to either LaMichael James or Brandon Jacobs. Gore would have 8-10 touchdown potential as the goal line back in 2012, but even his scoring metrics were troubling in 2011. Last year, he was third in the NFL in both red zone chances with 61 and goal line chances with 22, but Gore was bottom five in both red zone (11.5 percent) and goal line (27.3 percent) touchdown rates. If he loses the goal line job, Gore will have a tough time finishing in the top 20 at running back this year.
Decreasing opportunities combining with declining efficiency is never a good scenario for production. The 49ers are hoping that by reducing Gore's workload he will be more efficient over the course of the full 2012 season, but that will not help Fantasy owners. Keep in mind that Gore has just one Top 10 season in his last four and he has missed nine games during that span, so his durability is a question mark as well. Gore's upside is a Top 15 finish at the running back spot, but he has plenty of downside and is much more likely to fall out of the Top 20.
Stay in touch with the most passionate Fantasy staff in the business by following us via Twitter @CBSFantasyFB . You can also follow Nathan at @nathanzegura .