At a time when quarterback points are exploding and passing games are dominating the NFL, we have seen a massive shift away from bell cow running backs to specialization in the form of running back by committee. Let's take a look at the trends over the last nine years at the running back spot to help you better understand how to approach this position on Draft Day as you create a championship team.
On the whole, running backs are scoring more points today than they did back in 2003, as their total points have grown from 7,451 to 9,176 (23.2 percent jump). That rate trails the overall growth of Fantasy points in general (24 percent). Only running backs and Team Defense are growing at a slower rate than the overall Fantasy landscape, which is not too surprising. Yes, the arrow is pointing up since 2003, but it is interesting to note that unlike the steady growth of the quarterback, receiver and tight end positions, running back points seem to be on the decline. In 2009, running back production peaked at 9,769 points, but the total fell to 9,264 in 2010 and then 9,176 last year (a 6.1 percent drop over the last two years). Given what we know about league trends in scoring situations, it is not too surprising.
FREE Draft Kits!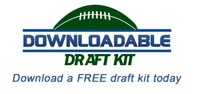 Get everything you need to dominate on Draft Day in one convenient place with our Downloadable Draft Kit, complete with projections, rankings and outlooks for 2013!
Download your Draft Kit now!
Inside the 10-yard line, the 2011 season saw the lowest totals in rushing attempts (943), rushing yards (1,618), rushing touchdowns (238) and Fantasy points (1,839) of the last 10 years. By comparison, 2003 saw 277 rushing touchdowns and 2,089 Fantasy points for running backs inside the 10-yard line. 2008 actually was the peak of running back points near the goal line with 306 touchdowns and 2,367 Fantasy points. This is largely due to a shift in offensive philosophy of late because in 2008 teams were still running on 57 percent of their plays, but that number fell to 51 percent in 2011. That is a significant drop of 10.5 percent off of the 2008 number. Passing to score seems to be here to stay and the other factor to consider is that quarterbacks scored more goal line rushing touchdowns (42 from inside the five yard line) in 2011 than they have at any other point in the Fantasy Football era.
Touchdown scoring on the whole is up, with running backs punching in 322 rushing scores in 2011 compared to 290 in 2003 (11.0 percent increase). The peak was once again 2008, when running backs scored 398 touchdowns on the ground. However, the percentage of overall running back points derived from rushing touchdowns is on the decline. In 2003, rushing touchdowns accounted for 23.3 percent of running back points. In 2008, they accounted for 25.0 percent of the total running back points, but that percentage fell to 21 percent in 2011. Receiving touchdowns for runners has grown from 60 in 2003 to 69 in 2011 (15 percent gain), but it has remained steady at just under five percent of the total running backs points.
If rushing touchdowns are down as a percentage of overall Fantasy running back points, it stands to reason that yardage is the key for the modern Fantasy back. In 2003, running backs picked up 55,475 total yards, but that number jumped to 69,978 last year (a 26.1 percent increase). It should also be noted that like touchdowns and overall Fantasy points, the peak in total yardage for running backs came in 2009 (was 2008 for touchdowns) at 72,251 total yards. So on the whole everything is up for running backs over the last nine years, but the growth seems to have peaked in 2008/2009 and numbers are on the decline now. No wonder running backs have made up a smaller percentage of overall Fantasy points in 2011 than they have at any point in the last nine seasons.
With that understanding of overall trends for the running back position, it is important to jump in and look at the trends on the individual level, because after all you are drafting individual players. Beginning with the starters (top 24) at the position, lets look at the macro and micro trends. To me, the most condemning stat about the state of the running back position is that in 2003, the Top 24 runners scored 66.7 percent of the total running back points. That number fell to 49.5 percent last year as specialization diluted the points at the position. We still have our stars like Arian Foster, LeSean McCoy and Ray Rice, but the rest of the Top 24 are nowhere near their historical counterparts.
In 2003, 12 running backs scored at least 200 points, 14 topped 180 points and there were four backs who eclipsed 290 Fantasy points. In 2011, only six running backs scored 200 points, 11 topped 180 points and there was only one runner, Ray Rice, who topped 290 points. The top was much better in 2003 and it was not because of talent, it was due to opportunity.
Back in 2003, 11 running backs took 300 or more carries and five backs had over 400 regular season touches. To show how unheard of that is in today's NFL, take a look at the fact that only two running backs took over 300 carries last year (Michael Turner barely made it at 301 carries) and no one reached the 400 touch plateau.
In terms of rushing yardage we can clearly see the move away from the workhorse running back. In 2003, 15 runners topped 1,000 yards, 12 backs exceeded 1,200 yards, and nine topped 1,400 yards. Last year we also had 15 running backs hit the 1,000 yard mark, but that is where the similarities stopped. In 2011, only seven backs reached 1,200 yards and only the NFL's leading rusher -- Maurice Jones-Drew -- topped 1,400 yards rushing. In fact, MJD's 1,606 yards on the ground would have finished fifth in 2003 and no other runner from 2011 would have finished in the Top 10 in terms of rushing yardage in 2003.
Rushing touchdowns tell a similar story as 2003 had 12 runners with double digit touchdowns, just ahead of the 11 we saw last year. However, the depth at the top in 2011 was not even close to 2003, which had six runners score 13 or more rushing touchdowns, compared to only LeSean McCoy in 2011.
There was certainly more depth at the top of the running back position back in 2003 and it was not even close. Let's take a look at the spreads between the top runner and the last starter (the 24th running back) as well as the top runner and the average starting back. In 2003, Priest Holmes (371 points) outscored the 12th-ranked runner (Stepehen Davis) by 170 points and bested the 24th ranked runner (Shawn Bryson) by 259 points! There were only three runners in 2011 who scored more than 259 points. Due to the strength at the top however, Holmes outscored the average starting running back in 2003 by 163 points, which is still very substantial. How did that measure up with what we saw in 2011?
Last year, Ray Rice led all running backs with 298 points. He outscored the 12th-ranked runner -- Frank Gore -- by 122 points (a sizeable advantage) and bested the 24th running back by 151. There was only a 29-point difference between 12th and 24th last year at the running back spot, which is a far cry from the 89 points that separated 12 and 24 in 2003. Rice also outscored the average running back by 109 points, which is again well down from the 2003 level.
Check out our Fantasy Football podcast!
There is no better source for entertaining Fantasy advice than our Fantasy Football Today podcast. Dave Richard, Jamey Eisenberg and Adam Aizer will help you pass the time as you anticipate Draft Day 2014!

Latest episode | Subscribe today!
Clearly the stud, bell cow running backs were used more, scored more and were more plentiful in 2003 than they are today. So where is the advantage for Fantasy owners in 2011 and beyond? The answer lies in the remaining primary backs and the incredible depth of the position. You can already see that the spread between the top back and the last starter has closed a lot in nine years and more importantly, the spread between 12 and 24 has really closed, so there are more mid-round options for you on Draft Day.
Yes, 2003 had the advantage at the top, but in terms of the overall number of viable Fantasy options, 2011 gets the nod. In 2003, exactly 24 running backs topped 100 Fantasy points, while 35 runners did so last season. At the 80-point level, it's even more apparent how many runners are contributing now in the running back-by-committee era. Forty-four runners hit the 80-point mark last season, up dramatically from just 27 back in 2003. This is why it is always a good idea to load up on as many runners as possible in the middle rounds of your drafts. You will find players who can contribute every single week and there is a great chance that one or two of them will sneak into the Top 24 when it is all said and done. To illustrate that point, let's take a look at some of the recent consistency and draft trends for running backs.
Whereas quarterback is a consistent position with a lot of stability among the starters year to year, running back is much more volatile. Ten of the Top 24 backs from 2010 did not make the cut in 2011 and six of the Top 12 also failed to repeat. That is not atypical either, as we have seen an average of 14 repeaters in the Top 24 and just five of the Top 12 over the last three years. Injuries are a much bigger factor at the running back spot and it is much harder to remain elite at this position for a long time due to the wear and tear.
Of the nine running backs who have made the Top 24 in each of the last three seasons, Adrian Peterson and Rashard Mendenhall are both coming off of torn ACL's and really only AP has a shot to repeat. Michael Turner, Frank Gore and Steven Jackson are nearing the end of their runs. Maurice Jones-Drew has touched the ball more than any player in the NFL over the last three seasons and is involved in a holdout. Of the remaining three, I would say Ray Rice is a lock to repeat and Matt Forte and Fred Jackson both have good shots to do so as well, despite being in running back committees. It is a position of new faces and values every single year, which is something to think about.
Last year marked the third straight season that the running back position tied its own record with 10 of the Top 24 scoring coming from the sixth round or later on Draft Day. Aanother record was set a year ago as 12 of the Top 24 point scorers at the running back position were not among the first 24 runners drafted. It should also be noted that four of the Top 10 backs and seven of the Top 14 runners were drafted in the fifth round or later and Ryan Mathews was the only fifth rounder in that group. In fact, in five straight seasons at least four of the top 12 running backs have been drafted in the fourth round or later. That shows that there are always mid-round gems like Mathews, Marshawn Lynch, Darren Sproles, Reggie Bush, Michael Bush and Fred Jackson who will vastly outplay their ADP.
The elite backs do seem to be safe investments as long as they stay healthy, or you grab their handcuff. Last year, 11 of the first 12 running backs drafted did finish in the Top 24, with Jamaal Charles (injury) being the only back to not make the list. The top four running backs and six of the top seven backs were all among the first 13 overall picks in 2011. In 2010, eight of the Top 12 backs came from the first two rounds and in 2009 the top three backs and four of the top six all came from the first round and every first round running back finished in the Top 24 except for Steve Slaton. As the league becomes enamored with the committee approach, the few remaining workhorses have a huge advantage at the position and that's why, barring injury, they have been relatively safe early picks. Primary runners are the guys to focus on in 2012 (unless you are in a PPR league), because even mediocre players like Shonn Greene will be perennial Top 24 producers if they run the ball 15 to 20 times per week in this committee era.
Follow us, Like us, Join us
Want more? Join the discussion on our Facebook page and Google+ and follow us on Twitter for additional insight while interacting with a community geared toward Fantasy Football.


That's why this year securing two of those primary runners among your first four (even two) picks is not a horrendous idea. You want to come away with two of the primary runners early along with an elite quarterback and then load up three of the middle-to-late round upside backs who sneak into the Top 24 every single year. That allows you to take advantage of the depth of the Top 30 at wide receiver while securing solid play from your runners. By my count, there are 18 (maybe 20 when camp is over), legit primary runners this year. In that group, it looks like we will have 10 -12 true featured backs (which is actually up from recent years). Ideally, you'd want to snag one of the true lead backs (even two if you pick at the end of the first round in a four per passing touchdown league), then get one of the remaining primary runners and finally snag three to four of the middle and later round upside options like Stevan Ridley, Mikel Leshoure, Peyton Hillis, Michael Bush, James Starks, David Wilson, Ryan Williams, Mark Ingram, Isaiah Pead, Ronnie Hillman and Evan Royster, depending on how many bench spots you have.
The backs of today are not as dominant as their 2003 predecessors, but securing potentially two of the Top 12 and three or four of the Top 24 with excellent mid-round drafting will go a long way to bringing you a title this year alongside your elite quarterback and solid pass catchers. It is not like 2003, when the Top 24 were much more easily identifiable heading into Draft Day. There is a solid group that should easily finish in the Top 24 and then a ton of upside to be mined in the middle rounds. Remember to get your handcuff for your lead back to protect that investment and have fun stealing those middle and late round gems.
Stay in touch with the most passionate Fantasy staff in the business by following us via Twitter @CBSFantasyFB . You can also follow Nathan at @nathanzegura .