Training camp is in full swing and preseason games have kicked off. Pretty soon everyone in the Fantasy universe will begin drafting their teams. While there's some stability at other positions, running back rank lists are changing by the week. And there's no question that the majority of questions we get this time of year are focused on running backs.
Here are five individuals who will undoubtedly make many owners think twice on Drafy Day.
FREE Draft Kits!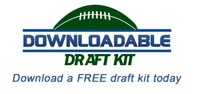 Get everything you need to dominate on Draft Day in one convenient place with our Downloadable Draft Kit, complete with projections, rankings and outlooks for 2013!
Download your Draft Kit now!
Trent Richardson, Browns: Richardson got harder to handicap after he underwent what Browns coach Pat Shurmur said was a "simple routine arthroscopic procedure" on his left knee exactly one month before the start of the season. This is the same knee he had arthroscopic surgery on in early February to repair a torn meniscus. Suddenly, the most talented rookie running back to enter the NFL since Adrian Peterson has health concerns.
News on his rehab and recovery will come out in due time, but Shurmur believes Richardson will recover quickly and is "hopeful" that he'll play in Week 1 against the Eagles. Chances are his preseason is shot. Obviously the longer he's sidelined, the longer it might take him to get acclimated to playing in the pros after dominating college with a 5.8 rushing average, a 10.7 receiving average and 42 total touchdowns in three years at Alabama.
At a time when running backs are becoming devalued in the NFL, the Browns saw Richardson as a once-in-a-decade talent, a back with the abilities to do everything and anything. He can run inside, run outside, catch passes and pass block. He's just as much a hard charger as he is a fleet-of-foot speedster (he ran a 4.45 in the 40-yard dash at his Pro Day). Simply put, the Browns gave their offense an identity with this guy, much like the Vikings did with Peterson when he came out. Early reports were that the Browns would lean heavily on him, which is understandable given the relative youth spread across their offense. Twenty touches per week would not have been out of the question -- and they're still not once he gets into the swing of things.
Admittedly, the success rate of first-round running backs in Fantasy isn't great. And we've never recommended taking a running back as early as we're suggesting taking Richardson. Red flags? You be the judge.
2008

Player
When we said to draft him
Where he finished
Games played
Darren McFadden
Early- to mid-round pick
43rd among RBs (85 FPTS)
13
Jonathan Stewart
Mid-round pick
24th among RBs (135 FPTS)
16
Felix Jones
Mid- to late-round pick
64th among RBs (36 FPTS)
6
Chris Johnson
Mid-round pick
11th among RBs (190 FPTS)
15

2009

Player
When we said to draft him
Where he finished
Games played
Knowshon Moreno
Mid-round pick
17th among RBs (147 FPTS)
16
Donald Brown
Mid-round pick
57th among RBs (47 FPTS)
11
Beanie Wells
Mid-round pick
31st among RBs (115 FPTS)
16

2010

Player
When we said to draft him
Where he finished
Games played
C.J. Spiller
Mid-round pick
67th among RBs (27 FPTS)
14
Ryan Mathews
Early- to mid-round pick
32nd among RBs (103 FPTS)
12
Jahvid Best
Early- to mid-round pick
23rd among RBs (124 FPTS)
16

2011

Player
When we said to draft him
Where he finished
Games played
Mark Ingram
Early- to mid-round pick
42nd among RBs (75 FPTS)
10
The biggest problem these rookie rushers faced wasn't necessarily the change to the NFL game, but staying on the field -- a problem most running backs have to face. Only five first-round backs played in 15 or more games as a rookie, and they were the only ones who put up helpful Fantasy numbers, averaging 142.2 Fantasy standard-scoring points over the course of a season. Not surprisingly, they were the five highest scoring among fellow top-round picks. So the bet might not be on Richardson to adjust his game to the next level or produce in a previously unproductive Browns offense, but to stay healthy for 16 games. With his knee fresh off of the operating table, that might be tough to expect. Cleveland would be wise to protect their rich investment and ease him into the game over the first four weeks of the season, assuming Montario Hardesty or one of their other backs can work effectively with him. While it does put a damper into his potential, Richardson's skills and ability can't be ignored. He could be a major factor still once his knee feels fine. He's OK to draft as a No. 2 running back with a pick around 15th overall if you're so inclined.
Latest Richardson projection: 1,171 rush yards, eight rushing touchdowns; 209 receiving yards
DeMarco Murray, Cowboys: Murray's second year figures to be more productive than his first if only because he'll play more often. Injuries bookended his rookie season as a hamstring sidelined him for training camp and a broken ankle ended his season prematurely. But from Week 7 until Week 14 he was a fantastic player for the Cowboys, earning five 20-carry games -- unheard of in the Jason Garrett play-calling era. Even if you take away his ridiculous game against the Rams (253 yards and a touchdown), Murray averaged 104.4 total yards in his final seven games, including his short-lived Week 14 matchup against the Giants.
Murray has one significant flaw, keeping him from being a Top 10 pick candidate: He gets hurt often. Murray had multiple knee and hamstring issues in college, mostly late in the season. Last year he was hurt twice as we mentioned. If he holds up through the preseason we'll be happy but because he has this injury history, it's tough to draft him with huge expectations. Of course, not many running backs can be taken with even very good expectations so when one comes along with great potential (over 100 total yards per game qualifies), you gravitate toward it.
For Murray to succeed he'll need his coach to let him run like he did last year. Garrett's track record is to typically lean on his quarterback, Tony Romo, and not his running back, but then again Garrett leaned on Murray last year with those 20-carry outings. Tack on Murray not playing in front of a reliable backup rusher and he could easily get that role. The work will be there which means the production will be there. The only question: Will Murray be there every week? Drafting him early on and grabbing his handcuff (Felix Jones) with a late-round pick is the only way to really be safe.
Latest Murray projection: 1,103 rush yards, seven rushing touchdowns; 327 receiving yards, two receiving touchdowns
Marshawn Lynch, Seahawks: Which Lynch will Fantasy owners get in 2012? The one who rumbled for touchdowns in nine straight games while posting career highs in carries, yardage and touchdowns, or the one who misses time because of a suspension stemming from a July DUI arrest, potentially harpooning his season?
Let's address the off-field issue first: Lynch plans to fight the DUI charge, which means it's unlikely for the league to hand down a suspension until a guilty plea is filed or found. For now, he has a mid-August court date to determine if a charge will even be filed. Assuming a verdict isn't determined then, he'll stay on the field. Lynch has been arrested and suspended by the league in the past, taking on a three-game suspension in 2009 following a series of violations of the personal conduct policy. But his DUI arrest falls under the substance abuse policy, and because it's his first time violating that particular policy he could wind up not missing much time. Roger Goodell hasn't been entirely predictable with his discipline so there's no certainty which direction Lynch's future could go.
In terms of football, Lynch is ready to roll. He's healthy, he's got a freshly minted contract and remains the focal point of a Seahawks offense that added "improvements" in the form of Matt Flynn, Kellen Winslow and Terrell Owens. Why do we like Lynch's chances to keep playing well? When he's been given the opportunity, he's never completely disappointed. In three seasons with at least 200 carries, he's run for at least 1,000 yards and seven touchdowns and totaled at least 1,299 yards. He's nowhere close to "old" as he's been in the NFL for just five years and is only 26 with just over 1,100 career carries. Even his rushing average is decent, as he provided Fantasy owners a 4.2 rushing average last year and has topped 4.0 in three of five seasons. Plus he can catch -- he had 28 receptions last season and has had at least 22 per season since his rookie season, including 47 catches in 2008.
How many running backs are reliable to the degree Lynch has been when given the opportunity? Not many, which is why Lynch is still worth a Top 15 pick even in the face of a possible suspension. Because Goodell's sentence might not come until later in the year (if at all this year), your best move is to take Seahawks rookie rusher Robert Turbin with a late-round pick as insurance for if Lynch misses time because of a suspension. Best-case scenario? Lynch forgets about the money he just made and uses the July arrest as motivation to prove he's not a punk and is still the Seahawks' best playmaker. It only helps that his O-line is healthier.
Latest Lynch projection: 1,235 rush yards, nine rushing touchdowns; 228 receiving yards
Jamaal Charles, Chiefs: It seems like yesterday Charles was decimating NFL defenses by averaging 120.9 yards per game and being a major player for Kansas City, despite not even leading his own team in carries. Well, if that all went down yesterday then he tore his ACL three hours ago and is just now coming back from all of his rehab as you read this sentence.
Charles lost a year off his career after ripping up his knee in Week 2 last season, sidelining not only one of the NFL's slickest rushers but a first-round Fantasy pick. With 10 months of rehab, Charles opened camp without incident and reports have come in suggesting he's rounding into his old form. As recently as early August Charles was spotted making cuts in a scrimmage against the Cardinals and racing past defenders for a touchdown.
Check out our Fantasy Football podcast!
There is no better source for entertaining Fantasy advice than our Fantasy Football Today podcast. Dave Richard, Jamey Eisenberg and Adam Aizer will help you pass the time as you anticipate Draft Day 2014!

Latest episode | Subscribe today!
When it comes to ACL recoveries, the biggest issue is whether or not a player can regain his flexibility. Big backs tend to play like people are used to seeing after the knee injury because they're not nimble to begin with. Racers like Charles aren't always locks to get back to where they once were because the knee has been altered permanently. This is something to watch over the next couple of weeks. But the simple fact that he's back without incident should invoke some confidence.
The large shadow of Peyton Hillis, however, puts a cap on just how impactful Charles will be. In the early stages of camp Charles said he expected the Chiefs to lean on Hillis just like they did with Thomas Jones during Charles' breakout season. That year, Jones had 15 more carries and one more rushing touchdown than Charles. The difference between Jones then and Hillis now, however, is that Hillis is expected to do better than Jones did (3.7 yards per carry). So even if Charles is back to his old self, questions about exactly how much work he'll ultimately get should keep Fantasy owners grounded. Of course, Charles being back to his old self would generate enough interest in him for his draft stock to climb into the third round of drafts as a solid No. 2 rusher.
Latest Charles projection: 958 rush yards, five rushing touchdowns; 265 receiving yards, receiving touchdown
Stevan Ridley, Patriots: We saw this one coming a year ago when the Patriots snagged Ridley in the third round of the 2011 NFL Draft. At the time BenJarvus Green-Ellis was entering a contract year and the two had similar running styles. Green-Ellis dominated playing time and left Ridley with limited opportunity, but a year later "The Law Firm" signed with the Bengals and Ridley is the only experienced true power back left on the Patriots roster.
The first assumption was that Ridley would take over in Green-Ellis' role as the "running downs" back in New England. That would open the door for him to post some moderate stats and find maybe as many touchdowns as Green-Ellis had over each of the last two seasons (13 in 2010, 11 in 2011).
Then once camp got underway in New England it was evident that Ridley was consistently the team's best back. Fellow second-year rusher Shane Vereen got off to a slow start and no one else was really opening eyes. In fact veteran Joseph Addai, who could have taken reps from Ridley, was cut early on. The guy behind Ridley on the depth chart now is undrafted rookie Brandon Bolden, a capable back but not someone expected to be a threat to Ridley.
But this is still New England and the Patriots will pass a ton. That will take touches away from Ridley as it did Green-Ellis, who averaged 12.8 carries per game over his last two seasons. Questions about the Patriots' offensive line also persist as camp rolls on -- the team is missing several starters. But Ridley's fumble issues are at the forefront -- he had two fumbles, one in Week 17 and another in the Divisional Playoffs, and didn't sniff the field after that. Ridley's said he's aware how important it is to not put the ball on the ground and has worked this offseason to try and do what Green-Ellis never did while with the Patriots: cough up the rock.
Ridley should prove to be an upgrade over Green-Ellis in the New England offense and in the event the Patriots can't find an acceptable consistent running back for passing downs, Ridley could see a bump in playing time even though he's not nearly as accomplished as a receiver (three catches last year, 10 catches last preseason, 17 receptions in college). This seems to be a case of low risk: So long as Ridley keeps the ball in his possession, he might turn out to be one of this season's mid-round gems. Drafting him as a low-end No. 2 running back is fine but getting him as your third running option is fantastic.
Latest Ridley projection: 817 rush yards, eight rushing touchdowns; 88 receiving yards -- and just one fumble
Stay in touch with the most passionate Fantasy staff in the business by following us via Twitter @CBSFantasyFB . You can also follow Dave at @daverichard and on Facebook .