Let's take a look at some names you already know, who are poised to take their games to the next level in 2012. Hitting a couple of breakout players in your draft will go a long way to winning that elusive Fantasy title, so without further delay, here are some breakout candidates for this year.
Matt Ryan, QB, Falcons: It's time for Matt Ryan to make the jump to the elite in the game with arguably the league's best receiver tandem in Roddy White and Julio Jones. To do so, he will have to build on his excellent second half of 2011. Following the team's Week 8 bye, Ryan finally had a healthy Jones and White at receiver and showed what he is actually capable of. In the final eight games of the year (excluding Week 17 when he barely played), Ryan looked like a Fantasy superstar.
From Week 9 to Week 16, Ryan was actually the fourth-ranked Fantasy quarterback trailing only Aaron Rodgers, Drew Brees and Tom Brady. He posted an 87.5 consistency rate in those games and produced five of his six big games on the year (62.5 percent big game rate). In those eight games, Ryan threw for 2,388 yards (298.5 yards per game) with 18 touchdowns and only four interceptions. He averaged a healthy 7.9 yards per attempt and averaged 24.69 points per game. A full season of that kind of production would have made Ryan the sixth-ranked Fantasy quarterback with 4,776 yards passing with 36 touchdowns and only eight interceptions.
If any quarterback is going to make a Matthew Stafford like leap in 2012, it is Ryan. He is one of the best goal line quarterbacks in the league (66.7 percent scoring rate last year, third at the position) and will continue to air the ball out as the Falcons shift to being a more dynamic, down-the-field passing attack under Dirk Koetter. If Ryan can get over eight yards per attempt and maintain what we saw in the second half of last year, we should be looking at a season with 4,500 yards passing and 32 touchdowns, which makes him a great option if you wait at quarterback this season and still want Top 5 potential.
My projection: 4,368 yards, 30 TDs, 13 INTs; 89 rush yards, TD
Early-August ADP: 11th QB
I'd take him: 8th QB
FREE Draft Kits!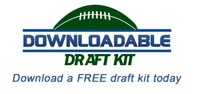 Get everything you need to dominate on Draft Day in one convenient place with our Downloadable Draft Kit, complete with projections, rankings and outlooks for 2013!
Download your Draft Kit now!
Robert Griffin III, QB, Redskins: I don't think RG3 could have landed in a better spot as a strong armed and very mobile quarterback than to be under the tutelage and coaching of Mike Shanahan. Let's not forget that in this very offense an immobile Rex Grossman was the 12th-ranked Fantasy quarterback from Week 11 on in 2011. Rex Grossman! Griffin is much more talented than Grossman and with the additions of Pierre Garcon and Josh Morgan, he will even have a better supporting cast.
Let's start with the facts. RG3 has track speed and should be able to run for 500 yards and a handful of touchdowns based on his athletic ability alone. As a thrower, he averaged an NCAA-best 10.6 yards per attempt and had an NFL QB rating of 130, which was also tops. He joins a Redskins team that has thrown for 8,278 yards over the last two years -- ninth-most in the NFL -- and is a huge upgrade over Donovan McNabb, John Beck and Grossman. When you consider the facts, it's easy to see why Griffin could blow up and post Top 5 numbers with over 4,000 yards passing, 500 yards rushing and close to 30 total touchdowns. I do not expect RG3 to hit the best case scenario in every category, but the potential is there.
I think he will finish in the top 12 at quarterback this year and is a great Draft Day value given his upside versus his eighth or ninth round price tag. In fact, if you miss out on a Top 5 quarterback this year, I love the idea of grabbing Michael Vick and RG3 in an all upside tandem.
My projection: 3,761 yards, 22 TDs, 16 INTs; 570 rush yards, four TDs
Early-August ADP: 13th QB
I'd take him: 12th QB
Chris Johnson, RB, Titans: Last season was the worst year of Johnson's career and I am expecting a big rebound season in 2012. Even in last year's ugly season, there were causes for optimism as the year went on. In the second half of the year (Week 10 on), Johnson started to find his groove. In those eight games, Johnson was much more like the CJ2K of old, ranking eighth at the running back position. He rushed for 681 yards (85.1 per game) and three touchdowns on an excellent 4.8 yards per carry. He added 26 catches for 212 yards (a much improved 8.2 yards per catch) and averaged 111 total yards and more importantly, a solid 13.4 points per game.
If you take Johnson's second half over 16 games, he would have picked up 1,786 total yards and six touchdowns, which translates to 215 points -- or a tie with Marshawn Lynch -- for fifth at the position in 2011. To be fair, the bulk of that production came in his three monster games of 100 yards rushing and he failed to top 65 in any of the other five, so there is still plenty of work to do in terms of being consistently elite. That being said, the signs of improvement were there and there's a lot to like about Johnson heading into 2012. An improved offense with Kenny Britt back in the mix and game-changer Kendall Wright added via the draft will give defenses plenty of headaches, which should allow Johnson to maintain his second half efficiency numbers.
A better overall offense should also provide Johnson with increased scoring chances, which will help him get back to double-digit scores. After all, it's hard to score when you rank tied for 25th with 25 red zone chances and tied for 26th with seven goal line chances. Johnson scored on three of those goal line carries, good for a 42.9 percent scoring rate, so with elite chances (a La McCoy, Turner, Rice and MJD at 20-plus goal line chances) we will see big touchdown numbers once again. He has been drawing rave reviews from everyone inside and outside of the organization for his work this offseason and I think we will have CJ2K instead of CJ just OK once again in 2012.
My projection: 290 carries, 1,355 yards, eight TDs; 53 catches, 443 yards, two TDs
Early-August ADP: 5th RB and ninth overall
I'd take him: 5th RB and seventh overall
DeMarco Murray, RB, Cowboys: Murray took over as the starting running back for the Cowboys in Week 7 against the Rams and looked like superman, as he rushed for 253 yards and a touchdown on 25 carries. From that game until he was lost for the year with an ankle injury in Week 14, Murray was the fifth-ranked Fantasy running back. In his seven-game stretch, Murray ran for 798 yards (most in the NFL during that span) on 5.9 yards per carry, scored two rushing touchdowns and added 21 catches for 154 yards out of the backfield. He averaged 15.3 points per game as the starter and was on a 16-game pace of 2,176 total yards (1,824 rushing) and five touchdowns, which would have ranked him as the fifth running back last year (245 points overall). I loved his total yardage consistency, as Murray topped 100 total yards five of those seven games and impressively, Murray did not fumble once.
He has been a monster this offseason and is drawing comparisons to both Emmitt Smith and Tony Dorsett inside the Dallas organization. Murray will be the workhorse again for the Cowboys, which gives him Top 5 potential in 2012 if he can stay healthy. He has risk just like all of the top running backs seem to this year, but Murray also has tremendous upside. Just be sure to grab his handcuff should he miss time again this season.
My projection: 275 carries, 1,244 yards, seven TDs; 40 catches, 333 yards, TD
Early-August ADP: 10th RB and 17th overall
I'd take him: 9thth RB and 13th overall
Ahmad Bradshaw, RB, Giants: Brandon Jacobs is gone and Ahmad Bradshaw will be joined by first round pick David Wilson in the Giants' backfield for the 2012 season. If his feet can hold up (apparently he feels great), Bradshaw has the chance to have a career year. In 2011, Bradshaw set a career high with 10 total touchdowns and finished as the 20th-ranked Fantasy running back, which is not too shabby considering he played just 75 percent of the games. He scored a touchdown in seven of his 12 games and averaged a solid 13.25 points per game. That's a pace for 212 points over 16 games, which would have tied Michael Turner for sixth at running back. If he stays healthy in 2012, we may see a season like 2010 from Bradshaw, when he really exploded and set career highs in just about every category. That year, he set career bests in carries (273), rushing yards (1,235), touchdowns (eight), receptions (47), receiving yards (314), total yards (1,549) and most importantly Fantasy ranking (13th).
Bradshaw now has an excellent 53 percent consistency rate and a 25 percent big game rate in his last 36 healthy games, both of which are Top 10 at the running back spot. With Jacobs gone and Wilson having known fumbling issues in college, I expect Bradshaw to remain very consistent thanks to his unbelievable scoring prowess, despite his smaller stature. Over the last three years, Bradshaw ranks seventh among running backs with 25 red zone scores (he has 25 total touchdowns during that span mind you) and his efficiency is as good as it gets. He averages 2.0 points per red zone chance and has a 21 percent red zone scoring rate, both fifth best among the 45 runners with at least 50 red zone chances over the last three years. At the goal line, Bradshaw is even better and his 15 scores on 24 carries are good for a NFL best 62.5 percent goal line touchdown rate. When you consider that the Giants have scored at least 17 rushing touchdowns in three of the last four years and understand just how effective a scorer Bradshaw is, you have to like his chances to hit 10 scores if he stays healthy.
Keep in mind that the health is a huge concern and that Bradshaw has only one season with at least 1,000 total yards in his career. I am expecting Top 15 running back production from Bradshaw on a per game basis this year and if you get 16 games out of him, I would not at all be surprised if he finishes in the Top 12. He is a great second running back for your teams and I would advise you grab David Wilson later on just to protect your investment in Bradshaw.
My projection: 225 carries, 1,022 yards, eight TDs; 44 catches, 309 yards, two TDs
Early-August ADP: 15th RB and 29th overall
I'd take him: 12th RB and 23rd overall
Check out our Fantasy Football podcast!
There is no better source for entertaining Fantasy advice than our Fantasy Football Today podcast. Dave Richard, Jamey Eisenberg and Adam Aizer will help you pass the time as you anticipate Draft Day 2014!

Latest episode | Subscribe today!
Julio Jones, WR, Falcons: By now you have probably read a ton about my love for Julio in 2012, so I will keep this brief with the key facts. As a rookie, Jones averaged 10.2 yards per target (ninth best among the 63 most targeted receivers), posted an 8.5 percent touchdown rate (eighth best) and averaged 1.53 points per target (seventh best). Jones had a 54 percent consistency rate and a 31 percent big game rate in games played, which would have placed 11th and fifth, respectively. Keep in mind, Jones got better as his rookie season progressed and that was on full display in the last four weeks of the year. From Weeks 14 to 17, Jones caught 20 of his 33 targets (60.6 percent) for 393 yards (11.9 yards per target and 19.7 yards per catch) and six touchdowns (which were the most in the league). He was the second-ranked Fantasy receiver during that stretch, trailing only Megatron. With a full offseason (and he has reportedly been dominant) to get even better acclimated, I believe the sky is the limit for Jones, who showed incredible efficiency and explosiveness as a rookie.
My projection: 78 catches, 1,316 yards, 10 TDs
Early-August ADP: seventh WR and 34th overall
I'd take him: Second WR and 17th overall (although you should be able to snag him later than that)
Percy Harvin, WR, Vikings: Harvin is a great combination of upside and consistency. He has now been a Top 24 receiver in all three of his NFL seasons (one of only six in each of the last three years) and has produced at least a 50 percent consistency rate, a 60 percent target conversion rate and eight yards per target every single year, despite playing with four different quarterbacks during that span. In 2011, Harvin did set career a career high with a 72.5 percent target conversion rate (second best in the league), which is astonishing considering that the Vikings completed just 56.1 percent of their passes for the season. Over the last seven weeks of 2011 Harvin was at his best, with seven touchdowns and five games of 100 total yards. It may surprise you to learn that he was the second-ranked Fantasy receiver from Week 11 on last year. He really clicked with quarterback Christian Ponder, which bodes well for 2012. Harvin scored all eight of his touchdowns with Ponder under center, while his targets and overall production shot up dramatically.
In the 11 games that Ponder had a hand in, Harvin was targeted 8.5 times per game and caught 6.3 of them (73.4 percent) for 71.3 yards per game (8.34 yards per target) and .55 touchdowns per game. That translates to 10.4 points per week and those numbers over 16 games would have made Harvin the 11th-ranked receiver on receiving totals alone. Add in his wide receiver-leading 342 yards and two scores rushing (not to mention his likely one return score) and Harvin would have finished as the fourth receiver overall -- just one point behind Wes Welker -- if he had 16 games with Ponder. He should be a Top 10 receiver once again this year with Adrian Peterson likely limited early and will be one of your draft's ultimate bargains.
My projection: 85 catches, 1,066 yards, six TDs; 40 carries, 255 yards, two TDs
Early-August ADP: 19th WR and 55th overall
I'd take him: 9th WR and 30th overall (which means I think he is an exception value who will fall to you on Draft Day)
Eric Decker, WR, Broncos: Demaryius Thomas is also a breakout receiver, but I will focus on his less heralded teammate Eric Decker for this exercise. Decker is the kind of precise route runner and sure handed receiver that Peyton Manning will love and turn into a star. Last year, he led the Broncos with 44 catches, 612 yards and eight touchdowns to finish the year as the 36th-ranked Fantasy receiver. In four full games with pocket passer Kyle Orton last year, Decker caught 20 passes for 270 yards and four touchdowns. That is a pace for 80 catches, 1,080 yards and 16 scores over 16 games. He caught 56 percent of his targets from Orton and averaged 7.5 yards per target, both up from his full-season totals of a 46.8 percent catch rate and 6.5 yards per target. Obviously he will not score at that level, but Decker was much better with a pocket passer than he was with Tim Tebow, and Peyton Manning may be the best pocket passer of all time.
Look for Decker to lead the Broncos in receptions and he will challenge Thomas for the team touchdown lead. That makes Decker a very solid late second receiver in point-per-reception leagues (he has 80 catch potential) and a great third receiver in standard leagues with Top 15 potential thanks to Peyton's arrival in Denver.
My projection: 82 catches, 1,039 yards, eight TDs
Early-August ADP: 27th WR
I'd take him: 23rd WR
Follow us, Like us, Join us
Want more? Join the discussion on our Facebook page and Google+ and follow us on Twitter for additional insight while interacting with a community geared toward Fantasy Football.


Titus Young, WR, Lions: Young is a great breakout candidate for your teams with Top 20 potential at a fourth receiver draft price. After a slow start in 2011, the talented rookie really turned it on, scoring six touchdowns in his final nine games to go along with 33 catches for 398 yards. In fact, Young was the 25th-ranked Fantasy receiver in those nine games and caught 62 percent of his targets with a 7.5 yards per target average. Young also showed that he can be a very effective red zone receiver despite his smallish stature. Young scored on four of his nine red zone targets and his 44.4 percent scoring rate was fourth-best among the 62 receivers who saw at least nine targets inside the 20. Young also scored on all three of his goal line targets as a rookie, tying Jeremy Maclin as the best scorer among the 42 receivers who saw at least three targets up close. Look for Young to see increases in his playing time, targets and production this year. I would not at all be surprised by a 1,000-yard, seven-touchdown season from the youngster out of Boise State. He is a great third receiver for your teams on Draft Day and is an absolute steal as a fourth receiver with nothing but upside.
My projection: 67 catches, 888 yards, seven TDs
Early-August ADP: 32nd WR
I'd take him: 32nd WR
Fred Davis, TE, Redskins: Davis missed the final four games of 2011 due to some high-flying off-the-field activities, but still turned in a good enough 12 games to finish as the 12th-ranked tight end. In his shortened season, Davis caught 59 passes for 793 yards and three touchdowns, which would project to 16-game totals of 79 catches for 1,057 yards and four scores. He produced 60 yards receiving in half of those starts and had a very solid 58.3 percent consistency rate along with a 25 percent big game rate. Those totals would have made Davis the fourth-ranked Fantasy tight end in 2011 with 129 total points.
Last year, he was second among the 30 most targeted tight ends with a 72.7 percent catch rate and finished third with a 9.1 yards per-target average. The guy was efficient with Rex Grossman and John Beck, so you have to be excited about what he can do with a better quarterback in 2012. He had a solid 33 percent red zone scoring rate last season as well, so the lack of touchdowns really came more from a lack of chances. He had just nine targets in the red zone (22nd among all tight ends), which is disappointing considering that he was tied for seventh at the position with 7.2 targets per game. With a couple more touchdowns, Davis has Top 5 potential this year and is a great gamble if you miss out on the elite tight ends.
My projection: 68 catches, 900 yards, six TDs
Early-August ADP: 8th TE
I'd take him: 8th TE
Off the radar: Other potential breakouts

Jay Cutler, QB, CHI
Reunited with Marshall, Cutler finally has weapons to post top Fantasy totals
Carson Palmer, QB, OAK
He was the 10th-ranked Fantasy quarterback once he took over in 2011.
Doug Martin, RB, TB
The poor man's Ray Rice is expected to be the featured back out of the gate.
Mikel Leshoure, RB, DET
The big bruiser will be the team's primary runner and goal line back, which gives him 10 TD potential.
Shonn Greene, RB, NYJ
Greene will set career highs in carries and yards under new offensive coordinator Tony Sparano.
Jeremy Maclin, WR, PHI
Was the 10th-ranked Fantasy receiver after eight games last year before his illness sapped him of his strength.
Demaryius Thomas, WR, DEN
He is the biggest and fastest receiver Peyton Manning has ever worked with. Plus he averaged over 100 yards per game with Tim Tebow.
Dez Bryant, WR, DAL
The touchdown machine has to deliver consistent yardage and if he does, look out.
Torrey Smith, WR, BAL
Smith actually had a better yards per target and Fantasy points per target average than A.J. Green as a rookie.
Stay in touch with the most passionate Fantasy staff in the business by following us via Twitter @CBSFantasyFB . You can also follow Nathan at @nathanzegura .