It was only the first preseason game of what he hopes will be a long NFL career, but Buccaneers rookie running back Doug Martin forgot something after he scored his first touchdown – the ball.
"I didn't know I could take the ball with me," Martin said after the Bucs beat the Dolphins 20-7. "Oh well. I'll try to remember for the next time."
Fantasy owners hope Martin gets plenty of chances to score since he enters this season as a potential starter in all leagues. And he is not alone for the Tampa Bay offense.
FREE Draft Kits!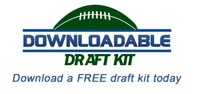 Get everything you need to dominate on Draft Day in one convenient place with our Downloadable Draft Kit, complete with projections, rankings and outlooks for 2013!
Download your Draft Kit now!
The Bucs, despite finishing 4-12 in 2011 in what was a miserable year, are poised for a rebound with some quality talent on offense, which should lead to several Fantasy options. Martin is likely the best of the bunch along with Josh Freeman, Vincent Jackson, LeGarrette Blount, Mike Williams and Dallas Clark.
Even though it was a meaningless preseason game, Tampa Bay started its season on a high note in Miami. The Bucs also opened some eyes with what could turn into a potent offense, which we'll break down here. The biggest question following the Dolphins game is if Martin and Blount are now a tandem, but there are plenty of other players to address.
Quarterback
You remember Freeman. He was one of the biggest surprises in 2010 when he finished as a Top 10 Fantasy quarterback and then a tremendous bust last year when he was barely inside the Top 20.
This year, Freeman could re-emerge as a potential starting option and shapes up as top-end backup Fantasy quarterback. Freeman has lost about 20 pounds and gained some quality weapons in Jackson, Martin and Clark. The Buccaneers have improved their offensive line, and Freeman is poised to play closer to his 2010 form.
That year, Freeman had 25 touchdown passes and just six interceptions. He regressed last year to 16 touchdowns and 22 interceptions, but we expect Freeman to dramatically improve. He's a great No. 2 quarterback to pair with fragile starters like Michael Vick and Peyton Manning, and he is an excellent value pick based on his Average Draft Position of No. 133 overall.
"We feel good with the offense," Freeman said. "I know everyone feels extremely prepared and ready to go."
Jackson said Freeman is a Top 5 quarterback in the NFL, which is a stretch. He's not even as good as Philip Rivers, who was Jackson's quarterback in San Diego. Jackson didn't want to compare Freeman to Rivers, but he's looking forward to playing with him this season. He expects Freeman to have a productive year in 2012.
"Every quarterback has their own thing how they throw, how they release," Jackson said. "As far as Josh, he's just fundamentally sound. He does everything right. He does a great job seeing blitzes, seeing the defense, keeping us aware. Overall, I've been so impressed with how he's been as a professional, especially at his age. I expect him to have a great career."
Running back
The thought all offseason was Martin would be the dominant back for the Bucs after he was drafted out of Boise State at No. 31 overall in the first round of the NFL Draft. But Blount isn't giving up the job so fast, and now we're likely looking at a tandem.
Unfortunately for Fantasy owners, that's OK with both running backs. Martin said he doesn't mind working with Blount, and Blount is excited for what this tandem could be.
"We can definitely be the best duo in the league," Blount said. "With the schemes that we're running, with the offensive line that we have, with the blocking, with the confidence (Martin) has in me and the confidence I have in him. It's definitely going to be a really good fit. We have the potential to be the best backfield in the league."
I'm sure the running backs in Houston might have something to say about that, along with several other teams, but Martin and Blount both ran well against the Dolphins. Blount had seven carries for 30 yards and a touchdown, and Martin had seven carries for 21 yards and that first career score.
Blount, who was a bust in 2011 after a breakout campaign in 2010, showed a solid burst in working with the starters, including a quick outside run for 16 yards. He said this is the best shape he's ever been in his career.
"I feel faster. I feel a lot quicker. I feel a lot lighter on my feet," Blount said. "Everything is coming into play."
Check out our Fantasy Football podcast!
There is no better source for entertaining Fantasy advice than our Fantasy Football Today podcast. Dave Richard, Jamey Eisenberg and Adam Aizer will help you pass the time as you anticipate Draft Day 2014!

Latest episode | Subscribe today!
He is no longer an afterthought for Fantasy owners, and Blount could be a steal based on his ADP, which is No. 111 overall. He should now be considered a No. 3 Fantasy running back, and he has the potential for 800 rushing yards and eight touchdowns.
Martin is still the better Fantasy running back even in a tandem, and he should be drafted in Round 4 in standard leagues. He will share rushing downs with Blount, and he will work in passing situations. We could see Martin reaching 1,200 total yards, and the key will be how many touchdowns he can score, especially with Blount as a potential vulture. Martin had at least 1,350 total yards and 14 touchdowns each of the past two seasons at Boise State.
Wide receiver
Jackson is going to make the Bucs and Freeman better this year, but he's someone on my bust list. I don't expect him to be a consistent Fantasy option, and he's more of a No. 3 receiver than a starting option in the majority of leagues.
Jackson has put up standout production for the Chargers, but he's been inconsistent. In 2011, Jackson had 60 catches for 1,106 yards and nine touchdowns. But he managed just six games with double digits in Fantasy points since five touchdowns came in two games.
I don't see Jackson having many big games like that, and his production will tail off. He will help Freeman improve, but his Fantasy value will decline. Still, he's excited for the opportunity in Tampa Bay.
"I couldn't be happier," Jackson said. "It's been great. The organization, coaching staff ... I couldn't be more impressed with how they do things around here. I'm having a lot of fun."
Freeman's ability to throw the ball down the field might be underrated, but he's not at Rivers' level yet. Rivers was able to get Jackson the ball behind the defense, which led to plenty of easy touchdowns.
Jackson said Freeman is going to surprise people with his arm strength and how the two work together.
"There's not a throw he can't make," Jackson said. "He's a smart kid. He's doing everything he can do to master this offense. To have a guy like that in huddle leading us you definitely feel like you can win each and every Sunday."
Jackson's ADP is No. 65 overall, which is too high for me in Round 6. I'd rather settle for him a little later in Round 7 if he's still there.
On the other hand, Mike Williams might present great value at No. 155 overall. He should rebound in 2012 after a disastrous season in 2011.
Follow us, Like us, Join us
Want more? Join the discussion on our Facebook page and Google+ and follow us on Twitter for additional insight while interacting with a community geared toward Fantasy Football.


Williams had 65 catches for 964 yards and 11 touchdowns as a rookie in 2010 before struggling as a sophomore with 65 catches for 771 yards and three touchdowns last year. But the presence of Jackson drawing extra coverage, along with a re-dedication to his profession, should help Williams this year. He said 2012 is not a redemption season, but he does want to play better.
"I really don't look at it like that," Williams said. "I really don't care what people think or how they feel. It was an off season for the whole team. Not just me individually. It was the whole team. I think we all have to bounce back."
Williams could be a steal with a late-round pick. He might not repeat his rookie stats, but he could turn into a No. 3 receiver if he improves as expected.
Tight end
There isn't a lot to get excited about with Clark, who looks done based on his play the last two years. He has only appeared in 17 games the last two seasons because of injuries, and he has a combined 71 catches for 699 yards and five touchdowns over that span.
Last year, in first season without Peyton Manning, Clark struggled with 34 catches for 352 yards and two touchdowns, but he should improve this year. He is replacing the departed Kellen Winslow, who averaged 73 catches for 792 yards and four touchdowns the past three years for the Bucs.
It's doubtful Clark reaches those totals, but if he starts out the season playing well he could turn into a serviceable bye-week or injury replacement. He should not be drafted in the majority of leagues but does have potential as a waiver wire addition.
Stay in touch with the most passionate Fantasy staff in the business by following us via Twitter @CBSFantasyFB . You can also follow Jamey at @JameyEisenberg and on Facebook .