Who had a worse year in 2011, Chris Johnson or Darren McFadden? Michael Vick or Philip Rivers? Andre Johnson or DeSean Jackson?
In each case, one player was injured and the other just struggled with poor performance. And in each case, both players will rebound this year.
We're here to look at bounce-back candidates for 2012. We'll highlight 20 players poised to play better this year than they did in 2011.
You may be down on all these guys after they burned you last season. But don't be upset when you pass on them on Draft Day and they return to a high level this year.
Quarterback
Michael Vick, Eagles: Vick was drafted as the No. 2 quarterback last year at No. 7 overall. But he finished as the No. 11 quarterback and failed to come close to the expectations set for him. Vick missed three games with broken ribs, which hurt his production, but he closed the season on a high note and should play well this year. Vick averaged 24.7 Fantasy points over his final three games, which would have given him 394.6 points if you project his stats over 16 games. That would have put him at No. 5 overall among quarterbacks, just ahead of Cam Newton (394.0). Vick can definitely be a Top 5 quarterback if he can stay healthy, and it helps that DeSean Jackson is happy and ready to go. Vick presents tremendous value with his Average Draft Position.
My projection: 3,899 passing yards, 30 TDs, 15 INTs; 664 rushing yards, six TDs
August ADP: 33rd overall
I'd take him: 34th overall

FREE Draft Kits!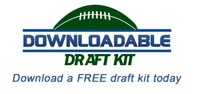 Get everything you need to dominate on Draft Day in one convenient place with our Downloadable Draft Kit, complete with projections, rankings and outlooks for 2013!
Download your Draft Kit now!
Philip Rivers, Chargers: Rivers was drafted as the No. 5 quarterback last year but finished at No. 9. He had a career-high 20 interceptions, and his 27 passing touchdowns were the fewest he's thrown since 2007. There are a lot of people down on Rivers this year with the loss of Vincent Jackson -- who is now in Tampa Bay -- but we expect Rivers to be fine. He gets Antonio Gates (foot) back at 100 percent, and the Chargers gave him new weapons in Robert Meachem and Eddie Royal. Meachem told me he's ready to become an elite receiver with this new opportunity, and he said Gates "looks like his old self." The last time Rivers was without Jackson was the majority of 2010 when Jackson was a holdout, and Rivers had a career year with 4,710 passing yards, 30 touchdowns and 13 interceptions. Look for him to get back to that level again.
My projection: 4,544 passing yards, 36 TDs, 15 INTs
August ADP: 43rd overall
I'd take him: 42nd overall

Peyton Manning, Broncos: Fantasy owners gambled on Manning last year as the No. 7 quarterback only to watch him not play a down because of neck surgery. He returns this year in a different uniform in Denver, but Fantasy owners have the same hopes for his production from his days in Indianapolis. Manning has had at least 4,000 yards passing in 11 of his last 12 seasons and at least 31 touchdowns in four of his last five seasons. He has a tremendous receiving corps with Demaryius Thomas, Eric Decker and Jacob Tamme, and we're counting on Manning returning at 100 percent. There's obvious risk involved since Manning is in a new offense with new personnel, and any hit to his neck could potentially end his career. But the upside is tantalizing, and Manning should return as a No. 1 Fantasy quarterback again.
My projection: 4,565 passing yards, 33 TDs, 12 INTs
August ADP: 44th overall
I'd take him: 52nd overall

Matt Schaub, Texans: The quarterback pool is so deep this year that Schaub isn't ranked in the Top 12 on our site or many others. We have Schaub ranked at No. 14 at best this year, and he could be the steal of many drafts. If you're the owner who prefers to wait on drafting a quarterback then Schaub is someone to target. He was limited to 10 games last season due to a Lisfranc sprain in his foot, but he is fine now. He gets Andre Johnson back at 100 percent, which is a key to his success. Prior to last season, Schaub averaged 4,570 passing yards, 27 touchdowns and 13 interceptions in 2009-10. He was averaging 18.1 Fantasy points a game last year, and only 10 quarterbacks did better in 2011. Look for Schaub to rebound and play at a high level, and he should be drafted anywhere after Round 7 in the majority of leagues.
My projection: 4,122 passing yards, 31 TDs, eight INTs
August ADP: 83rd overall
I'd take him: 108th overall

Josh Freeman, Buccaneers: Freeman was a huge surprise in 2010 when he finished as a Top 10 Fantasy quarterback and a tremendous bust last year when he was just inside the Top 20. This year, Freeman could re-emerge as a potential starting option and shapes up as top-end backup Fantasy quarterback. Freeman has lost about 20 pounds and gained some quality weapons in Jackson, Doug Martin and Dallas Clark. The Buccaneers have improved their offensive line, and Freeman is poised to play closer to his 2010 form. That year, Freeman had 25 touchdown passes and just six interceptions. He regressed last year to 16 touchdowns and 22 interceptions, but we expect Freeman to dramatically improve. He's a great No. 2 quarterback to pair with fragile starters like Vick and Manning, and he is an excellent value pick based on his ADP.
My projection: 3,989 passing yards, 27 TDs, 12 INTs; 233 rushing yards, four TDs
August ADP: 132nd overall
I'd take him: 112th overall

Running back
Chris Johnson, Titans: Johnson was terrible in 2011. He was drafted as a Top 5 overall player but finished as just the No. 17 running back. He finished behind 24 quarterbacks, 10 wide receivers, two tight ends, one kicker and seven DSTs in Fantasy points. Coach Mike Munchak blamed Johnson's woes on conditioning from his holdout and a poor supporting cast, and the Titans seemed to fix both issues. All of these things will help Johnson succeed, and Fantasy owners should still have faith in him as a No. 1 option. As bad as Johnson was in 2011, he still had 319 touches (262 carries and a career-high 57 catches). Only eight running backs had more carries and only four had more total touches. Johnson is going to get his looks, and the production should follow. He has three years of at least 1,480 total yards and 10 touchdowns, and a good barometer for his production this year should be what he did in 2010: 1,609 total yards and 12 touchdowns. Johnson is easily capable of doing that again in a comeback campaign.
My projection: 1,433 rushing yards, 11 TDs; 41 catches, 345 yards, two TDs
August ADP: 8th overall
I'd take him: 4th overall

Check out our Fantasy Football podcast!
There is no better source for entertaining Fantasy advice than our Fantasy Football Today podcast. Dave Richard, Jamey Eisenberg and Adam Aizer will help you pass the time as you anticipate Draft Day 2014!

Latest episode | Subscribe today!
Darren McFadden, Raiders: McFadden is five years into his NFL career, but he has yet to play a full 16-game season. He has missed 19 of a possible 60 games, and last year was his worst season of all with only seven games played thanks to a Lisfranc injury in his right foot. But he's back this year at 100 percent, and he should pick up where last season left off. Prior to going down, he had 113 carries for 614 rushing yards and four touchdowns and 19 catches for 154 yards and one touchdown. He was averaging 14.3 Fantasy points per game, which would have made him a Top 10 running back if he kept up that pace. McFadden has been a beast when healthy. He has averaged 88.5 rush yards and 33.0 receiving yards over his last 20 starts with 15 total touchdowns -- all with Michael Bush there. Bush is gone now, and McFadden's touches could actually increase given the lack of quality talent behind him. His best season to date was 2010 when he played 13 games and finished with 223 carries for 1,157 yards and seven touchdowns and 47 catches for 507 yards and three touchdowns. He should eclipse those stats this year.
My projection: 1,211 rushing yards, 12 TDs; 44 catches, 311 yards, four TDs
August ADP: 9th overall
I'd take him: 8th overall

Jamaal Charles/Peyton Hillis, Chiefs: Charles was the No. 5 running back drafted last year at No. 6 overall and Hillis was the No. 14 running back drafted at No. 26 overall. Both were huge disappointments, mostly due to injury. Charles tore his ACL in Week 2 and Hillis battled hamstring problems, strep throat and contract issues all year. This season the duo will share carries, and both have the ability to be tremendous Fantasy options. Charles appears to be 100 percent, and he is good value in Round 3. Hillis might be the better value pick since he's not being drafted until Round 7. Charles should get more total yards than Hillis, but Hillis has the chance for more touchdowns and is the better receiver. You should view Charles as a No. 2 running back and Hillis is a quality No. 3 option.
Charles
My projection: 1,344 rushing yards, six TDs; 37 catches, 321 yards, two TDs
August ADP: 28th overall
I'd take him: 29th overall

Hillis
My projection: 881 rushing yards, eight TDs, 34 catches, 211 yards, three TDs
August ADP: 74th overall
I'd take him: 65th overall

Mark Ingram, Saints: Ingram may never live up to his potential as long as he's with the Saints. Pierre Thomas remains in the mix and Darren Sproles is the star of this backfield. Ingram just doesn't touch the ball enough to succeed. All three running backs had at least 85 carries last year, with Ingram leading the way at 122. He's not a great receiver in a passing offense, and he has to prove he can stay healthy. In 2011, Ingram missed six games, and he was banged up again in the offseason. Still, with a mid-round pick, Ingram could reap plenty of rewards. If he's healthy, Ingram could reach double digits in touchdowns and 800 rushing yards. He had five touchdowns last year in 10 games, so eight touchdowns is realistic this year going by last year's average. We would like Ingram better if Sproles and/or Thomas weren't around, but Ingram could still do damage if you draft him in the right spot.
My projection: 766 rushing yards, eight TDs, 14 catches, 97 yards, one TD
August ADP: 99th overall
I'd take him: 89th overall

Ryan Williams, Cardinals: Williams has a lot to prove to Fantasy owners before anyone can consider him a starting option, but you should pass on Beanie Wells and his Round 6 ADP and wait for Williams. At least Williams is the healthier of the two with both battling knee injuries. Williams was expected to be the better option in 2011 before he went down with a torn patellar tendon. He has superior talent to Wells, and if both are healthy, Williams will post better stats. He's the better receiver, and he should also have more total yards. If the touchdown split is close than Williams will perform like a quality No. 3 running back or flex option. It's no guarantee Williams will make it through a full 16 games, but you can't count on Wells either. I'd rather take my chances with the better player, which will prove to be Williams.
My projection: 840 rushing yards, seven TDs, 22 catches, 155 yards, one TD
August ADP: 125th overall
I'd take him: 87th overall

Wide receiver
Andre Johnson, Texans: Johnson's Fantasy value is in question for the first time in his 10-year career. Owners want to know if he is still an elite receiver. I still consider Johnson one of the best players at his position. He is my No. 2 Fantasy receiver this year behind Calvin Johnson and I expect him to play well. I'm not afraid of him getting hurt even though he hasn't been able to play 16 games each of the past two years. Last year, Johnson was limited to just seven games due to hamstring problems. He also missed three games in 2010, and in May he had arthroscopic surgery on his knee followed by a groin injury in training camp. But I'll take my chances with Johnson in most leagues with a Round 2 pick. Prior to getting hurt last year, Johnson had 21 catches for 316 yards and two touchdowns in his first three games (an average of 14 Fantasy points a week in standard leagues). He also had 13 catches for 201 yards and a touchdown in two playoff games, both with T.J. Yates at quarterback. And in 2010 when he missed three games he still finished with 86 catches, 1,216 catches and eight touchdowns. Schaub is back, which will help Johnson. He also has no real threat for targets, and Johnson has averaged at least 10 targets a game from 2006-10. Sure, the Texans are a run-first team with Arian Foster and Ben Tate, but Johnson had 162 Fantasy points (12.5 points a week) in 2010 during Foster's breakout season. I have no problem taking a risk on him because the rewards should be great.
My projection: 98 catches, 1,566 yards, nine TDs
August ADP: 22nd overall
I'd take him: 16th overall

Follow us, Like us, Join us
Want more? Join the discussion on our Facebook page and Google+ and follow us on Twitter for additional insight while interacting with a community geared toward Fantasy Football.


Brandon Lloyd, Patriots: Lloyd toiled in mediocrity for the first seven years of his career before becoming the No. 1 Fantasy receiver in 2010. What changed? He found Josh McDaniels, and Lloyd has stayed with McDaniels ever since. He followed McDaniels from Denver to St. Louis, and now the two are reunited with the Patriots. Lloyd was the 20th receiver drafted in 2011 but finished as the No. 25 option. But getting back with McDaniels is the key. In 27 games with McDaniels calling plays, Lloyd has 128 catches for 2,131 yards and 16 touchdowns. That speaks volumes, but Lloyd never played with this many talented receivers. Tom Brady will spread the ball around to Rob Gronkowski, Aaron Hernandez, Wes Welker and whoever else is open. Lloyd will be good but not great, but he will have some spectacular weeks. He is worth drafting in Round 4 or 5 in the majority of leagues.
My projection: 63 catches, 1,121 yards, eight TDs
August ADP: 65th overall
I'd take him: 54th overall

Miles Austin, Cowboys: Austin has to prove he's healthy after dealing with a hamstring problem in training camp, which was his issue last year, causing him to miss six games. The Cowboys are confident Austin will be 100 percent for Week 1, and Austin has been solid when on the field. He has scored at least seven touchdowns in each of the past three years with 25 touchdowns over that span. He also is a great option in PPR leagues with at least 4.3 catches a game the past three seasons. Dez Bryant might emerge as the best receiver in Dallas this year, especially with Austin injured during camp, but with Laurent Robinson gone to Jacksonville and Jason Witten (spleen) hurt we could see Austin getting plenty of targets. He has averaged at least 7.3 targets per game each of the past three years, and Tony Romo will continue to rely on him. Austin should be considered a solid No. 2 Fantasy receiver in all leagues.
My projection: 77 catches, 1,164 yards, seven TDs
August ADP: 55th overall
I'd take him: 55th overall

DeSean Jackson, Eagles: Jackson is ready for a rebound year after what turned out to be a frustrating 2011. Last year, Jackson was drafted as a No. 1 Fantasy receiver in Round 3, but he barely finished in the Top 30 at his position. He had some monster games -- six outings with double digits in Fantasy points, including two in a row to close the season -- but he struggled early on as contract-related issues made things icy between him and his coaches on and off the field. He got a new five-year deal this offseason worth $51 million, and coach Andy Reid is confident he will play up to his potential. Jackson himself says he's focused on football and is glad to have a new contract. He now presents great value on Draft Day since he should fall to Round 5 or later, making him a potential steal. Though he should be classified as a 'boom or bust' receiver, Jackson can be considered a low-end No. 2 Fantasy option with upside. If he just hits average from the past three years -- 56 catches for 1,061 yards and six touchdowns with one rushing touchdown -- then we could see Jackson return as a Top 15 Fantasy receiver.
My projection: 68 catches, 1,078 yards, five TDs
August ADP: 60th overall
I'd take him: 63rd overall

Reggie Wayne, Colts: Wayne stayed in Indianapolis even after Manning, Dallas Clark, Joseph Addai and Pierre Garcon moved on, and Wayne now has a new quarterback in rookie Andrew Luck. That should help him bounce back from last year when he was stuck with Curtis Painter, Kerry Collins and Dan Orlovsky. Wayne struggled in 2011 with just four touchdowns and only three games with double digits in Fantasy points. But Wayne has at least 75 catches in every year since 2004, and he is looking for his eighth 1,000-yard season in his past nine years. Wayne is being drafted in Round 7 on average, which is fair value for him and makes him a solid No. 3 Fantasy receiver in all leagues.
My projection: 70 catches, 924 yards, eight TDs
August ADP: 79th overall
I'd take him: 79th overall

Tight end
Antonio Gates, Chargers: The last time the Chargers were without Jackson for an extended period of time was 2010. He missed the first 10 games of the year, and with Rivers leaning on Gates the tight end posted a whopping 50 catches for 782 yards and 10 touchdowns over that span. But then Gates went down with a foot injury that he couldn't get quite fixed. He was limited to 13 games last year but still finished with 64 catches for 778 yards and seven touchdowns. When healthy, he's an elite talent, but foot problems might plague him the rest of his career. Still, you have to draft Gates with the hope he plays a full season, just make sure you're covered with a quality backup option. We still value Gates as a Top 5 Fantasy tight end worth taking toward the end of Round 4. We hope Jackson's departure leads to another big year for Gates.
My projection: 65 catches, 838 yards, six TDs
August ADP: 45th overall
I'd take him: 50th overall

Vernon Davis, 49ers: Fantasy owners have to hope that Davis picks up where last season ended. Davis closed the season on a tear with five touchdowns in his final five games, including the playoffs, and three games with at least 112 yards. He had 10 catches for 292 yards and four touchdowns in two postseason games against New Orleans and the Giants, and his playoff outing completely overshadowed his regular season when he had just seven games with double digits in Fantasy points. Davis remains a No. 1 Fantasy tight end in all leagues even with the 49ers adding receivers this offseason in Mario Manningham and Randy Moss. Davis will lose some targets with those additions, but he will also gain more single coverage, which will help his performance. Plan on drafting Davis around Round 5 or 6 in the majority of leagues.
My projection: 58 catches, 726 yards, seven TDs
August ADP: 61st overall
I'd take him: 61st overall

Owen Daniels, Texans: No one missed Schaub more than Daniels last year. Through the first 10 games of the season in 2011, Daniels had at least six Fantasy points in six games. Once Schaub went down, Daniels had just one game with more than three points. If Daniels had maintained his Fantasy point average with Schaub -- which was 6.2 per week -- for the entire season, he would have finished as a Top 12 tight end in standard leagues. Daniels might go undrafted this year in some shallow formats with how deep the talent pool is at tight end. We consider him a Top 15 tight end this year, but he could definitely re-emerge as a starting option now that Schaub is expected back at 100 percent.
My projection: 45 catches, 565 yards, six TDs
August ADP: 146th overall
I'd take him: 130th overall

Greg Olsen, Panthers: Olsen's first season with the Panthers in 2011 was met with mixed reviews. He started off the season playing well with at least seven Fantasy points in five of his first eight games. But he limped to the finish line with only one game with more than two Fantasy points after Week 9. Jeremy Shockey cut into much of Olsen's production in the second half along with injuries, but Shockey is gone. That should allow Olsen to see a spike in targets from the 89 he had last year (Shockey had 62). He is worth drafting with a late-round pick in deeper leagues, and he is definitely someone to monitor as a waiver-wire addition.
My projection: 44 catches, 566 yards, five TDs
August ADP: 169th overall
I'd take him: 160th overall

Dustin Keller, Jets: Keller has been consistent the past two years. He has got off to a hot start -- he's got five touchdowns in September the past two years -- before pulling a disappearing act. He'll have a two-touchdown game against Buffalo, something he's done twice the last two seasons. And he should finish the year with five touchdowns. Keller has the potential to be a star, and he's entering a contract year this season so he could be motivated to play well. He also projects to be the second-best receiving option for the Jets behind Santonio Holmes. That's the good news. The bad news is the Jets plan to be a ground-and-pound offense, and Tim Tebow could see plenty of playing time, which will limit Keller's targets. Still, you should view Keller as a good No. 2 Fantasy tight end with a late-round pick. We hope his traditional early start will carry throughout the year, and he should be considered a breakout candidate.
My projection: 55 catches, 607 yards, four TDs
August ADP: 158th overall
I'd take him: 163rd overall
Stay in touch with the most passionate Fantasy staff in the business by following us via Twitter @CBSFantasyFB . You can also follow Jamey at @JameyEisenberg and on Facebook .