Like the quarterback position, we have seen a big explosion in points for wide receivers over the last nine years. Like the running back position, we have seen a big jump in the depth of quality Fantasy producers at the receiver position, but unlike the running backs, the growth has not come at the expense of the elite receivers.
So what exactly has happened with receivers over the last nine years? Let's take a look at all of the trends now to help provide a better game plan for attacking the position on Draft Day.
FREE Draft Kits!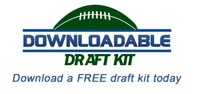 Get everything you need to dominate on Draft Day in one convenient place with our Downloadable Draft Kit, complete with projections, rankings and outlooks for 2013!
Download your Draft Kit now!
Receivers were the highest scoring position in 2003 with 8,752 total points, which made up 25.4 percent of the total points scored that year. Growth was slow through 2008, when receivers scored 9,756 points, or 25 percent of that season's total points. However, over the last three seasons, wide receiver scoring has really taken off. Receivers were tops in the game with 10,860 points in 2011, which accounted again for 25.4 percent of the overall Fantasy points.
So where has the massive 2,108 points (24.1 percent) growth at the position come from over the last nine seasons?
The answer to that question is everywhere! Receivers caught 403 touchdown passes in 2003 and that number climbed to only 409 by 2008. However, just like the total points from receivers jumped a ton in the last three years, so have receiving touchdowns, as we saw 473 of them in 2011. That's a 70 touchdown jump, which represents a 17.4 percent increase since 2003. That is significant, but clearly the yardage numbers must be shooting up for the overall point scoring to be up 24.1 percent among receivers.
In 2003, receivers hauled in 4,629 passes for 62,543 yards (13.5 yards per catch). Last year, receivers caught 5,718 passes (23.5 percent jump) for 78,756 yards, which is a big 25.9 percent jump. With passing yardage exploding, it is no shock that receivers are racking up yards and Fantasy points at a record clip. That does not seem to be changing anytime soon, so let's look now at the position from an individual Fantasy perspective to help craft draft strategies.
Like the running back position, the percentage of total points made up by the starters has taken a big tumble at the receiver position since 2003. That year, the top 36 receivers accounted for 58.4 percent of the position's total points. Last year, that number fell all the way to 49.8 percent, which was the second biggest drop (14.7 percent) of any position, ahead of only the running backs. That is where the similarities with the running back position end however, as the receivers are becoming more productive across the board and the top is not paying the price.
In 2003, 45 receivers reached the 80-point plateau, 31 scored at least 100 points, 15 topped 140 points and two who eclipsed 200 Fantasy points. In 2011, those numbers were up across the board. Last year, 56 receivers hit 80 points, 41 receivers topped 100 points, 21 went above 140 points and four receivers made the rarefied air north of 200 points. With 56 receivers scoring at least 80 points and 41 scoring at least 100, it is no wonder that the top 36 are making up a smaller percentage of the total points than they did back in 2003.
Check out our Fantasy Football podcast!
There is no better source for entertaining Fantasy advice than our Fantasy Football Today podcast. Dave Richard, Jamey Eisenberg and Adam Aizer will help you pass the time as you anticipate Draft Day 2014!

Latest episode | Subscribe today!
The only areas where the elite receivers are down from their 2003 predecessors are receptions and touchdowns. That should come as no surprise given that team's are spreading the ball around in multiple receiver sets at the same time that the tight end is becoming a major pass-catching position. Back in 2003, seven receivers had 90 or more catches and eight receivers notched double digit touchdowns. Last year, we had only three receivers with 90 grabs or 10 touchdowns. However, in 2011 there were 32 receivers with at least six touchdown grabs, up from 25 in 2003. From a yardage standpoint, however, today's receivers have a nice advantage both at the top and overall. The 2011 season had the 2003 season bested in receivers over 1,500 yards (three to two), 1,000 yards (17 to 14) and 900 yards (27 to 18).
Clearly, there is better production from the wide receiver position, with more players making a Fantasy impact than ever before. With teams featuring two and in some cases even three receivers, the depth at the position is greater than at any period in NFL history and you can use that to your advantage on Draft Day. To understand that better, let's look at the recent consistency and draft trends among the top 24 receivers.
Over the last three years we have seen close to 50 percent of the top 24 turnover year after year. In fact, 12 of the top 24 receivers have failed to repeat in each of the last two years, down from 14 returners in 2009. The depth at the receiver position makes it very tough for the non-elite receivers to keep their spots year after year. Injuries have kept a few elite receivers off of the list in recent years and you may be shocked to learn that only Larry Fitzgerald, Roddy White, Wes Welker, Greg Jennings, Marques Colston and Percy Harvin have been top 24 receivers in each of the last three seasons.
However, the following 13 usual suspects have qualified in at least two of the last three years: Calvin Johnson, Andre Johnson, Steve Smith, Mike Wallace, Hakeem Nicks, Vincent Jackson, Brandon Marshall, Dwayne Bowe, Steve Johnson, Brandon Lloyd, Reggie Wayne, DeSean Jackson and Miles Austin. While there is a lot of turnover in the top 24, clearly the 19 top names seem pretty safe bets to produce and the draft breakdown confirms this.
Follow us, Like us, Join us
Want more? Join the discussion on our Facebook page and Google+ and follow us on Twitter for additional insight while interacting with a community geared toward Fantasy Football.


Last year we saw a record 14 of the top 24 receivers come from within the first 60 picks of the draft and 15 of the first 24 receivers taken finished in the Top 24. It should also be noted that over the last three years, 10 of the top 15 receivers on average have been drafted in the first five rounds. That shows some predictability at the receiver position on Draft Day, but this is also one of the least predictable positions in the entire game. In each of the last three years, at least one Top 5 Fantasy receiver and two Top 10 receivers have been drafted after the 140th pick or not at all. Also, at least seven of the Top 24 in each of the last three years has been drafted after the 100th pick or not drafted at all, so there are consistently late round diamonds and waiver wire gems to mine.
Given that the studs tend to be pretty reliable, some late-round or waiver wire wonders always emerge and there is consistent turnover among the top 24, what should your game plan for receivers be on Draft Day? I would want to snag two receivers in my first five picks (you can even go two in your first six picks this year) to grab those anchors at the position. Then grab a solid third receiver in the middle rounds (as early as Round 6 if someone too good to pass slips to you), along with an upside fourth receiver and then a great late round flier like Randall Cobb to round out your receiving corps.
Using current ADP data, you could snag two running backs and a quarterback with your first three picks and still end up with a receiver group of Brandon Marshall or Hakeem Nicks, Percy Harvin or Demaryius Thomas and Antonio Brown or Eric Decker in the fourth, fifth and seventh rounds, which is pretty darn solid. You obviously could start with Calvin Johnson late in the first round or snag your top receiver in Round 2 or Round 3, but the key to me is to grab two receivers in the top five rounds to secure those reliable guys. Then you are well positioned to take advantage of the depth and upside of the receiver position that has exploded over the last nine years, while also securing yourself at quarterback and the shallow running back spot.
Given the depth at tight end and the fact that you will already have a stud quarterback and two top runners, your top five will be poised to start a championship run.
Stay in touch with the most passionate Fantasy staff in the business by following us via Twitter @CBSFantasyFB . You can also follow Nathan at @nathanzegura .