I'm writing this column in the middle of a draft. It's a PPR league where you start three receivers, and we're in Round 5. My first four picks were DeMarco Murray, Trent Richardson, Jordy Nelson and Doug Martin. I'm looking for my second receiver, and there he is.
DeSean Jackson has drawn me in again. Even after last year. Even though I should know better with this boom or bust receiver. Even with his brittle quarterback already battling injuries -- and it's not even the third preseason game yet.
But Jackson has me hooked. His potential has me hovering over his name in the draft room, and I'm going to select him ahead of a safer option like Steve Johnson. What can I say, I'm a sucker for talent.
The key is believing in that talent, and I expect Jackson to succeed. The prediction here is Jackson will return to elite status.
We all know what happened to Jackson last year. He got caught up in his contract, and with his money on his mind, his play suffered. He had the worst year of his career since his rookie season with 58 catches for 961 yards and four touchdowns and just 41 rushing yards.
Despite all that, Jackson was still rewarded with a five year, $51 contract extension. The Eagles realize his talent is worth the potential headache, and they expect him to play better. Nearly everyone has said that this offseason.
Eagles receivers coach David Culley told the Philadelphia Daily News Jackson's pending contract status impacted his preparation and on-field mentality last year, and he seemed tenuous on going across the middle.
"I saw a couple of times last year where I saw him maybe trying to maybe save himself because (he was thinking), 'I'm not under contract and I don't want to get hurt,'" Culley said. "I don't think there was a fear factor involved. I think it was more, 'I don't want to get hurt because I don't have a contract.' The first two-and-a-half years he was here, that wasn't an issue. A couple of times last year, that came up. I think the fact that the distraction is gone. ... There are very few things he can't do on the field. Very few things. Other than him not being 6-foot-2, there is nothing that a 6-foot-2 guy can do that he can't do. So I expect him to be complete."
If that's not a ringing endorsement from his position coach, Fantasy owners should listen to his quarterback. Michael Vick knows Jackson is a key for the Eagles to play well in 2012.
"He has to be focused," said Vick, who is dealing with a rib injury after Week 2 of the preseason. "His mind has to be in tune with football. The most important thing he can do right now is to make sure that he's attentive in the meetings, he's in his playbook and he understands different coverages so when he hears a play call, (he understands) what it's designed for. It's a lot of responsibility that he has to bear, but in order to be in the same league with the great ones, those are things that you have to do. From my understanding, he wants to be one of the best at his position and in this league. He's going to have to work for it. I think he understands that, and he's been showing that."
FREE Draft Kits!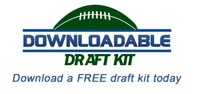 Get everything you need to dominate on Draft Day in one convenient place with our Downloadable Draft Kit, complete with projections, rankings and outlooks for 2013!
Download your Draft Kit now!
As recently as Monday during the second preseason game against New England, Jackson acknowledged that he was a problem last year because of his contract, but he's put all those issues behind him.
When asked about instances when his effort was questioned, Jackson said during a halftime interview: "I let it get to me, even though I tried not to let it. I was trying to protect myself from getting hurt -- now I'm just giving it all."
He's saying all the right things, and Fantasy owners should forget what happened last year and look at his previous production. In 2009, Jackson had 62 catches for 1,156 yards and nine touchdowns and 137 rushing yards and a touchdown. He followed that up with another solid campaign in 2010 with 47 catches for 1,056 yards and six touchdowns and 104 rushing yards and a touchdown.
He's a Top 10 Fantasy receiver when he's on his game, and he represents amazing value this year since his Average Draft Position is No. 62 overall in Round 5. He's definitely worth the risk in that spot.
He has an elite quarterback in Vick, as long as he's healthy, and a solid supporting cast to draw coverage in LeSean McCoy, Jeremy Maclin and Brent Celek. Now, Jackson should be drafted after Maclin since Maclin is the safer of the two, but Jackson has the higher ceiling.
I'd love to get Jackson as my No. 2 receiver in all leagues, especially if I don't take a second receiver until Round 5. He should turn into amazing value on Draft Day, and Jackson is going to rebound to have a solid season in 2012.
Stay in touch with the most passionate Fantasy staff in the business by following us via Twitter @CBSFantasyFB . You can also follow Jamey at @JameyEisenberg and on Facebook .