Another loaded division for Fantasy Football, the NFC North will be the subject of my second division preview.
His time is now: Randall Cobb
One of my favorite sleepers from last year is now a legit star. The best part is that his 2012 season -- which saw Cobb catch 80 passes for 954 yards (both team highs) with eight scores -- was just the tip of the iceberg. Cobb can beat you from the slot, the backfield and when split out wide and his quarterback Aaron Rodgers absolutely loves him. After all, who wouldn't love a target like Cobb, who converted a league best 76.9 percent of his targets into catches a year ago?
Play Playoff Challenge!
NEW Playoff Challenge Championship Edition offers one more way to play postseason Fantasy Football and compete for cash prizes. Join now before time runs out!
Join a new league!
Cobb scored 1.38 Fantasy points per target (10th best in the NFL) and averaged 9.2 yards per target. According to Pro Football Focus, Cobb also led all wide receivers in terms of Fantasy points per snap last year, which is really remarkable for a guy seeing extended playing time for the first time in his career. Cobb can also run the ball and picked up an extra 132 yards rushing to help pad his Fantasy totals. Furthermore, Cobb is an excellent scorer who found the end zone eight times and converted 50 percent of his red zone targets into touchdowns (a very elite number). He also finished tied for fifth with nine finishes in the Top 24, was eighth with eight games of 10 or more points, and tied for ninth with eight games of six or more receptions.
In other words, Cobb is as consistent, efficient and productive as any receiver in the NFL, which is very promising for his 2013 prospects when you consider he is being counted on to be a focal point of the Green Bay attack this season. A jump from 6.9 targets per game to nine or 10 is not only very possible, but I'd say highly likely. When you consider that Rodgers says he expects Cobb to catch over 100 passes this year, you know he is in line for a target bump.
It should also be pointed out that Cobb averaged 13.2 points per game when seeing at least eight targets last year. Couple that with the fact that Cobb averaged over 11 Fantasy points per game from Week 5 on last year (a pace that would have made him the sixth ranked receiver for the year), it is clear that I might have him ranked too high at No. 10. He can do it all and is only getting better as he enters his third season. Cobb is a legit No. 1 Fantasy receiver (with even better PPR league value) who will exceed even my lofty expectations this year.
Do not sleep on Jordy Nelson, either: For the second straight season, Nelson was once again in the top three at wide receiver in terms of yards per target (10.2) and Fantasy points per target (1.6) in 2012. He will finish in the Top 15 at the wide receiver position with a full 16 game slate in 2013. You can thank me later.
Mr. PPR: Reggie Bush
Talk about a match made in heaven. Bush is one of the better pass catching backs in the NFL and he joins a Lions team that has completed 392 passes to running backs over the last four years, third most in the NFL. I mean even Joique Bell caught 52 passes for 485 yards in the Detroit offense last year, so Bush should thrive here.
After all, he still averaged a solid 7.5 yards per catch in Miami and will see a big jump in targets and receptions in Motown. Most importantly, Bush proved that he could be an every down runner during his two-year stint in Miami, where he ran for 2,172 yards and 12 touchdowns. Now, he will get to run against primarily nickel defenses (Mikel Leshoure had the second most carries versus nickel packages as a primary runner in 2012) and should get back to the 50-catch level he enjoyed in his New Orleans days. He will be a solid No. 2 runner on his yardage totals alone and has a good shot at a 1,400-plus total yardage season.
Bush won't be the team's goal line back or fourth quarter hammer, as those jobs will still belong to Leshoure. That is not surprising when you consider that Leshoure scored nine times in 2012 and punched in six of his seven goal line carries, which was the second best rate in the league. Leshoure could hit 10 touchdowns in 2013 and is going to be a Michael Turner-type of a player who can help you as a flex when he scores but will not be a big yardage producer on a consistent basis. Bush, on the other hand, should be a threat for close to 100 total yards per game and if he can throw in a few deep touchdowns, he will be a very solid No. 2 runner checking in at No. 16 at the running back position in my latest rankings.
For those of you in PPR leagues, Bush is a Top 12 running back who you should aim to steal as your second back early in the second round. The move from Miami is great for Bush's Fantasy value and it has freed up Lamar Miller to be a star as well, so this one of my favorite signings of the offseason.
Regression to the mean: James Jones
Jones led all wide receivers with 14 touchdowns in 2012 as one of every 4.5 catches he recorded resulted in a score. From 2008 to 2011, Jones averaged scoring once for every 7.8 receptions. Using his historical scoring rate, Jones would have settled in at a solid eight touchdowns last year, but not the 14 that paid the Fantasy bills. That my friends, is why 14 touchdowns on 64 catches is completely unsustainable, as is the 55 percent red zone touchdown rate (11 scores on 20 targets) that Jones posted last year.
FREE Draft Kits!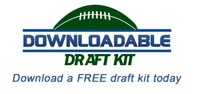 Get everything you need to dominate on Draft Day in one convenient place with our Downloadable Draft Kit, complete with projections, rankings and outlooks for 2013!
Download your Draft Kit now!
To put his red zone scoring rate into perspective, Jones was the only receiver out of the 50 who saw at least 10 red zone targets to have a 50 percent scoring rate or better. From 2008 to 2011, Jones was targeted 37 times in the red zone and scored just eight touchdowns, which is a 21.6 percent scoring rate. In other words, it is a lock that Jones will see his touchdown total drop significantly in 2013. Taking that -- along with the fact that Jones produced 60 yards receiving in just four games last year -- and there are plenty of reasons to avoid Jones at his current ADP as the 22nd receiver taken because he will not provide the consistency you want from your No. 2 receiver. He is an excellent No. 3 wide receiver for your team, but you must be ready for some down weeks when he does not score, which will happen much more often this season.
Ready to explode: Jay Cutler
Cutler has only thrown more than 500 passes twice in his career, which is amazing when you consider that 18 quarterbacks alone did it in 2012. In those two seasons, Cutler averaged throwing for 4,046 yards and 26 touchdowns, which would make him a Top 12 level Fantasy quarterback when you add in his 200 yards rushing.
Unfortunately seasons like those are a distant memory, as Cutler's Bears have ranked in the bottom six in pass attempts per game in each of the last three years. That will change under Marc Trestman, who likes to throw the ball at least 35 times per game. In case you were wondering, Cutler averaged just 28.9 attempts per game last year, so we are talking about a major increase. At Cutler's career average of 7.2 yards per attempt, we are talking about another 44 yards per game of passing, which translates to another 704 yards per year. For Cutler, a season of 35 attempts per game would put him over 4,000 yards for the first time since becoming a Bear back in 2009.
Making matters better for his Fantasy prospects is that Cutler will have his best group of pass catchers perhaps ever with Brandon Marshall, Alshon Jeffery, Earl Bennett, Martellus Bennett and Matt Forte out of the backfield. The Bears finally got a left tackle to protect Cutler's backside and then there is the matter of the all-important dollar. Cutler is in a contract year and there will be no negotiations until after the season, so he has the chance to have a big year and make a lot of coin.
Cutler is finally in a quarterback friendly system, has the right supporting cast and will be supremely motivated. Cutler is inching towards my Top 12 at the quarterback position and currently sits 14th behind Russell Wilson (12th) and Eli Manning (13th). He could very easily leapfrog those guys as we get closer to Draft Day because I really believe that he will be in a system that will capitalize on his natural abilities for the first time since 2008, when he was a Top 5 Fantasy quarterback.
Thank you Mr. Trestman, I'll have another. Matt Forte who will catch at least 60 passes and threaten 2,000 total yards under Trestman. Running backs accounted for nearly 30 percent of the completions for Trestman offenses in his past stints in the NFL, making this a perfect offense for Forte's skills. Don't forget that in his best season, Forte caught 63 passes and scored four receiving touchdowns. Forte will be pulled at the goal line for Michael Bush (and he should be), but he will be amongst the league leaders in total yards and is a solid late No. 1 running back in PPR leagues and a great No. 2 in standard formats.
The yards are there and the touchdowns will come: Matthew Stafford
Stafford has thrown for 9,971 yards (third most in NFL history for a two year period) and has attempted an NFL record 1,371 passes the past two seasons! He plays in the most pass-happy offense in the NFL and that is not changing any time soon. Adding Reggie Bush to the mix will only help Stafford's passing game and another season of near 5,000 yards is certainly possible. In fact, anything is possible when your top wide receiver is that Calvin Johnson character.
Check out our Fantasy Football podcast!
There is no better source for entertaining Fantasy advice than our Fantasy Football Today podcast. Dave Richard, Jamey Eisenberg and Adam Aizer will help you pass the time as you anticipate Draft Day 2014!

Latest episode | Subscribe today!
The reason Stafford fell from the fourth ranked quarterback in 2011 when he threw for 5,038 yards to the 11th ranked quarterback in 2012 when he threw for 4,967 yards was in a word, touchdowns. In 2011, Stafford threw for 41 scores with 16 interceptions. Last year, that number fell to 20 scores with 17 interceptions and Stafford tumbled in the rankings. Yardage is much easier to predict than touchdowns (see his 2011 and 2012 seasons) and I feel comfortable saying that his yardage totals will be among the league leaders once again in 2013. I also feel comfortable assuring you that his scores will normalize in 2013 to over 30. After all, Stafford had his receivers tackled inside the five yard line 23 times and at the one yard line five times, both the most in the NFL.
If Stafford just got to 30 scores in 2012, he would have been the fifth-ranked Fantasy quarterback. Another season of 40 scores and he would have trailed Drew Brees by just two points for the entire year and he would have finished No. 2 overall. I am willing to bet on a 30-touchdown season from Stafford in 2013 and he is firmly entrenched in the fifth spot in my quarterback rankings. With an ADP as the seventh quarterback taken, Stafford is a great value and more proof that you can wait on a quarterback and score big this year.
Quick hit sleepers
Ryan Broyles, WR, Lions: Broyles is reportedly ahead of schedule after suffering an ACL tear last year and is a good bet to be the second receiver on the Lions when healthy. I know he has torn both ACLs but so did Frank Gore, and that was way before ACL recoveries became as quick and complete as they have in recent years. When on the field last year, Broyles was phenomenal, catching 68.8 percent of his targets and leading the Lions in yards per target (9.7) and Fantasy points per target (1.34). That's right, he bested the great Calvin Johnson in both metrics last year while chipping in 10 or more Fantasy points in three of his last six games. In his most extensive action of the season, Broyles caught six passes for 126 yards against the Texans in a Turkey Day shootout. He also had a solid 40 percent red zone touchdown rate, so he could hit seven touchdowns in a full season.
Grab him late in your drafts and you will be getting a high upside bargain who has Top 24 potential, especially in PPR leagues.
Alshon Jeffery, WR, Bears: Jeffery has reportedly been a dominant force in Bears camp after a solid rookie season that was marred by some injuries and a slow adjustment to the NFL game. Jeffery did lead the Bears with a 15.3 yards per catch average and was also tops at 1.14 Fantasy points per target. Jeffery must improve on his 50 percent catch rate and his 7.6 yards per target average if he is going to take a major leap, but those are both possible working opposite Brandon Marshall in a more pass-friendly offense. Jeffrey is a solid late-round flier who is likely to be more valuable in standard leagues than in PPR formats.
Jermichael Finley, TE, Packers: Finley is quietly flying under the radar in 2013 after disappointing Fantasy owners in 2012. However, there are definite signs of improvement to hang your hat on when targeting Finley as your starter late on Draft Day. Last year, Finley caught 71 percent of his targets (up from 55 percent in 2011) and averaged a very healthy 7.8 yards per target. However, his Fantasy value was torpedoed by only scoring two touchdowns, well below the 6.5 he had averaged in his prior two full seasons. That being said, Finley got better as the year went on and from Week 11 on, he was the eighth-ranked Fantasy tight end despite scoring just one touchdown. In those final seven games, Finley was third amongst tight ends with 396 yards, averaged 9.7 yards per target and saw a very healthy six targets per game. He produced at least 60 yards receiving five times and was below 50 yards just once. The scores will come and I think Finley will continue his late season run into the 2013 season, making him an absolute steal as the 11th tight end taken. He is sixth on my board with upside on that spot.
Other sleepers: Martellus Bennett, TE, Bears; Johnathan Franklin, RB, Packers; Jarius Wright, WR, Vikings; Cordarrelle Patterson, WR, Vikings
Just a quick fact on Eddie Lacy
The Packers are dead last in the NFL with 12 tailback rushing touchdowns (excludes fullback John Kuhn) over the last three seasons. That is all. Carry on.
You couldn't pay me to draft Greg Jennings this year
Jennings made a fool of himself trashing Aaron Rodgers this offseason and he will make a fool of you if you are counting on a solid Fantasy season from him in 2013.
Let's be honest here, Jennings is getting up in age and has not played 14 games or reached 1,000 yards receiving in two straight years. At quarterback, Jennings is going from Rodgers, who has averaged nearly 4,500 yards, 42 touchdowns, 67.5 percent completions and 8.5 yards per attempt over the last two years, to Christian Ponder. Ponder averaged just 6.1 yards per attempt last year, worst among all quarterbacks with at least 200 attempts. He also attempted the fewest passes of 20 yards or more in the NFL and averaged throwing the ball 6.7 air yards per pass last year, also lowest in the NFL. Factor in that Jennings had the worst yards per target differential of any receiver in the league in 2012 (-1.9) and you can't be too excited about the move.
After all, Minnesota has not had an outside receiver hit the 500-yard or four-touchdown mark since Sidney Rice did it with Brett Favre at quarterback back in 2009. To be truly effective, Jennings will have to play in the slot or make big plays out of short passes, the latter of which is not his strong suit. Jennings will be the clear No. 1 option in the passing game for the Vikings, but I am skeptical of his overall production for 2013 and is not someone I will be drafting.
Stay in touch with the most passionate Fantasy staff in the business by following us via Twitter @CBSFantasyFB . You can also follow Nathan at @nathanzegura .