In the real football world, the NFC West is considered to be the best division in the NFL. That is not the case when it comes to Fantasy Football, but there is plenty of talent here to help you bring home a title.
Back to legendary status: Larry Fitzgerald
For Fitzgerald and for those of you thinking of drafting him, it is best to forget last year ever happened. Instead, remember that Fitz had been a Top 5 Fantasy receiver in four of the five seasons prior to 2012. In 2011, Fitz caught 80 passes for 1,411 yards and eight scores despite spotty quarterback play. Last year, his quarterbacks were worse than all of you reading this column, but fortunately that issue has been rectified. For 2013, Fitz will have the able armed Carson Palmer under center and should thrive as the primary target in Bruce Arians' offense. In his last 25 games, Palmer has thrown for 6,769 yards (271 per game) with 35 touchdowns, so he can still sling the pill.
Play Playoff Challenge!
NEW Playoff Challenge Championship Edition offers one more way to play postseason Fantasy Football and compete for cash prizes. Join now before time runs out!
Join a new league!
While in Oakland, Palmer averaged a very solid 7.6 yards per attempt, which is two yards more than the Cardinals averaged as a team (NFL worst 5.6) in 2012. Last year in Indianapolis, Arians force-fed the ball to his veteran No. 1 receiver Reggie Wayne. Wayne saw 195 targets, second in the NFL to only Calvin Johnson, and had the second highest catch and yardage totals of his career at the age of 34. Fitz is much more talented than Wayne at this stage of his career and could easily double his 2012 totals given the massive upgrades in quarterback and scheme for 2013. He is back as a solid No. 1 receiver and worth a pick in the late second round or early third round.
Still a solid No. 1 running back: Marshawn Lynch
"Beast Mode" is a very safe pick in the middle of the first round because you absolutely know he is going to get his carries. In his last 27 games, Lynch has taken 20-plus carries 17 times and has had at least 18 carries in 22 games. Lynch has only seen fewer than 15 carries twice, but both came in blowout wins and he still produced at least 100 yards with a touchdown in each game. Lynch has reached 100 yards on the ground 17 times in the last 27 games, more than anyone in the NFL, including Adrian Peterson.
In 2012, Lynch was a Top 24 Fantasy back 14 times (third), Top 12 nine times (third) and Top 6 in eight games (second only to AP). He is a consistent beast who runs behind a great offensive line and plays on a team with an unbelievable defense. Despite offering very little as a pass catcher (25 catches for 200 yards on average), Lynch has been a Top 5 Fantasy back in each of his two seasons in Seattle and a third is very likely. Draft him with confidence in the middle part of the first round in standard leagues and towards the back part of the first round in point-per-reception formats.
Still a solid No. 2 running back: Frank Gore
It seems that every year Gore is written off as being done, but every year he delivers another solid Fantasy season. I was guilty of it last year and I will not doubt Franklin as we head into 2013. I will say that I think this is his last year as a very solid No. 2 runner (at least in San Francisco), because the team will have a trio of young studs in the backfield in Marcus Lattimore, Kendall Hunter and LaMichael James in 2014. That is for next year.
We must turn our attention to the present and appreciate just how good Gore has been. In 2012, Gore turned in his second straight Top 12 finish (and third in his last four years) by rushing for 1,212 yards and eight touchdowns on 4.7 yards per carry. Amazingly, Gore had 1,211 yards and eight touchdowns in 2011, so he has been pretty darn consistent the last two seasons. He is not much of a pass catcher in the Jim Harbaugh offense, hauling in 28 passes last year (and 45 in two years combined) after catching at least 43 passes in five straight seasons from 2006-2010. The catches don't matter much though as Gore has been a great scorer who has converted over 50 percent of his rushes from inside the five into scores over the last two years.
With Michael Crabtree out for much of 2013, the 49ers will have to lean on Gore and the ground game, which is good news for his Fantasy prospects. Gore will run behind the best offensive line in football (Pro Football Focus has the 49ers ranked No. 1 overall and No. 1 in run blocking) and became a better Fantasy back with Colin Kaepernick under center. In the 11 games that Gore played with 'Kaep (10 starts and the Rams game), he ran for 877 yards, eight touchdowns, and caught 14 passes for 161 yards and a score. He averaged 14.1 points per game, up from a still very solid 12.5 in the first eight games of the year pre-Kaep. Taken over 16 games, that would put Gore on a pace for 1,510 total yards and 13 scores, which translates to 239 points or a fourth place finish at running back in 2012.
However, it was also a pace for nearly 300 carries, and that will not be maintained over a full season in 2013. Gore saw just 252 last year in the regular season and I expect that number to remain about the same or even decrease a little as they try to keep him fresh for another Super Bowl run. Gore is the 18th runner taken on average and has been going in the middle of the third round. If you have an early first round pick, you can grab a stud runner, a wide receiver and then Gore, or snag Gore as your third runner if you go running back, running back, running back in a standard flex league and be in great shape. He has the potential to score 10 touchdowns and sneak back into the Top 12. His downside (barring injury) is not much worse than 20th overall, so he has upside on his ADP and not much risk.
The only threat to Jimmy Graham and Rob Gronkowski: Vernon Davis
With Crabtree out for the early part of the year and no real vertical threat on the team, the 49ers will need their talented tight end Vernon Davis to be the team's top option in the passing game. Early reports out of camp have Davis lining up all over the field, including spending time at wide receiver, which is great Fantasy news. Davis is the only tight end other than Graham and Gronk who could put up a season of 1,200 plus yards and 12 or more scores. Don't forget that Davis had 965 yards and 13 touchdowns when he was the No. 1 overall tight end back in 2009 and the 49ers will need similar production from him this year. Despite ugly totals in 2012, Davis was one of the most efficient pass catching tight ends in the NFL and all he needs are more targets, which he should get this year.
In 2012, Davis was second among the 40-most targeted tight ends in both yards per target (9.0) and Fantasy points per target (1.4), while catching an excellent 67.2 percent of his targets. There was no excuse for Davis being the 30th most targeted tight end in the NFL -- behind Anthony Fasano, Rob Housler and Lance Kendricks last year -- and I fully expect that to be rectified now. After all, when Davis was heavily involved with Kaep at quarterback, the results were outstanding. Vernon saw six or more targets in three games with Kaepernick and in those three games, he caught 17 of his 22 targets for 293 yards and three touchdowns. In his other seven games with Kaep, Davis had seven catches for 105 yards total, which is understandably scary, but I believe he will see six targets more often than not this year. He did in both the NFC Championship game and the Super Bowl and he topped 100 yards in each game to go along with one touchdown.
Davis is the best vertical receiving tight end in the NFL. His average target was 12.04 yards down the field last year, second highest among all tight ends. I would also like to see Davis used in the slot, where he caught 75 percent of his targets and averaged 12.7 yards per target. With all of the talk of Davis moving all around the formation, he is likely to get into more of those flexed out and free-release situations. Davis is not as safe as Jason Witten or Tony Gonzalez, but he has the chance to legitimately challenge for the top spot at his position with tons of 100-yard receiving games and scores. Given that Kaepernick loves to feed his top target and the fact that Davis should be that guy, he is absolutely a gamble worth taking. Given his ADP as the No. 5 tight end taken, I am buying Davis and think he easily could be one of the top difference makers picked in the sixth or seventh rounds.
High upside rookie, but don't get carried away: Tavon Austin
The most explosive and dynamic player in the 2013 NFL Draft will be a human highlight film on the fast track of the Edward Jones Dome in St. Louis. The Rams traded up in the first round and paid a heavy price to get Austin at No. 8 overall and plan to feature him as a receiver and running back a La Percy Harvin and Randall Cobb.
Austin will inherit the role that Danny Amendola vacated as the slot receiver and likely top target for Sam Bradford. When Amendola was on the field, he was the target of nearly 30 percent of Bradford's passes over the last three years, which is a Top 5 rate for any receiver in NFL. Clearly Bradford loves to throw to his slot receiver and feels most comfortable throwing the ball on those routes, which is great news for Austin. The best part for Fantasy owners is that unlike Amendola, Austin will be a threat to score every time he touches the ball. If Austin sees a similar 9-10 targets and six catches per game (Amendola's average) plus a carry or two, we are looking at a player with easy 100 touch and 1,200+ total yard potential.
After all, Austin had 114 catches for 1,289 and 12 touchdowns at West Virginia last year and he also ran it 72 times for 643 yards and three scores. In other words, Austin can do it all and has a knack for the big play and a nose for the end zone. Given his role, Austin could be the rare rookie receiver who makes an immediate impact and has enhanced PPR value.
Harvin and Cobb were both Top 24 Fantasy receivers in their first featured seasons (rookie year for Harvin and second year for Cobb) and Austin will be in a prominent role right away. He is currently being drafted as the 26th receiver, which is fine for PPR leagues, but seems too early in standard leagues. I would much rather have Cecil Shorts and Antonio Brown to name two undervalued receivers with ADP's behind Austin right now. That being said, Austin is a solid grab as your third receiver in any format and I think you will get consistent production with some very explosive weeks mixed in.
I still like these guys, but not as much as I did during the second half of 2012: Colin Kaepernick, Russell Wilson
I don't think the read option will be as effective in 2013 as it was in 2012 and the loss of Crabtree will be tough for Kaep to overcome. He is still a Top 12 quarterback option for me and a fine starting option for you, but he was my fourth ranked quarterback before the Crabtree injury and is now 11th.
FREE Draft Kits!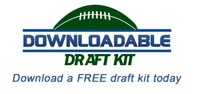 Get everything you need to dominate on Draft Day in one convenient place with our Downloadable Draft Kit, complete with projections, rankings and outlooks for 2013!
Download your Draft Kit now!
Anquan Boldin is new to the receiving corps, but he does not possess the speed, run-after-the-catch ability or pure talent to replace Crabtree in the San Francisco offense. Crabtree was by far and away Kaep's top target last year as the quarterback went his way on 94 pass attempts. The next two most targeted receivers for Kaepernick were Davis and Randy Moss, who saw 78 targets combined. Crabtree caught 61 of those targets for 880 yards and eight scores, which amounts to 37 percent of Kaep's passing yardage and 57 percent of his scoring passes. Crabtree was especially effective out of the slot with Kaep under center. He led all receivers with a 3.71 yards per route run average out of the slot last year according to Pro Football Focus. Crabtree was targeted 49 times in the slot and produced 38 catches for 542 yards and five scores. Boldin was targeted 52 times in the slot last year (despite running more than twice as many routes as Crabtree) and had 29 catches for 429 yards and two scores. Crabtree also averaged 6.3 yards after the catch per reception -- fifth best in the NFL -- while Boldin was down at 4.2.
In other words, Boldin has no chance to actually replace the output Crabtree was able to generate when paired with Kaep. It is a significant loss that has pushed one of my favorite players in the NFL down my draft board for 2013 and takes him out of the running to finish the year as the No. 1 Fantasy quarterback. Still, I will take Kaep over Russell Wilson every time and he is a good pick if you wait on a quarterback in the middle rounds.
As for Wilson, I know that he was a Top 5 (Top 2 in some scoring systems) Fantasy quarterback from Week 10 on last year and that he finished the year as the No. 9 overall quarterback, but I am not expecting a repeat in 2013.
Wilson was amazingly efficient as a rookie, which I normally love, but he was too efficient in my opinion and I don't think he can repeat the performance. Wilson threw for 26 touchdowns on only 393 attempts last year, a ridiculous 6.6 percent touchdown rate that was good for second in the NFL behind only Aaron Rodgers. With Golden Tate and Sidney Rice as his primary receivers, I just don't see a repeat of that feat. Seattle threw the ball just 25.3 times per game last year -- fewest in the NFL -- and if Wilson suffers any kind of regression from his 8.0 yards per attempt (third best in NFL) or that scoring rate, his production will suffer a ton. After all, he was the only Top 20 Fantasy quarterback last year without a 300-yard passing game and he had less than 200 yards passing in nine games.
Wilson also had multiple passing scores in just half of his games last year, which puts a lot of pressure on his rushing totals for Fantasy points. Wilson does not want to run as much as he did in the second half of the year, when he picked up 334 of his 489 rushing yards and all four of his rushing scores (three of which came in one game). I don't love his pass catchers outside of Tate and I don't like that he hardly throws the ball in comparison to other Fantasy options. Wilson has the potential to be a Top 5 quarterback as he showed at the end of 2012 season, but unless the 'Hawks dramatically open up their offense, his downside is much greater than the upside to me. If Wilson ever gets to the point where he is throwing it 30 times every game, he will be a Fantasy superstar. I don't see that happening in 2013 following the injury to Percy Harvin and with some expected regression in efficiency, his point totals will suffer as well.
Quick hit sleepers: Jared Cook, Golden Tate, Michael Floyd
Cook has the size, speed and hands that you look for in a dominant pass catching tight end, but he has never really had the opportunity to fully exploit them. That will change in 2013, as Cook was paid handsomely by the Rams to be a focal point of their passing attack. Cook, who scored from an average of 29 yards out last year, will be even faster playing indoors for the Rams and should make some big plays.
In his only season with at least 80 targets, Cook caught 49 passes for 753 yards (15.5 yards per catch) and three scores, finishing just outside the Top 12 at his position. The Rams have not really featured a tight end in recent years, with Lance Kendricks pacing the position with 42 catches for 519 yards and four scores last year. All of the Top 10 tight ends in 2012 saw at least 90 targets, with the exception of Rob Gronkowski, and Cook is being tabbed for that kind of workload in 2013.
Head coach Jeff Fisher, Bradford and local beat writers have all been gushing about Cook, who was the only tight end in the NFL to catch three touchdowns on passes that went 20-plus yards in the air. Unfortunately, the Titans worked Cook underneath more often than they should have and he was is many ways misused. That will not be the case according to early reports out of Rams camp. With Cook getting deep down the seam, Givens sprinting on the outside and the dynamic Tavon Austin in the slot, the Rams will present many challenges for opposing defenses. Look for the biggest target of the bunch to have a career year and he is a great late starting caliber tight end to target on Draft Day (my ninth ranked tight end, ADP 10th).
One of the main beneficiaries of Wilson's amazing rookie campaign was Tate, who turned in what would have been a Top 10 type of season had he seen more than just 4.5 targets per game. In fact, it should be noted that Seattle was the only team in the NFL that did not have a single player average more than 5.2 targets per game. However, the lack of opportunities did not stop Tate from making the most of them. Among the 70 most targeted receivers in 2012, Tate was second in yards per target (10.3), fourth in points per target (1.65) and eighth in catch rate (67.2 percent). In other words, he was dominant and he was even better when he got a reasonable workload.
Tate had six games with six or more targets last year and in those six games, he caught 28 passes for 406 yards and six touchdowns. That extrapolates to 16 game totals of 74 receptions, 1,082 yards and 16 touchdowns, which would have placed Tate in the Top 5 at receiver last year. In other words, if Tate -- who has been the star of Seahawks camp -- can get just a reasonable target volume week and week out, we could have a Top 20 sleeper on our hands.
Tate still remains risky unless targets pick up significantly because even last year, he had only five games with at least 60 yards receiving, which puts a ton of pressure on his ability to score touchdowns. With Harvin out and Rice banged up, look for Tate to become the go-to guy for Wilson in 2013 and he is a solid sleeper who could easily creep into my Top 36 by the time Draft Day rolls around.
Floyd showed that he could be very productive with eight catches for 166 yards and a touchdown in Week 17 of his rookie year. He will look to build on that game in 2013 and should have every opportunity to do so with Palmer and Bruce Arians in town. Floyd is at his best on deep routes and he should run plenty of them this year for Arians. Andrew Luck averaged 10.5 air yards per throw last year, most in the NFL, so you know Arians runs a very vertical offense. Floyd actually led the Cardinals with five catches on throws more than 20 yards down the field and will work against mostly single coverage opposite Larry Fitzgerald. Floyd was Arizona's first round pick in 2012 and is perfectly suited to blossom with a capable quarterback like Palmer slinging the ball in a potentially high-octane offense.
Other sleepers and hunches: Rob Housler, Andre Roberts, Zach Miller, Chris Givens; whomever emerges as the primary ball carrier in St. Louis out of Daryl Richardson, Zac Stacy and Isaiah Pead
I am not buying Rashard Mendenhall or any Cardinals running back this year.
I am buying both Carson Palmer and Sam Bradford as very high upside No. 2 quarterbacks on Draft Day. If Palmer can survive behind the Arizona offensive line, he has legit Top 10 Fantasy potential coming off of a 4,000-yard season in Oakland. Bradford has his best arsenal of weapons in the passing game with Chris Givens, Brian Quick, Tavon Austin, Stedman Bailey and Jared Cook and I expect him to set career highs in every category.
If you are in a dynasty or keeper league draft Marcus Lattimore and don't forget about Michael Crabtree and Percy Harvin in the later rounds. Christine Michel is worth a look as well.
Stay in touch with the most passionate Fantasy staff in the business by following us via Twitter @CBSFantasyFB . You can also follow Nathan at @nathanzegura .