Our latest division preview brings us to the NFC South, which is just as loaded as its counterparts as the NFC North and NFC East. Each of these teams brings a lot of Fantasy starters to the table, so let's dive in.
Age ain't nothing but a number: Steven Jackson
I know Jackson is going to be 30 years old and has 2,400 carries on his frame, but he keeps himself in phenomenal shape and is tons better than Michael "Ankleweights" Turner was last year when he was able to finish the season as the 17th ranked Fantasy running back. That is the floor for Jackson as far as I am concerned and he has legit Top 10 potential as the workhorse running back on a team that features one of the elite passing attacks in the NFL.
Play Playoff Challenge!
NEW Playoff Challenge Championship Edition offers one more way to play postseason Fantasy Football and compete for cash prizes. Join now before time runs out!
Join a new league!
The biggest knock on Jackson in Fantasy circles has been his lack of touchdowns while in St. Louis, where has totaled just 20 in his last four seasons. That will not be a problem in Atlanta, where Turner has racked up five straight years with at least 10 rushing touchdowns. The Falcons can throw the ball all over the yard, but when it comes time to score, they love to run the ball in. Over the last four years, no running back had more goal line carries than Turner's 86 and Turner is second with 32 rushing scores.
In that same four-year period, Jackson only had 37 goal line carries total, so Turner basically had as many goal line scores as Jackson did attempts and that was with Turner missing five games to Jackson's two. In a much worse situation, Jackson has totaled at least 1,363 yards and caught at least 38 passes in five straight seasons.
I should also point out that over the last eight games of 2012, Jackson picked up 861 total yards with three touchdowns, so he is not a guy who limped to the finish line. If Jackson can just put up a sixth-straight season of 1,360 total yards and add the Atlanta guarantee of 10 total touchdowns, he will be a Top 10 runner in 2013 and is a great get with an ADP in the early second round.
Age ain't nothing but a number (honorable mention): Tony Gonzalez, who I am in on for his final NFL season as a Top 5 Fantasy tight end
Plainly stated, the guy is a beast: Vincent Jackson
Last year, I erroneously told you to be concerned about Jackson's move from the very productive offense in San Diego led by quarterback Philip Rivers to his new digs in Tampa Bay. All Jackson did in his first year as a Buccaneer was set career highs in catches (72) and yards (1,384) to go along with eight scores. He finished the year as the sixth highest scoring Fantasy receiver. He was not that consistent, but when he was good, he was really good.
Jackson was only a Top 24 receiver eight times, but he was Top 12 seven times (tied for second most) and Top 6 four times (tied for fifth most). Jackson only caught 49 percent of his targets, but he still managed to average 9.4 yards per target thanks to an impressive 19.2 yards per catch average. Jackson averaged 2.1 yards per target more than Josh Freeman's 7.3 yards per attempt in 2012, giving him the 13th best yards per target differential among receivers in 2012.
It should also be noted that Jackson turned in his best career performance in the red zone, with personal bests in terms of targets (20) and touchdowns (six). Look for these trends to continue in 2013 as V-Jax has at least eight touchdowns and has been a Top 12 Fantasy receiver in each of his last four full seasons. Now that is the kind of consistency you want and it makes him very worthy of a selection as your No. 1 receiver. He is currently the 12th receiver taken and 11th in my rankings, so if you can steal him as your second receiver you will be even better off.
Give this man the ball: Julio Jones
I loved Jones last year and if possible I love him even more heading into 2013. In 2012, Jones improved upon his excellent rookie season (54 catches for 959 yards and eight scores) by posting career highs across the board with 79 catches for 1,198 yards and 10 touchdowns. He was tied for fifth with nine finishes in the Top 24, tied for 10th with five finishes in the Top 12, tied for fifth with four finishes in the Top 6 and tied for sixth with nine games of 10 or more points.
Julio finished the year as the ninth-ranked Fantasy receiver, which I believe is the tip of the iceberg. Julio ranked ninth in the league with a 1.4 Fantasy points per target average and was sixth in the league with 20 red zone targets and seven red zone scores. Jones not only improved upon his red zone production from his rookie season when he had just nine red zone targets and two scores, but he also became a more reliable pass catcher by hauling in 62 percent of his opportunities, up from 57 percent last year.
The only thing that kept Julio out of the Top 3 at his position last year was a lack of targets. Jones saw 128 targets last year, 19th most at the receiver position. All I am asking for is the 143 that teammate Roddy White saw last year, which translates to roughly nine per game. In 10 career games with nine or more targets, Jones has averaged 7.4 catches for 105 yards and 0.9 touchdowns per game. Those numbers translate to 16 Fantasy points per week and 118 receptions for 1,680 yards and 14.4 TDs over a 16-game season, good for 252 Fantasy points and an easy first place finish at the receiver spot (or second if Calvin goes 2011 crazy).
I know that the Hot Rod and Tony Gonzalez are still in the mix, but Julio has shown to be the most dominant force in the Atlanta passing game and the time has come for him to be the primary target. After all, in the most critical game that the Falcons have ever played in, Jones was the star with 11 catches, 182 yards and two scores against the San Francisco 49ers in the NFC Championship game. His time is now, and please Matty Ice, give him the damn ball!
Jones is a great No. 1 receiver on Draft Day and should be one of the first five receivers off of the board.
Don't forget about "The Hot Rod" Roddy White
In 2012, White posted his fifth straight season in the Top 10 at his position with 92 catches for 1,351 yards and seven scores. That's right: it was his fifth straight season of being a Top 10 Fantasy receiver, which is amazing. It is even more amazing when you consider that he has averaged 96 catches for 1,314 yards and nine scores during the run while never falling below 85 catches, 1,153 yards or seven scores in any one season.
While the emergence of Jones should steal some targets away from the Hot Rod in 2013, it is clear that the youngster has made his elder teammate a more efficient receiver by taking away a lot of the defensive attention. Last year, White set career highs in both yards per target (9.5) and Fantasy points per target (1.24), which is very impressive considering his yards per target averages the prior three years were 7.2, 7.8 and 6.9. Roddy's 14.7 yards per catch in 2012 were also his highest since 2008.
FREE Draft Kits!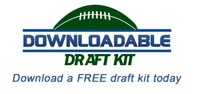 Get everything you need to dominate on Draft Day in one convenient place with our Downloadable Draft Kit, complete with projections, rankings and outlooks for 2013!
Download your Draft Kit now!
While competing with Jones and Gonzalez for stats, White will have some down games, but he still topped 10 points in eight games, had seven games of 100 yards receiving (second in the NFL) and caught at least six passes nine times. I like Julio much more than Roddy (12th on my board) this year, but the cagey veteran remains a solid late No. 1 receiver or a great steal as your second.
Don't ignore Marques "The Consistent" Colston either
Since injuring his knee in 2008, Colston has put up four remarkably similar seasons. In 2009, he caught 70 passes for 1,074 yards and nine scores. The following season saw Colston catch 84 passes for 1,022 yards and seven scores. In 2011, Colston upped things to 80 catches for 1,143 yards and eight touchdowns. Last year, he hauled in 83 passes for 1,154 yards and a career high 10 touchdowns.
Colston has finished in the Top 20 at his position in every one of his six full NFL seasons, with eighth as his best finish and 19th as his worst. I call him "The Consistent" because he has been between 11th and 14th at the receiver position in four of those six years, so he is nothing like a box of chocolates, because you do know what you are going to get.
The Colston recipe is excellent efficiency and tremendous red zone production. Last year, he caught 64 percent of his targets (for the third straight year), averaged 8.8 yards per target and 1.35 Fantasy points per target (13th best in NFL). Colston dominated in the red zone once again, where he scored all 10 of his touchdowns on 23 targets, both third most in the NFL. Colston now has 39 red zone scores over the last six seasons, which is the most in the NFL at the receiver position.
Colston is reliable, efficient, involved where it counts the most and did I mention that his quarterback is Drew Brees? It all adds up to once again make Colston one of the safest No. 2 receivers you can target on Draft Day.
Studs who will be even better this year: Matt Ryan (my fifth quarterback), Doug Martin (fourth ranked running back) and Jimmy Graham (clear top tight end and only player who offers a massive upgrade over everyone else at his position)
Cam Newton: Did you know?
From Week 10 on last year, when the Panthers used less read option and more traditional offense, Newton was the No. 1 ranked Fantasy quarterback.
The move to a more traditional attack was made at the behest of quarterback coach Mike Shula, who is now the offensive coordinator for the Panthers. Newton himself has credited Shula with his strong finish to 2012, which bodes very well for their partnership in 2013.
It also means that Fantasy owners should expect a monster year from Newton, who threw for 1,967 yards with 13 touchdowns and only four interceptions. Newton also added 394 yards rushing and four more scores on the ground during that span. He averaged 26.5 points per game during that run, which is a 16-game pace of 424 points. That number would have made Newton the No. 1 Fantasy quarterback in every season other than 2011 (Drew Brees) and 2007 (Tom Brady).
The scary thing is that Cam can still get a lot better. Last year, Newton had a 16.9 percent red zone touchdown rate, the worst among the 30 busiest quarterbacks inside the 20-yard line. If he can improve in scoring situations (and yes, I wish the new GM would have gotten him another weapon), Cam could see a jump up towards 36 total touchdowns. Cam will once again have top overall quarterback potential in 2013 and is worth a pick in the early middle rounds as you wait on a quarterback and load up on your running backs early.
Quick hit values: Mike Williams, Lance Moore
With Vincent Jackson in town, Williams averaged a career best 15.8 yards per catch and had a career best 7.9 yards per target average. He caught 63 passes for a career high 996 yards and added nine touchdowns en route to an 18th-place finish at the receiver position.
Check out our Fantasy Football podcast!
There is no better source for entertaining Fantasy advice than our Fantasy Football Today podcast. Dave Richard, Jamey Eisenberg and Adam Aizer will help you pass the time as you anticipate Draft Day 2014!

Latest episode | Subscribe today!
Williams was a stud again in the red zone with six scores in 2012 but did most of his damage near the goal line, where he led all receivers with four goal line receiving touchdowns. Williams is still a little feast or famine, as he had six games with less than 40 yards receiving, but produced 10 or more points eight times, which was tied for eighth among all wide outs. He has been a Top 18 Fantasy receiver in two of his three NFL seasons and is at worst a No. 3 receiver to target on Draft Day. Given his current ADP as the 37th wide receiver taken, Williams is a guy to steal for your teams.
Moore should be on the All Rodney Dangerfield team because the guy can't get any respect. Despite being a top 34 receiver in each of his last four full seasons in New Orleans and finishing as a solid No. 2 receiver in two of them (21st last year and 13th in 2008), Moore is currently the 40th receiver taken on average. Wake up people!
You want to wet your beak on that Saints passing game and Moore is the best bargain in town. Moore set career highs in yards (1,041), yards per catch (16), yards per target (10), Fantasy points per target (1.35) and games of 10 or more points (eight) in 2012, so he is apparently getting better. He has averaged eight receiving scores per year over his last four full seasons and is worthy of being your third receiver on Draft Day, because he has finished in the Top 36 at his position every year during that span.
His ADP is completely out whack and you can steal Moore as the best No. 4 receiver in Fantasy this year.
Another great value: Josh Freeman (has perhaps the highest ceiling of any No. 2 quarterback on Draft Day)
I am a little concerned about: Steve Smith
I am not saying to stay away from Smith, but I am a little concerned about his ability to dig deep for another Top 15 season. Smith has just 13 touchdowns in his last 46 games in Carolina and that puts a ton of pressure on his yardage numbers.
Last year, Smith saw his yardage total drop from 1,394 (with seven scores) in 2011 to 1,174 yards and four scores last year despite seeing 138 targets, which are the most he has seen since 2007. Of the 18 receivers who had at least eight finishes in the Top 24, Smith was dead last with only two appearances in the Top 12 and one in the Top 6. Smith did score in three of the final four games and had five games of 100 yards, so the potential is there. It is just tough for a smaller receiver who has struggled mightily in the red zone (his 14 percent touchdown rate was the fifth worst among the 25 most targeted receivers) to be a consistent touchdown producer year in and year out.
Smith benefits from being the clear top option in Carolina, but that also hinders him, as he will face a ton of double teams. Keep in mind that Smith's yards per target fell by more than two yards from 10.6 in 2011 to 8.5 last year and another decrease in efficiency for the 34-year-old receiver would be very tough. I am fine with him as your second receiver on Draft Day, but I am also pretty sure his best Fantasy days are behind him.
Crowded backfield I am avoiding: Carolina Panthers
If Jonathan Stewart is truly shut down for an extended period of time and DeAngelo Williams is the unquestioned starter, I am buying him as a low-end No.2 runner or a solid No.3.
If Stewart is healthy, I am staying away from this situation completely. Remember that in the last two years, no Carolina back has been in the top 20 in terms of Fantasy points and they have had more duds than contributing efforts. In 2012, Mike Tolbert chipped in seven rushing scores of his own and will likely be involved again in scoring situations. The Panthers also added Kenjon Barner in the draft, further adding to the crowd at running back.
It could absolutely be a Fantasy mess, so unless J-Stew is out, I'd pass on the potential headache and focus on other high upside options like Shane Vereen, Giovanni Bernard, and Bryce Brown.
Crowded backfield I am buying: New Orleans Saints
Darren Sproles has been a Top 22 Fantasy back in each of his two seasons with the Saints, despite carrying the ball a grand total of 135 times over the course of two years. He is a solid No. 2 runner in any format and is a top option in PPR leagues thanks to the fact that he has averaged 80.5 receptions, 690 yards and seven touchdowns per season on 8.6 yards per catch with the Saints.
Sproles even had as many goal line receiving scores (two) as the team leader in goal line rushes (Mark Ingram) had in 2012. The fact that Sproles could be No. 2 runner in a season in which he received just 48 carries means he is a safe investment. Also, don't forget that he was Top 10 back in 2011, so if he gets back to the 80-carry level you could swipe a No. 1 runner with an ADP in the fourth round as the 22nd back taken.
I also prefer Pierre Thomas to Ingram (who still has value as a fourth back) and think he could end up being one of the great values in 2013. With Chris Ivory gone and Ingram (career 3.9 yards per attempt) continuing to be unimpressive, I think Thomas will see a nice jump in his workload this year. Thomas can both run it effectively (4.8 yards per carry) and catch it out of the backfield (89 receptions the last two seasons), so he has plenty of upside. Over the last three years, Thomas averaged 11 points per game when given at least 10 carries. If that happens with increased regularity this year, and I think it will, he is a great sleeper to target as your fourth running back (and to steal as your fifth) given his ADP as the 47th back off the board.
Stay in touch with the most passionate Fantasy staff in the business by following us via Twitter @CBSFantasyFB . You can also follow Nathan at @nathanzegura .