The AFC East will be without many familiar Fantasy Football faces in 2013, but this division is still rich in top-flight Fantasy talent, with the exception of the Jets. Let's take a closer look.
The running back thriller who could finish No. 1 overall: C.J Spiller
When this is what the offensive coordinator of the Buffalo Bills has to say about Spiller in 2013, you have to get excited. "It's real simple," Nathaniel Hackett said on WGR in Buffalo recently. "We're going to give him the ball until he throws up. So he's either got to tap out or throw up on the field. Let's just put it that way." Hackett also wasn't afraid that he was revealing top-secret information. "It doesn't matter. You can say that because any team that has ever watched him should, I mean ... You've got to stop C.J." Spiller will have every chance to finish the year as the No. 1 overall Fantasy back and has the talent to do just that.
Play Playoff Challenge!
NEW Playoff Challenge Championship Edition offers one more way to play postseason Fantasy Football and compete for cash prizes. Join now before time runs out!
Join a new league!
Back in 2011, Spiller was the seventh-ranked running back in all of Fantasy after taking over for the injured Fred Jackson in Week 11, averaging 13.6 points per game. As the starter in those seven games, Spiller amassed 652 total yards and five touchdowns while averaging a very healthy 5. 1 yards per carry. Last year, Spiller was even better. He still split some time with Jackson when Jackson was healthy, but ran for a career high 1,244 yards and six touchdowns while averaging a league-leading 6.0 yards per carry. Spiller also caught a career best 43 passes for 459 yards (10.7 yards per catch) and added two scores as a receiver. He is a total dual-threat back and can beat you as a runner or a receiver, and the Bills plan to feature him heavily as both. His 1,703 total yards and eight scores produced enough Fantasy points for Spiller to finish seventh overall at the running back position.
Spiller led all running backs in terms of yards per carry, yards per target (8.1) and had the highest combined total of yards per carry plus yards per catch (16.7). To put that last stat into perspective, Arian Foster averaged a combined 9.5 yards per carry and catch. Even in his near record setting season, Adrian Peterson totaled 11.4 yards per carry and catch. Doug Martin was the only starting running back even close to Spiller at 14.2. C.J. was second in yards per catch (10.7), fifth in terms of Fantasy points per target (1.02) and was basically the most efficient running back in the entire NFL.
When you take the most efficient running back in the NFL and guarantee him a massive workload increase, you get the potential to be the best Fantasy running back in 2013. I know that guard Andy Levitre is gone, but Spiller has the talent to make plays even without a road grader in front of him. After really digging into the numbers, I have moved Spiller to No. 4 overall on my board and would be thrilled to grab him as my No. 1 running back with a Top 5 pick in any format.
He is terrific, but I am worried about Tom Brady this year
Tom Brady is expected to start the 2013 season without all five of his top targets from a year ago. Those five (Wes Welker, Brandon Lloyd, Aaron Hernandez, Rob Gronkowski and Danny Woodhead) accounted for 338 receptions, 3,984 yards and 29 touchdowns. That's 84 percent of Brady's completions, 82 percent of his yards and 85 percent of his passing touchdowns from a year ago that will be gone come Week 1.
Four of them are gone for good, as only Gronkowski has a chance to return for the Pats this year (early reports are he will miss the first six games of the year on the PUP list), but he will be battling back from multiple offseason surgeries on his back and arm. Danny Amendola (who I do like as you can see below) will be asked to replace Welker, but keep in mind that Welker had as many yards (1,354) and touchdowns (six) in 2012 as Amendola has had in his last 27 games combined (1,355 yards and six scores). The Pats have no one ready to replace Hernandez or Gronkowski at the critical tight end spots and will count on rookie Aaron Dobson (and perhaps Julian Edelman) to replace some of the production on the outside. In other words, Brady could see his numbers fall a little with an entirely new receiving corps, and none of the blame would lie with him.
I would expect the Patriots to lean a little more heavily on running backs Stevan Ridley and Shane Vereen this year and focus on more of a balanced attack. Brady is still one of the best quarterbacks in the game today, but I have a hard time seeing him match his five-year average of 4,633 yards passing with 37 touchdowns and only nine interceptions in 2013. He will put up extremely solid numbers and make the most out of his new weapons, but in today's game that little backslide in his stats will hurt his Fantasy rankings.
At his current ADP as the fifth quarterback taken early in the fourth round, I am passing on Brady this year. I'd rather wait a little and get Matt Ryan or Matthew Stafford or wait longer and get Robert Griffin III, Tony Romo or Colin Kaepernick this year. If he falls all the way to the fifth or sixth round, as I have started to see, I would definitely pull the trigger on Brady, but all of the turnover amongst his pass catchers gives him more downside than upside for the first time in years.
It's Miller Time: Lamar Miller
Reggie Bush ran for 2,072 yards and 12 touchdowns as the main runner for the Dolphins over the last two years and they let him walk this offseason to hand the reigns over to Lamar Miller. That's right, it is Miller time in Miami, which is actually how it has always been for Lamar. He went to high school in Miami, was the starter for The University of Miami and now will be the starting runner for the Dolphins.
In the very same role, Bush finished as the 14th Fantasy back in 2012 and the 13th ranked back in 2011, averaging 1,331 total yards and eight scores per year. Miller showed elite skills in limited action as a rookie, averaging 4.9 yards per carry and showing solid hands out of the backfield. Miller saw 10 carries in only two games all year, but made the most of them with 10 carries for 65 yards and a score against Oakland in Week 2 and 10 carries for 73 yards against the Bills in Week 16. He will see 10-plus carries every week this year, making Miller one of my favorite No. 2 running backs who can be had in the third round.
The Dolphins have some issues in pass blocking, but they are a solid run blocking unit anchored by stud center Mike Pouncey and Pro Bowl guard Richie Incognito. With teams having to account for a lot of speed at wide receiver in Mike Wallace and Brian Hartline, Miller will have more running room than Bush ever had and should face more favorable fronts. According to his head coach Joe Philbin, Miller is solid in pass protection and is definitely a candidate to play all three downs. He is one of my favorite breakout running backs this year and is a solid No. 2 runner (18th on my board, ADP 20th at running back) and an absolute steal as a flex (if you have an early pick and start with three runners) in all formats this year.
Can Danny Amendola replicate Welker's success in New England?
I am not sure who is happier about this move -- Danny Amendola or my colleague Jamey Eisenberg. Amendola will be asked to fill the void left by Wes Welker in New England in 2013 and could have a monster statistical season as a result. Welker had 145 or more targets and 110 or more catches in five of the last six seasons with the Patriots and produced at least 1,300 receiving yards in three of the last four years as well.
The Patriots and Fantasy owners all hope that Amendola can replicate at least the majority of those numbers. He will have to stay healthy to do so and the fact that he has missed 20 games over the last two years is certainly not comforting. Amendola has never reached 700 yards receiving in a season and has topped 10 yards per catch just once in his NFL career, which was in 2012 when he set a career high, averaging 10.6.
FREE Draft Kits!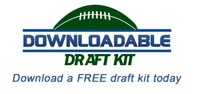 Get everything you need to dominate on Draft Day in one convenient place with our Downloadable Draft Kit, complete with projections, rankings and outlooks for 2013!
Download your Draft Kit now!
Amendola enters the 2013 season having caught 67.3 percent of his targets, which is Welker-esque, but he has produced a paltry 5.9 yards per target for his four-year career. Last year, he averaged 0.1 yard per target less than Sam Bradford averaged per attempt, so transferring that over to New England would see Amendola average 7.5 yards per target based off of Brady's 7.6 yards per attempt.
At 7.5 yards per target, Amendola would need 133 targets to get to 1,000 yards in New England. If he plays 16 games that should not be a problem seeing as Welker has averaged 155 targets per year over the last six seasons. Touchdowns could be an issue though, because Amendola has not proven to be a good scorer in his career. Welker averaged just 6.2 touchdowns per season in New England and Amendola enters 2013 with a 13.3 percent red zone-scoring rate (worst in the NFL over the last four years among the 30 most targeted receivers) and just seven career scores on 291 targets. Welker was a 25 percent red zone scorer by comparison and you have to expect a natural jump for Amendola by moving from Bradford (20 percent red zone touchdown rate) to Brady (near 30 percent for his career).
Still, a lot will have to go right for Amendola to hit 1,000 yards and six touchdowns, including good health and career-best efficiency. It should be noted that Edelman (who is a good sleeper in his own right) replaced Welker for three games back in 2009 and in those games he caught 24 passes for 245 yards and two touchdowns, so it does seem like you can step into that role and produce right away. Head coach Bill Belichick has already been impressed with Amendola's mental aptitude and his ability to pick up the offense very quickly. "He's become a very dependable player for us," Belichick said in early August. "He doesn't make many mental errors. He's a guy who is usually in the right spot and has a good understanding of defenses and what he's supposed to do. You can tell he's been in the league for four years."
Amendola will have a ton of upside on Draft Day and if you get Welker-type targets and production, he will be a steal if he plays 16 games. He could just as easily get injured again and leave you wanting, so he truly represents one of the greatest wide receiver risk/reward picks for 2013. That being said, I definitely believe that Amendola will be a No. 1 receiver (especially in PPR leagues) when on the field and has Top 12 standard-league potential if he plays 16 games. His upside is worth the risk associated with his ADP as the 19th receiver taken overall.
Bank on the backs in New England
Stevan Ridley scored a touchdown in 10 games last year, third among all running backs, while totaling 1,263 yards and 12 scores en route to a 10th place finish at his position. Ridley was a Top 24 back 11 times (11th best), Top 12 eight times (seventh) and Top 6 five times (sixth).
Given all of the turnover in the passing game, Ridley could be in line for 300-plus carries this year and will in many cases be asked to carry the offense on his back by pounding the rock. That should improve his yardage consistency and eliminate some of his Fantasy reliance on touchdowns. Ridley offers nothing as a pass catcher, but plays in a very productive offense that should provide the opportunity for another season of 1,300 total yards and a dozen scores. After all, Ridley was second in the NFL with 62 red zone chances and 12 red zone scores and his eight goal line scores were third most in the league. I love him as a No. 2 running back, one who can be had between the middle of the second round and early third round.
Shane Vereen will replace Woodhead in this offense and will also get a shot to play some receiver as well. I think Woodhead's numbers from 2012 (747 total yards, 40 receptions and seven touchdowns) is the floor for Vereen, who is athletically much more gifted than the crafty Woodhead. In 2012, Woodhead finished the year as the 24th-ranked back in standard scoring leagues and Vereen has Top 20 potential, although I prefer him as a No. 3 runner on Draft Day.
Vereen showed his explosive abilities in limited action last year as he produced 400 total yards (83 on a catch and run score versus the Jets) and four scores on just 70 touches. With his touches expected to double or even triple this year depending on how often the Pats want to run the ball, Vereen has immense upside and will have a good chance to put up triple digit Fantasy points (which pretty much guarantees a Top 24 finish). I still want Vereen as a flex on Draft Day and his ADP as the 30th running back taken is just perfect, because he offers nothing but upside at that price.
Do not overpay for Mike Wallace in 2013
Mike Wallace enters the 2013 season having produced just two games of 100 yards receiving in his last 25 while averaging four catches for 53 yards per game during that stretch in Pittsburgh. His efficiency numbers during that run have been dreadful as well with Wallace averaging 12.8 yards per catch, 7.7 yards per target and 1.04 points per target.
Compare that to his first 39 games, when Wallace looked like one of the brightest young stars in the game averaging 20.3 yards per catch, 12.4 yards per target and 1.8 Fantasy points per target. Those were all Top 3 in the NFL and Wallace seemed unstoppable. He also had 12 games of 100 yards receiving in those 39 games, as one of the premier deep threats in the NFL.
The deep ball seems to be gone from his game however, as Wallace set career lows in both receptions of 20 yards (nine, down from his three year average of 19.3) and receptions of 40 yards (four, down from his three year average of nearly eight per season). Teams have found that if you take away the vertical routes from Wallace, he is not the dominant, game-changing receiver that it appeared he was. The stats back that up as well.
According to Pro Football Focus, Wallace was targeted on air passes of 20-plus yards 31 times last year, ninth most in the NFL and a career high, so it was not a case of him not getting vertical opportunities. He only caught six of them for 263 yards and four scores (so he didn't even average 10 yards per target on those plays) and his 19.4 percent catch rate was the second worst in the league.
To show that Wallace is trending in the wrong direction, take note of the following: In 2011, Wallace was targeted deep 24 times and caught 10 for 478 yards and five scores (so he averaged 20 yards per target). In 2010, he was targeted 29 times and caught 14 for 571 yards (again, right around 20 yards per target) and seven scores. Back in 2009, Wallace saw 27 deep targets and caught 12 of them for 453 yards (17 yards per target) and six scores, so 2012 was his worst year in this category by far.
The switch at quarterback from Ben Roethlisberger to Ryan Tannehill has to be seen as a downgrade for Wallace and based on his last 25 games, he is not someone I would have invested heavily in. The 'Fins did just that, however, so you have to think he would be the top option in their passing game. With Wallace, Brian Hartline, Brandon Gibson and Dustin Keller all in the mix though, I am not sure Wallace will be heavily targeted like Brandon Marshall was back in his run with Miami or even like Hartline (133 targets) was last year. Keep in mind that while Hartline had 1,083 as the top target for Tannehill, he scored just one time all year and 43.4 percent of his yards came in his three biggest games. Similarly, Wallace will have some big games, but on a week-to-week basis, I am not expecting a ton of consistency from him in Miami.
The only thing Wallace has been consistent with over the last three years is his touchdown production, as he has found the end zone at least eight times in each of those seasons. That streak is in serious jeopardy as well, as the Dolphins did not have a single wide receiver with more than one touchdown in 2012, so to expect Wallace to score at the same rate he did with Big Ben may be asking quite a bit.
Also keep in mind that left tackle is a major issue for the 'Fins right now and you need serious protection to throw vertical routes. It all adds up to Wallace being inconsistent week to week for me and topping out as a No. 3 receiver on Draft Day. He is currently being drafted ahead of former teammate Antonio Brown and Cecil Shorts, and I'd take either of them over Wallace right now, but his 27th ADP seems just about right.
A move to the slot could save Steve Johnson
Steve Johnson will be looking for his fourth straight 1,000-yard season in Buffalo this year and it might be a move to the slot that keeps the streak alive.
Check out our Fantasy Football podcast!
There is no better source for entertaining Fantasy advice than our Fantasy Football Today podcast. Dave Richard, Jamey Eisenberg and Adam Aizer will help you pass the time as you anticipate Draft Day 2014!

Latest episode | Subscribe today!
Johnson got to 1,000 yards last year, but that was only due to his large target volume. Johnson saw twice as many targets as everyone else on the Bills in 2012, but he struggled in every available metric. Johnson caught only 53.4 percent of his targets and averaged just 7.0 yards and 0.95 points per target, which is dreadful. He also struggled in the red zone with only three scores on 17 targets, which epitomized his inefficient season perfectly. If I were expecting another season of the same from Johnson, he would be flat out in the middle of my bust list.
However, reports out of Buffalo indicate that Johnson has been working out of the slot almost exclusively in the team's new offense. Why does this matter? Well, according to Pro Football Focus, Johnson was extremely effective when lined up in the slot last year. Johnson was targeted 39 times in the slot last year and caught 27 of them (69 percent) for 359 yards (9.2 yards per target) and four touchdowns (1.5 Fantasy points per target). In other words, Johnson was significantly better in every conceivable way. Keep in mind that Johnson scored twice when lined up on the outside despite seeing 109 targets, so clearly his skills at this point are better suited to being a slot receiver.
Johnson is still a No. 3 receiver, but a full season in the slot could do wonders for his Fantasy output and would seem to eliminate the fears of a total bust season. Keep an eye on his hamstring injury, but with an ADP as the 30th receiver taken, Johnson is a solid No. 3 option who has nice PPR upside following his move to the inside.
Quick hit sleepers Chris Ivory, Aaron Dobson, Julian Edelman
The Jets acquired Chris Ivory in the offseason via a trade with the Saints and have every intention of making him their starting running back.
Ivory enters the 2013 season with a career yards-per-carry average of 5.1 yards per carry and has rushed for 1,307 yards and eight scores on his 256 career rushes. Those numbers -- while lofty for single season totals -- are not out of the question for Ivory, who is much more talented than his predecessor in New York, Shonn Greene. Greene has been a Top 18 Fantasy back in each of the last two seasons when he rushed for an average of 1,058.5 yards and seven scores on 264.5 carries per season. Greene averaged just 4.05 yards per carry for the Jets and Ivory possesses the talent to best that by a half of a yard or more.
It should also be noted that Ivory has averaged 12.9 Fantasy points per game for his career when taking 15 or more carries. Ivory has the potential and the opportunity to be a Top 15 Fantasy back (or better), but the key for Ivory will be staying healthy. He struggled with that in New Orleans and is already missing time at Jets camp. If he slides down to No. 3 running back level, Ivory will carry a ton of upside with minimal risk. I love him in that slot, but if he does suffer the injury bug keep an eye on Bilal Powell, who has been the starter in camp while Ivory has been out.
I know I said I was down on Brady, in part given the expectations associated with his ADP and all of the turnover he is dealing with amongst his pass catchers. That does not mean that his receivers still can't have nice value, so I will highlight a couple of sleepers from that group to target.
At 6'4" and 210 pounds, Aaron Dobson has the size to be a very productive outside receiver in the NFL. He did not tear it up in college with just 15 scores over his last two seasons, but Dobson also did not have Brady throwing him the ball at Marshall. He has drawn rave reviews for his play early in camp and could be the team's top outside threat. With a generous ADP as the 49th receiver taken, Dobson is a nice gamble to take a flier on late as your fifth receiver. If he has an impressive preseason, Dobson will slide into No. 4 receiver territory and will certainly have the potential to be more than worth it.
Edelman could very well win the other outside receiver job in New England and would be a great Draft Day value if he did. In 2012, only three of Edelman's catches and 32 of his receiving yards came on seven targets when lined up in the slot. His other 25 targets came with Edelman lined up on the outside, and he caught 18 of them for 203 yards and three scores. That is a solid 72 percent catch rate and averages of 8.2 yards and 1.5 Fantasy points per target.
If Edelman is an every-down outside receiver for the Pats, he could end up with close to 100 targets and post Top 24 numbers. There are a lot of ifs, but the notion that Edelman has only been successful in the slot is false. Keep an eye on his role as you get close to Draft Day because if he is a starter, he is a great, high upside flier to take a shot on.
Other sleepers: Ryan Tannehill, Robert Woods, Dustin Keller, Bilal Powell (if Ivory can't stay healthy), Braylon Edwards,
Deep sleepers that only Tom Brady could make relevant to keep an eye on: Kenbrell Thompkins and Zach Sudfeld
Stay in touch with the most passionate Fantasy staff in the business by following us via Twitter @CBSFantasyFB . You can also follow Nathan at @nathanzegura .