Not everyone drafts in a typical 10-team league with 14 or 15 roster spots. Some people are in deeper leagues. Sometimes those leagues have 14 or more owners and/or 17 or more rounds. When rosters get that deep, Fantasy owners need to learn some otherwise unfamiliar names.
One of the greatest challenges a Fantasy analyst has is finding a player that can be had with a late pick that turns into gold. One of those players was Alfred Morris last year, a running back we began hyping up over social media, live videos and online in mid-August. Little did we know he'd go on to be one of the best backs in Fantasy. We're on a mission to find this year's version.
FREE Draft Kits!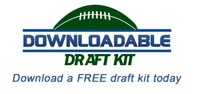 Get everything you need to dominate on Draft Day in one convenient place with our Downloadable Draft Kit, complete with projections, rankings and outlooks for 2013!
Download your Draft Kit now!
After talking with some NFL analysts, watching three weeks of preseason games, tumbling over some rocks and swimming through some haystacks, I found nine players who weren't household names even five months ago that owners should consider with late picks. Note: the last name is the one I'm taking in Round 12 or 13 of every draft I am in.
Kenbrell Thompkins, WR, Patriots: This was someone who could have contended to be the "ultimate sleeper" but he played too well in the preseason and now everyone knows about him. But I'm including him on the list because it's cool to highlight players who were undrafted free agents and are on the cusp of starting. Thompkins' story is interesting: He had many, many run-ins with the law and has been arrested a number of times but went to college, kept his mind focused on football and has seemingly turned his life around. The cousin of Steelers receiver Antonio Brown, Thompkins is on track to start for New England after playing with the first-team offense in each of their three preseason games. He lined up everywhere and ran pretty much every route in the route tree. While secondary receivers don't always put up massive stats for the Patriots, Thompkins could be a receptions hog and even impact the main players in the New England offense from week to week. He's actually a solid Fantasy reserve with the potential to be a Flex starter.
Marquise Goodwin, WR, Bills: Goodwin is 5-foot-8 and 183 pounds -- not exactly Calvin Johnson. If you're that small and playing in the NFL then you'd better have fast legs, and Goodwin's got 'em. Seeing plenty of playing time with the first-team offense this summer, Goodwin has track speed to go with improved route-running and nice hands. With their up-tempo, run-heavy approach, Goodwin is a good weapon to have because the second a defense is focused on slowing down C.J. Spiller, E.J. Manuel can sling it over the top to Goodwin for the long score. Manuel has connected on a bunch of long passes in practice and Goodwin is someone who could contribute a lot of yardage without a lot of catches (his teammate Robert Woods will be more valuable in Fantasy to start the season). Buffalo should find themselves passing a decent amount this season, which also helps Goodwin.
Terrelle Pryor, QB, Raiders: The Raiders have no choice but to start Pryor, a tall passer with a fluid, effortless throwing motion and wheels to move around and out of the pocket. Just don't ask about the accuracy. He might not be an elite playmaker but compared to Matt Flynn he's a superstar. Make no mistake -- the Raiders are awful. The offensive line is bad, the receivers aren't great and Darren McFadden is always one injury away from being a disaster. Pryor's best preseason moments came against second-team defenses and he will for sure lay some eggs this year. But he'll also play from behind and run for his life pretty much every single week, likely putting up modest stats in the process. That's enough for me to look for him late in leagues that can start multiple quarterbacks.
Marlon Brown, WR, Ravens: If there's one thing the Ravens need in the wake of Dennis Pitta's injury and Anquan Boldin's departure, it's a big bodied wideout who can help move the chains. Brown has that look. At 6-foot-4 and 213 pounds, Brown's stature gives him a chance against press coverage and his speed is good enough to make an impact deep. Baltimore's receiving corps after Torrey Smith and Jacoby Jones was weak when camp opened but the addition of slot guy Brandon Stokley and Brown's ascension up the depth chart has stabilized Joe Flacco's weapons. Brown might need to play good enough to leapfrog Jones in order to be a real nice Fantasy addition, but for now he's worth a flier in deeper PPR leagues.
Marlon Moore, WR, 49ers: It looks like Moore will replace Michael Crabtree in the Niners' starting lineup. He's never been special, but he's never worked with a quarterback like Colin Kaepernick before. I took a look at Crabtree's stats before Kaepernick and with Kaepernick and the difference is obvious. In 10 games with Kaepernick, Crabtree averaged two receptions, 36 yards and 0.5 more touchdowns per game more than in the 50 games prior. Everyone is so worried about how Kaepernick will do without Crabtree that maybe, just maybe, they need to spend a minute remembering what Crabtree was like without Kaepernick. Could it be that Kaepernick is such a good passer that he improves the receivers he works with? Might be. Moore is worth speculating on in deep PPR leagues that require three starting wideouts.
Christine Michael, RB, Seahawks: Most people will recognize Michael's name -- he was the hard-charging back at Texas A&M who totaled 2,791 rush yards and 34 scores over four seasons. He had the potential to be a great Fantasy weapon until the Seahawks took him with their second-round pick. Peculiar, why would the Seahawks take Michael when they already have Marshawn Lynch as well as second-year player Robert Turbin? Turns out the front office loved Michael. He's made them look good in a pair of preseason games, rushing for 186 yards on 27 carries (a sick 6.9 avg.) with a 25-yard reception. There's an injury history with Michael and there's also the reality that he might only see five carries per game -- he is behind Lynch after all. But if you're into drafting talent, Michael's a cinch to eventually be a Fantasy contributor.
Play Playoff Challenge!
NEW Playoff Challenge Championship Edition offers one more way to play postseason Fantasy Football and compete for cash prizes. Join now before time runs out!
Join a new league!
Alfonso Smith, RB, Cardinals: I found myself going back and forth with the Cardinals' rookie running backs for this space when I sat down to watch Arizona's preseason games and realized Smith was running second-string! Not bad for a guy who has been cut three times by the Cardinals, only to re-sign every time. He's got some quickness and pass protection skills and that's enough to keep him as the second back for the Cards to start the year. Ryan Williams' knee is perpetually hurt, Rashard Mendenhall is no spring chicken and who knows just how much rookies Stepfan Taylor and Andre Ellington will play. If Mendenhall breaks, Smith looks like the leader in the clubhouse to take his reps. That makes him a late-round candidate in a year that's very thin at running back.
Kenny Stills, WR, Saints: One of the first names I had on my deep sleeper list was Joe Morgan. When the Saints drafted Stills I thought it was odd because Morgan had great top-end speed and even decent size -- why did they need Stills? They obviously liked his game and wanted him for depth but a major knee injury for Morgan thrusted Stills into the No. 3 receiver race. On multiple occasions this preseason I've seen Stills show off his tremendous deep speed as well as make some heady plays. One in particular came when Stills saw playing time in place of Marques Colston. A play broke down and Drew Brees bought some time, moved out of the pocket and hit Stills at the pylon for a touchdown. Stills might be a rookie but he hasn't played like one this preseason, and the Saints always find offensive players who are diamonds in the rough among late-round picks and undrafted players (Colston, Pierre Thomas, Chris Ivory). There's major potential here, even if he's fourth fiddle behind Marques Colston, Lance Moore and Jimmy Graham (and maybe even Nick Toon).
Tyler Eifert, TE, Bengals: Bengals offensive coordinator Jay Gruden had a lot of glowing things to say about his rookie tight end, but one thing you just can't grasp from the story is how enthusiastic Gruden was over Eifert. It was obvious. In the story he compared his offense to New Orleans' offense. I asked him if that meant Jimmy Graham was who he saw in Eifert. Gruden didn't temper his answer saying "I do very much so." But what impressed me more was that Gruden said they've thrown the kitchen sink at Eifert and he still doesn't make mistakes. A wrist injury kept him from playing in the Bengals' third preseason game but Gruden probably doesn't mind keeping his secret weapon away off their opponents game film. But the biggest selling point is that Eifert is a much-needed mismatch threat in a West Coast offense led by a quarterback with deep-ball question marks. That means he'll check down or find seam routes to his athletic tight end, or hit him with a high pass in the end zone when he's against a smaller defender. Eifert's a phenomenal late-round pick you can begin your Fantasy season with as your starter at tight end.
Stay in touch with the most passionate Fantasy staff in the business by following us via Twitter @CBSFantasyFB . You can also follow Dave at @daverichard .