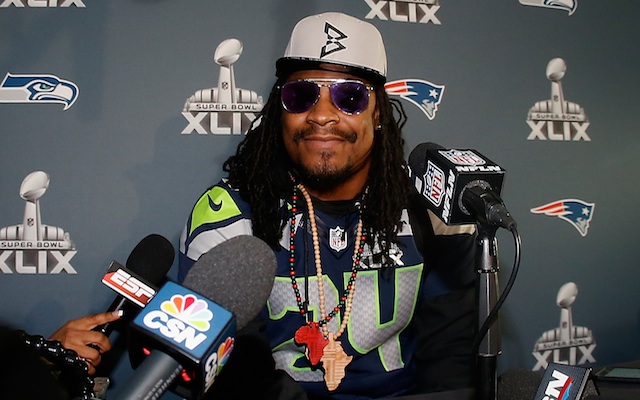 A new day, a new catchphrase.
Although Marshawn Lynch is avoiding fines by the league, the Seahawks running back took the podium again in front of a jam-packed room of reporters wearing the same Beast Mode cap that could hurt his pockets.
He set a timer on his phone to five minutes, and this time around, he answered every single question with "you know why I'm here." Lynch essentially repeated the same phrase 14 times, slightly altering his approach at times.
Once his phone alarm went off, Beast Mode exited the stage.
If we're keeping score, Lynch's greatest hits include, "yeah," "nope," "thanks for asking," "I'm thankful," "I'm here so I don't get fined," and now "you know why I'm here."
You can try all you want, but Lynch doesn't care about your questions, media members. Seattle fans are clearly behind Lynch, so much so that they recently started a petition for the NFL to revise its media policy and stop "bullying" Lynch out of his money. Even the GM kind of loves what Beast Mode does. If you want him to talk, have him in a controlled environment doing commercials.
Lynch has an odd relationship with the media, and he'll get to come up with another catchphrase at Thursday's league-mandated session at the Seahawks' resort hotel.
Any suggestions for his next act?